According to a recent Restaurant.org report, the majority of restaurants have not integrated transaction data into their business strategy.
That's a problem that needs fixing.
Restaurant point-of-sale (POS) systems have undergone a radical transformation over the past several years, from the place where the money comes in, into a central intelligence hub for the entire brand. The driving force behind this shift has been a newfound appreciation for the cash value of the data inside the POS.
In the past few years the biggest POS players in the restaurant industry — NCR Aloha and Oracle Micros — have added a long list of data analytics features, as well as numerous strategic partnerships with software technology companies.
New POS systems like Square and Revel have been built from the ground up around the idea of driving value from data insights and analytics.
For restaurant leaders, this technology shift represents an awesome opportunity.
In addition to helping you control operational costs, you can now use your POS to validate and improve the efficiency of your marketing efforts, namely to:
Reduce the cost of your customer acquisition and reactivation

Improve the lifetime value of your core customers  

Implement a 'test and learn' approach to your promotions and rewards.
Savvy restaurant operators leverage today's technology to turn POS and marketing data into actionable knowledge that can yield positive business results.

Hudson Riehle, SVP of Research, National Restaurant Association
Background
The biggest problem with restaurant transaction data is that it is "unstructured." It does not have a pre-defined data model or organized format; it's just a long list of numbers.
When the first POS software was released for Windows in 1992, providers did not anticipate the data would ever be actionable for restaurant marketers. For this reason, processing the large unstructured dataset has been complicated and costly.
If data analysis was done at all, is was by big consulting firms that charged millions of dollars per year. That started to change with the emergence of online companies like Amazon, Netflix, and Google that built sophisticated algorithms to unlock the insights of Big Data –  which, consequently, they used to better understand their customers and improve brand loyalty.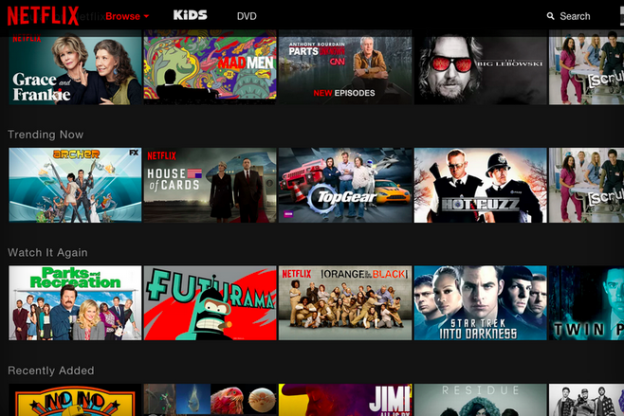 Netflix uses Big Data to create individualized home-screen for each and every customer.
In the past few years, new services and technologies have emerged that are designed to bring the power of companies like Amazon and Facebook to real world brands.
Finally, restaurants can afford to unlock the unstructured transaction data inside the point-of-sale.
You can finally answer questions like:
How many new guests am I acquiring?

How often are loyal customers visiting?

Why are people leaving my business?
While other restaurant technologies like social media, mobile apps, email clubs and loyalty programs are useful, these are really just the delivery systems for data – a way to show your guests you clearly understand their preferences, frequency, and buying behavior.
Below are three examples of how restaurants can put their transaction data to work and integrate new insights into their business to drive more revenue:
1. Transaction data can spur an increase in customer visits
The majority of restaurants struggle with customer retention. According to a 2015 Accenture survey, 38% retail and restaurant marketers say their number one challenge is improving customer acquisition and retention.
We've seen the same story at my company Bridg. Our data science team has analyzed millions of restaurant transactions, from local diners to nationwide chains, and we've seen that, on average, roughly 70% of a restaurant guests only visit once per year.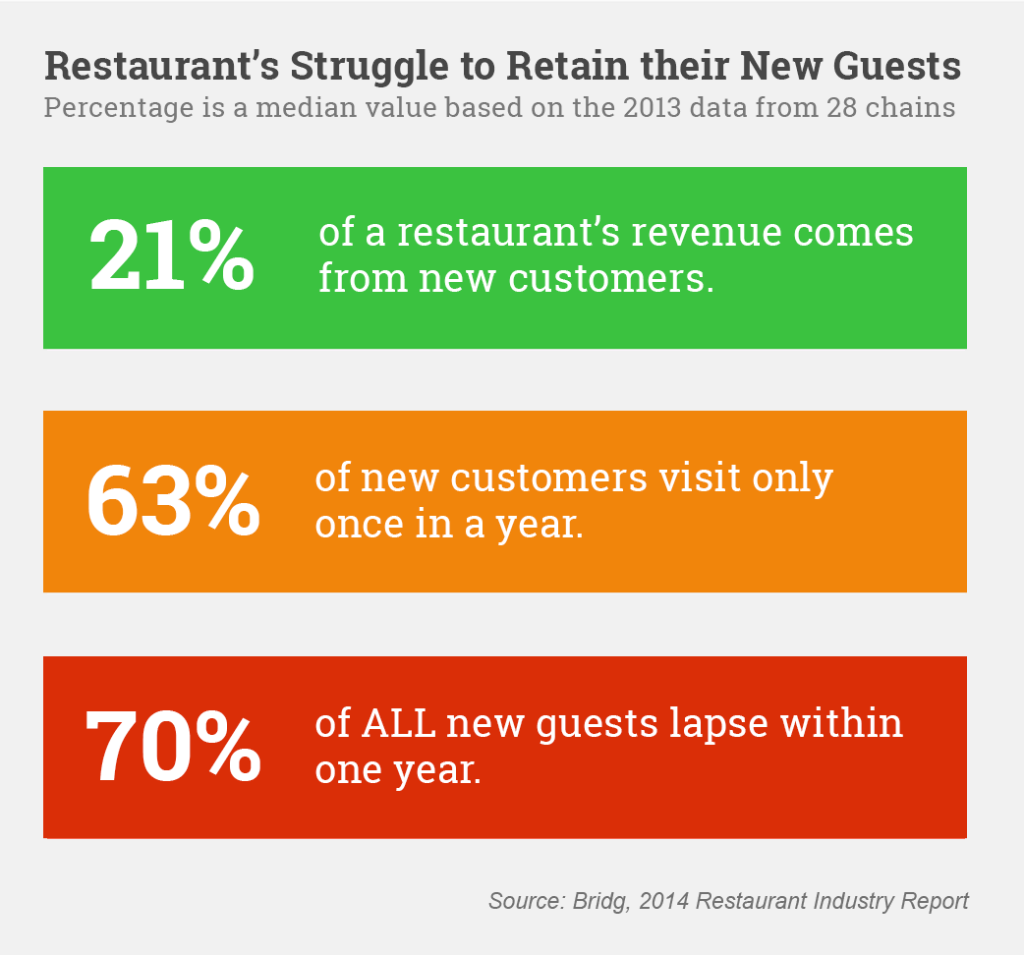 Today's consumers are savvy.
They've figured out that buying 10 sandwiches to get 1 for free is really just a slow way to get a 10% discount. To get people back through the door consistently, restaurant marketers need to step up their game, and start personalizing content like Netflix and Amazon.
The best way to do this is to connect the customer information inside your POS system with your outbound marketing tools.
Want 10% more of your single visit customers to visit a second time?
Analyzing transaction data will let you isolate your first time guests, tell you what each of them purchased, and give you warning, based on predictive analysis, if they're not coming back.
By pairing this information with contact data from rewards program and email lists, you can take proactive measures to make sure guests get back in the door.
Because the average lapse rate of new guests is so high, bringing back 5-10% of new guests a second time works out to 1-2% increase in systemwide sales.
2. Transaction data can help grow customer lifetime value
The second big cash opportunity of transaction insights is increasing the spend and frequency of your core customer group.  
Customer Lifetime Value Calculator
Innovative brands like Starbucks, Domino's and Panera Bread are tracking and learning from every transaction in their system. This sales data, combined with successful rewards and ordering programs lets them understand which menu items sell to which segment, who they should target with specific promotions, and when their most valuable customers have the highest probability of responding to high and low value deals.
Starbucks will send you more gifts if you're inactive than if you are making purchases on a daily basis. Panera Bread personalizes email offers and mobile rewards based on what you've purchased in the past.
This type of marketing intelligence is a win-win. Restaurants save cash by avoiding unnecessary promotions, while remaining responsive to individual guests' preferences and behaviors.
3. Transaction data allows you to test, learn and improve
Last but not least, transaction data adds accountability to your marketing process.
It helps you move away from untrackable local advertising like billboards, Val-Pak coupons, TV ads, and local sponsorships – and focus on measurable marketing results.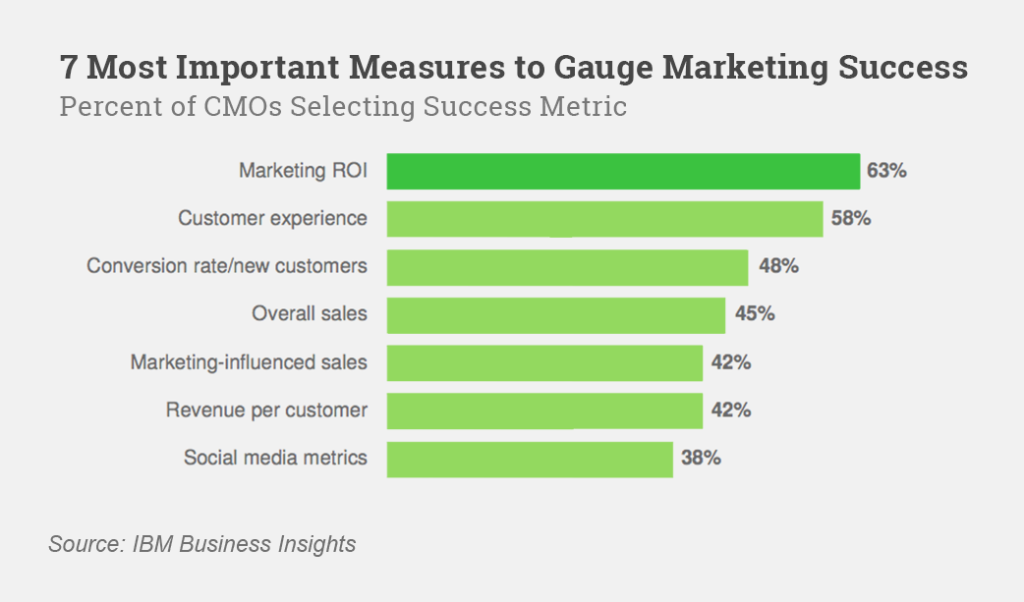 By connecting transaction data insights with a social media platform, or email service provider you can create a three step loop to learn and improve. It looks something like this:
Analyze transaction data to uncover a sales opportunity

Launch a campaign targeting the opportunity, using a variety of different messages/offers

Measure campaign success and determine the most effective message/offer combination
Every time you repeat this process, the relevance and value of your marketing improves.
Summary: Put Your Transaction Data to Work
If you're looking for a way to enhance marketing effectiveness and create real campaign accountability, transaction data is a good place to start.
 By investing resources to organize and analyze this information you can gain knowledge on guests behavior and understand the incremental impact of your marketing.
Combined with the right messaging platform, this advanced insight can help you drive sales by engaging people more effectively, and enable you to predict which offers and messages will drive the most profitable response.