There was a time when the screens in your restaurant were largely out of your control.
A key fact in that first sentence is that it's in the past tense. (Though the reality is, for 99% of restaurants out there, they are STILL uncontrolled.)
But it doesn't have to be that way. Your boring restaurant digital signage (ugh, even that term is bland) can and should be energized into "social signage" and it's affordable.
Check out my Foodable.com post introducing this concept!
I wrote a post for Foodable introducing restaurants to new options in the world of what I'm calling social signage. I talked about the introductory concept of interactive digital signage with on-screen trivia and poker. I worked for NTN Buzztime, who pioneered this. Other companies have introduced alternatives — most notably AMI Entertainment with their Tap TV offering.
I'm not going to reword and reframe the point I already made in the Foodable post, this is a continuation on the theme.
But let me remind restaurant owners of some realities: If you're merely putting ESPN on all your TVs, you're inviting other restaurants to entice customers sitting in your locations. Seriously.
Plus, you're failing to capitalize on the sharing tidal wave that's been in motion for years.
Advertising other restaurants on YOUR screens? Wha!?
I was once in a Buffalo Wild Wings location in Canada. The TVs were broadcasting ESPN and the Toronto Blue Jays taking on the Tampa Devil Rays. All fine and good, right? Local baseball team on the road taking on a division rival. What's not to love?
How about the Hooter's commercial that came on? How about the Hooter's logo on the wall behind the catcher ALL GAME LONG?
Think Buffalo Wild Wings loved that? (They didn't.)
It's a funny notion — advertising another restaurant to customers who are currently in your restaurant. Yet, there's not a lot you can do about it while traditional TV airs in your locations.
But you can counteract it a bit with social signage.
It's time to control the content on your screens.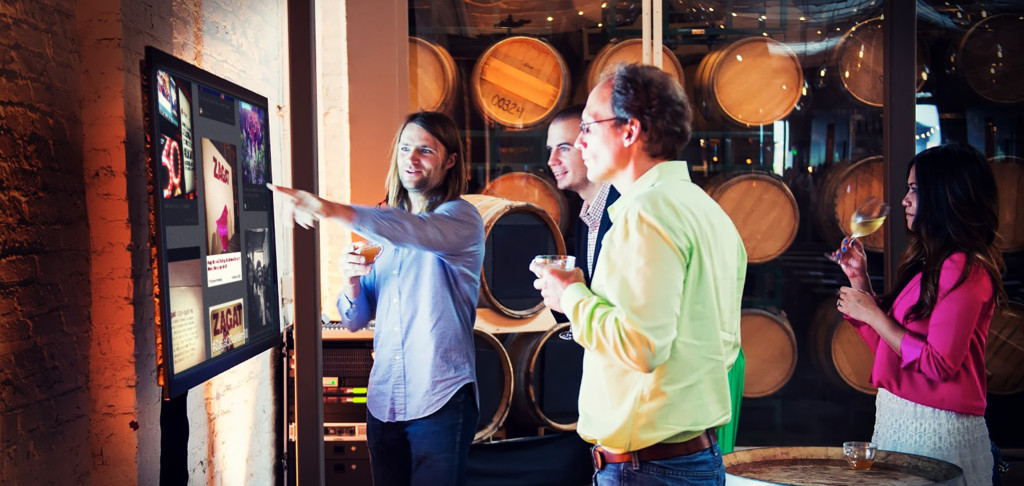 The ability to control the content on your digital screens is one major reason you should take a look at social signage.
If you're a sports bar, or a restaurant that likes to feature sports on some of your TVs, unless you find a technology partner who'll provide the hardware and software to help you intercept the incoming broadcast feed, detect when commercials start, and insert your own professional ads (whew, this is a lot of work, huh?), you're stuck.
If you're one of those kinds of restaurants — where sports is the driver of your on-screen content — your goal should be to counteract the other restaurant advertising that's sure to happen, not prevent it.
If you're a location that only has one or two TVs in place largely for ambient entertainment, you've GOT to take a look at social signage. It can be a tremendous enhancement to your brand.
Dude, people are talking about and sharing photos of your restaurant already. Take advantage!
Here's the other major reason why you should get on board with social signage.
It's not always Yelp reviews restaurant customers are posting on social media, you know. They're taking photos of their food and their friends. Saying good things along with those posting those pics.
And they're often telling people where they're at when they do this via hashtag or check-in.
If you're not monitoring this, you're not trying! You can any number of emerging providers. Postano can do it all (the screen management, the social media monitoring). The forthcoming Venter will be doing it too. Stay tuned — I'll let you know when I've discovered that second one exists.
And now, you can take that content and push it to your screens. Place your TV dedicated to doing this near the entrance and, wowza, talk about closing the deal: Fun, happy photos of people enjoying your restaurant, your menu items, displayed to people about to officially decide to eat at your location? Sounds like a no-brainer.
Postano. Enplug. ishBowl can provide a customized, complementary video feed for your televisions. And Media Caddy has a really unique approach/angle on this that is at-the-table.
Froyos! Pizza chains! Sports bars! What are you guys doing that's new and innovative and brand-enhancing with your screens? Readers, what else are you seeing out there?