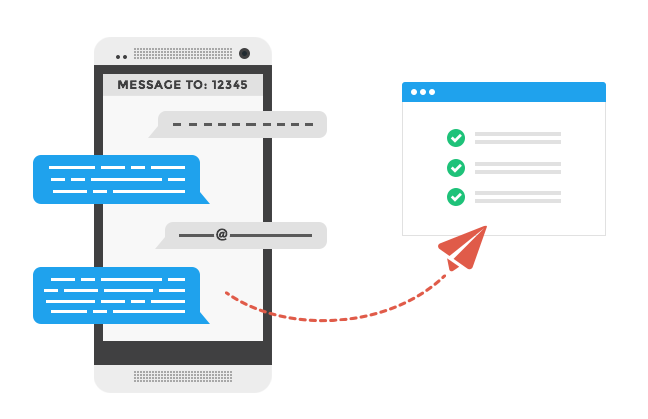 Getting people to join your restaurant email list is one of the smartest digital marketing decisions you can make.
Optimizing your website is important. Social media is great.
But your restaurant email list is where the action is. Most of you know this. The data backs this up as well. Email trumps social media by far.
But it's the building of a massive list that proves to be the major challenge for many restaurants. Let's discuss some new ways to energize your restaurant email list-building results.
First, let's review the 2 most common methods for building your restaurant email list.
Slips of paper that customers fill in with a pen and hand to one of your employees.
A snippet of code on your website highlighting your "loyalty club."
As for #1, this is easily the most 1995-era idea still in existence with restaurant marketing. Does it work? Yeah, but it won't build your list rapidly. The fact that some restaurant email marketing articles still "recommend" it should be insulting to you. Of course you're going to do that.
And why the quotation marks with #2 above? Because you and I both know it's not a real loyalty club. It's an email list, and maybe a rewards program. That's point #7 in our Beginner's Guide to Restaurant Email Marketing.

So let's take a look at some truly fresh ideas for 2015 that will help you rapidly build your email list.
Here are 5 new and creative ways to build your restaurant email list.
1. Your free Wifi is your #1 most powerful and new restaurant email list-building weapon.
Putting a "gate" on your Wifi that requires a person to accept certain terms and conditions isn't something new. Big brands like Chick-fil-a and Panera Bread have done it for years.
Independent restaurants and small chains, you could be doing this as well. And you can build a tremendous list with it.

I've stumbled across a company called Zenreach that specializes in helping restaurants build their email list through their free Wifi offering.
I've seen a simple, local restaurant use their system to produce over 400 new email list members per month over an extended period of time. No kidding. Unbelievable.
I refuse to believe that your local restaurant — or your restaurant chain — will add 400 new email subscribers to your list this month through slips of paper that are filled in by hand and mailed back to an email service provider.
As a side note, Zenreach's offering is even more incredible when you use its automated follow-up system. Second-visit thank you email that's automatically sent out with a message and offer you've customized? Check. Special offer to 10-visit customers? Check. Email sent if there's no visit in the last 30 days? Check.
2. Build your restaurant email list by targeting visitors who are about to leave your site.
We've told you before about Privy. Their platform has evolved to make it supremely easy to engage visitors to your website, specifically for email list-building purposes.
One of their features encourages you to target site visitors who are about to leave your site. You've just about lost these folks (they've shown "exit intent") — shouldn't you make one last-ditch effort to attract them?
Privy believes so. Exit intent software such as Privy's detects that a user appears to be "exiting" or "bouncing" from a web page, and uses that as a prompt for some sort of event, such as displaying a compelling offer to join your restaurant email list in order to unlock a special.
3. Create a restaurant email list dedicated to notifying guests of upcoming events on your calendar.
If you publish any kind of ongoing event calendar, there are people who'd like to know what's going on — and those people will give you their email address. Sports events televised in your location, wine tastings, celebrity chefs, cooking lessons, contests, progressive dinners, these are all great events to people register to hear about in advance.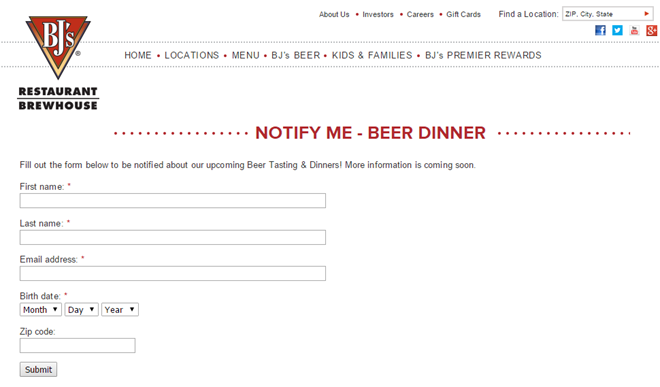 In San Diego, there's even a dedicated service that offers restaurant event planning to consumers that your restaurant can partner with. How about your town?
4. Use dual-purpose technology: build your restaurant email list while collecting feedback.
Remember that one time when we introduced you to Humm? They're one of many new digital feedback services you can use to get ratings and reviews from happy customers while also building your email list. This is still a rarity in practice — I never see casual dining restaurants or fine dining establishments offer this.

However, it's yet another great approach to building your restaurant email list. Besides Humm, take a look at Elevate as well. Elevate makes it easy to launch branded, digital, customer feedback surveys. And when customers write a happy review you can encourage them to post that review to Yelp or elsewhere, while also hopping on your email list or joining your rewards program.
5. Let partners make your special offers available to their customers.
Take an old idea and make a new again. Happens all of the time in movies. Television. And marketing.
A few years ago, Nick Fosberg published an article about partnering with other local businesses to promote your restaurant. The folks at Buzztime followed that up with their own list of ideas on partnering with local businesses in new ways.
Let's digitize that experience. Mailchimp and Emma offer standalone apps that you can install and customize on an iPad. Put that iPad on your own tables and counters, by all means. But why not entice the local community credit union to let their new members join your list instantly — right there at the credit union's desk or counter?
You provide the pre-configured iPad and the reward for every new subscriber. The bank provides an exclusive new perk to a new customer.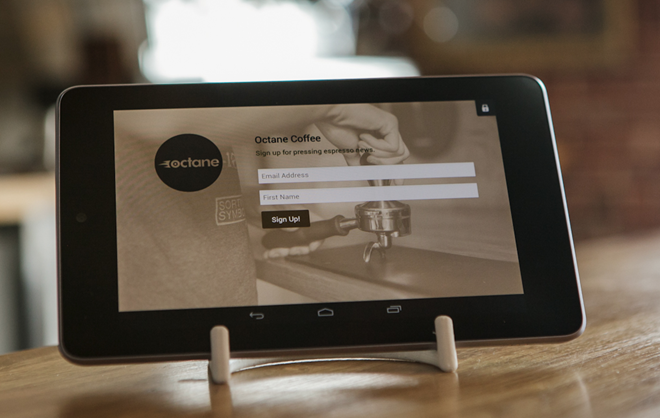 BONUS!
Here's a bonus tip for you — and I'm really curious which forward-thinking restaurateurs will give it a shot.
If you use LeadPages, which is a really powerful landing-page and list-building tool more common with online companies, but absolutely worthwhile for restaurants, you can allow people to join your restaurant email list via text message.
LeadPages has a product feature called LeadDigits, which makes this method for building your list extremely easy. Really cool. Here's a video.
You don't have to use LeadPages to do this, mind you. You can just as easily use Qwikon or SlickText. The cool thing about LeadPages, however, is the email service integration involved. They can't support every system, but their customer service will help you integrate your platform.
With Qwikon or SlickText, you'd have to copy and paste email addresses into your email list service (Mailchimp, Constant Contact, iContact, or others).
Find these useful or have additional opinions or ideas for building your restaurant email list? Let us know in the comments below or via Twitter.
(Photo of tablet with Chimpadeedoo app courtesy of Mailchimp.)