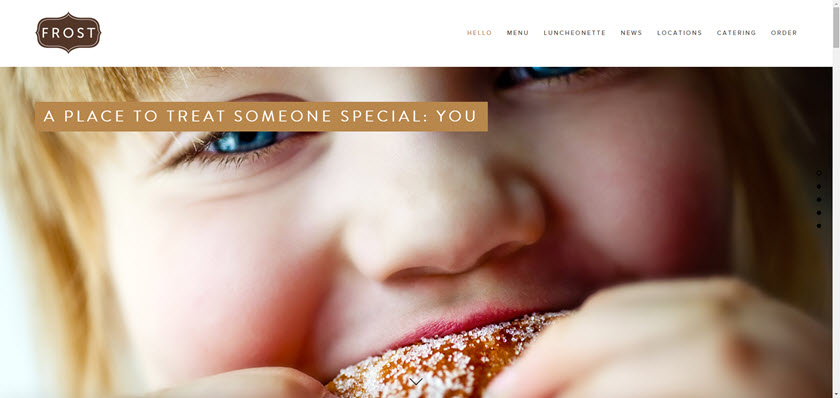 Email list-building is a priority for many restaurant marketers. In this case study we'll share how one restaurant group got great short-term results in doing exactly that. We'll also share some next steps for what they could do to take their list-building to a new level, while incorporating social media.
Daniel Sterling is the CEO and Creative Director with Frost Restaurant Group.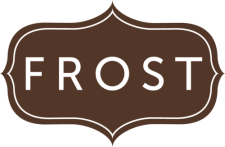 Frost operates three locations in Washington state. Their menu is a hyper-focused one that centers on life-changing doughnuts and cupcakes, as well as a lineup of unique, hot-press sandwiches for lunch.
Like many restaurant owners, Daniel has an ongoing desire to further the group's email list-building and social followings. His current situation (as of December 15, 2015):
Facebook: 13,805 likes (8,513 check-ins)
Twitter: 1,875 followers
Instagram: 1,613 followers
Frost has done a good job of using social media in order to spur engagement. Here's a recent example from their Facebook page of a post that goes beyond the typical restaurant food post: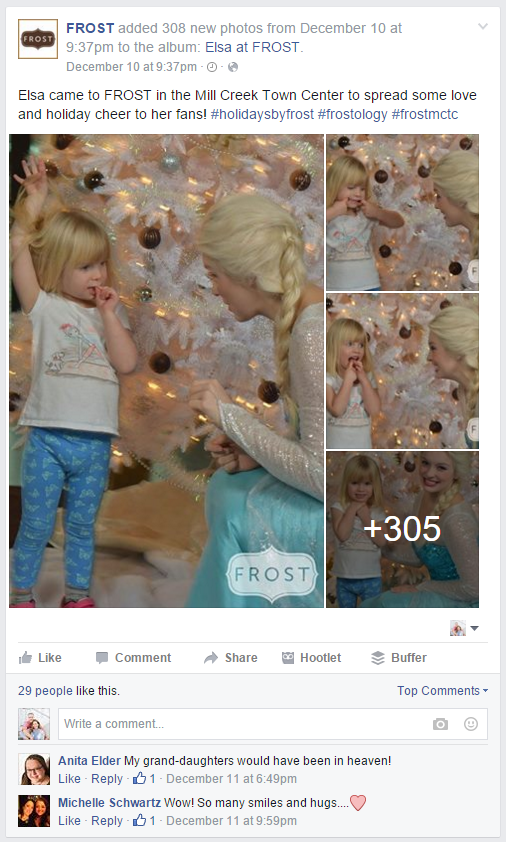 Social media is #1 on Frost's priorities as far as restaurant marketing tools.
But Daniel recently did a short-term test to see how he could quickly boost the email numbers as well. And here's what you experience now at the site:
Here's What Frost Implemented
Frost launched a low-key popup (first screenshot below) that doesn't appear instantly, and a footer (second screenshot below) call to action. That's it.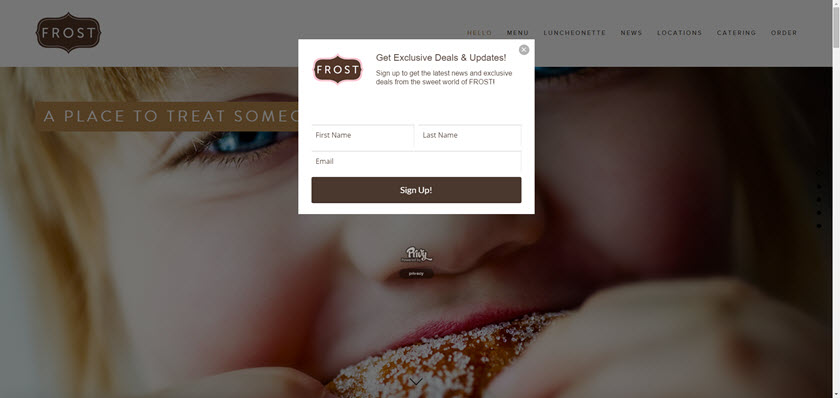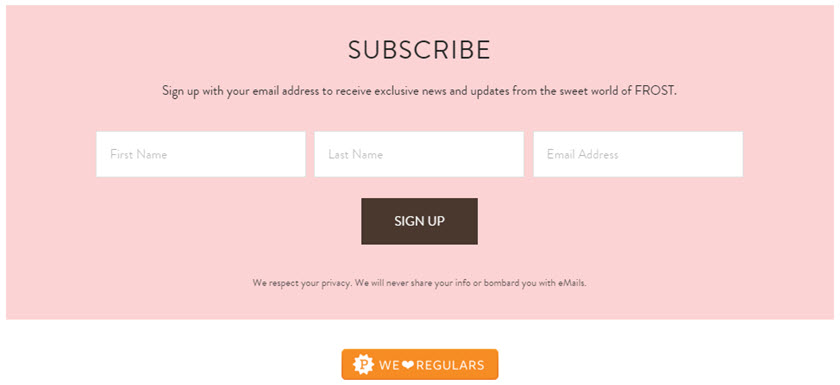 You'll note, very subtly, in the first image the Privy branding below the popup. And underneath the signup box on the second image you'll note the "We love regulars button as well" — that's Privy, too.
Frost didn't run a Groupon or use these calls to action to promise a dramatic discount or freebie. They just invited site visitors to get access to "exclusive" deals. Many restaurants do something similar — although, I'd submit that the wording is important, and Frost gets it right here.
But generally speaking, on the surface it would appear that Frost isn't doing anything groundbreaking.
And Here's What Frost Saw Over a 2-Month Run
300 new email subscribers over a two-month run, that's what Daniel reports. That's astounding for a small restaurant group like this. And while Frost is focused on social media as their priority, Daniel tells me, this screams to me that there's an opportunity to marry these two worlds — email and social.
Let me explain how.
Privy's features have evolved significantly over the last 18 months. They've always helped restaurants and retailers collect email addresses and run promotions with single-redemption offer codes (the latter feature is very cool, I have to tell you). They've built out the product more and more to help restaurants and retailers rapidly build those email lists.
The reality is, unless you're harassing your guests in-venue, you're not going to get 300 new email subscribers across three locations in two or three months. It's just not going to happen, unless you get more creative and subtle, as Daniel and Frost have.
But Frost was just testing the waters with Privy, and only used one variation of Privy's list-building tool. That is, when you're on the site for 30 seconds, the minimalist Privy pop-up appears, inviting you to join in exchange for future access to those exclusive deals.
Now, Here's How Frost Could Really Energize its Email List-Building
Email list-building is the mandate of many restaurant owners and groups.
Privy has a variety of additional features that could make Frost's results even more interesting. (As a reminder, we're not paid by Privy to share this with you, just educating you on how you can do more with digital marketing to attract and engage customers.)
The previously mentioned Privy pop-ups can be triggered to occur when the browser detects that a site visitor's cursor has moved to the top, indicating their intent to leave the site. This is called an "Exit Intent"-triggered pop-up.
Pop-ups can be limited to desktop site visitors — but I'm writing this in 2015, so it absolutely makes sense to target mobile users as well.
Privy offers this quiet but powerful "landing page" tool wherein social media fans and followers can see their own (mobile-friendly) offers from links shared on those social networks.
Privy can integrate with just about every major email marketing service that small and large restaurants use — Mailchimp, Emma, Constant Contact, Mad Mimi, Benchmark, GetResponse, Infusionsoft, and for the bigger restaurant groups: Fishbowl.
The Privy branding can be removed.
The Fishbowl integration is particularly impressive here. Fishbowl has their own platform for sending single-use, short-term redemption offer codes, so the fact that Privy was able to land this is no small thing, and it really benefits the bigger brands out there.
For instance, I've tested Bruegger's Bagels use with Privy and it works exactly as you would hope as a restaurateur:
You can create a clean and simple, branded offer for social followers and email subscribers.
You can implement single-use redemption codes (that auto-expire within a certain amount of time).
You can send automated email reminders through Privy to remind customers of the impending expiration.
You get specific details on redemptions, and can then segment your customer list from there.
You can keep on using your existing email marketing service provider.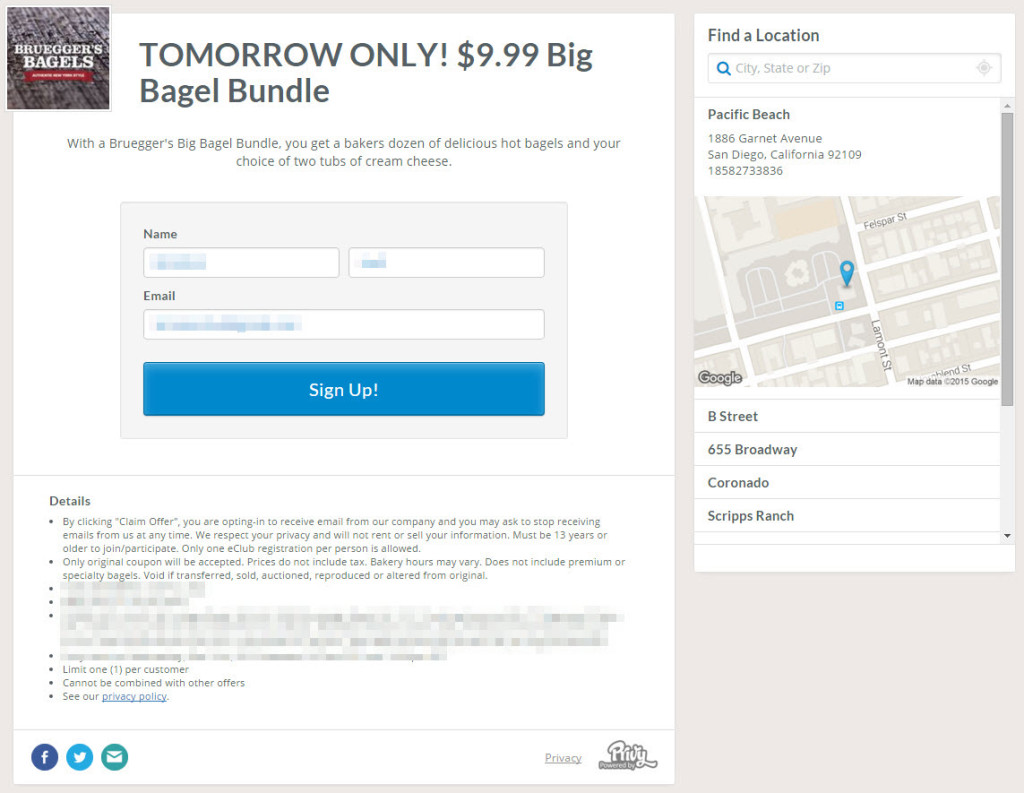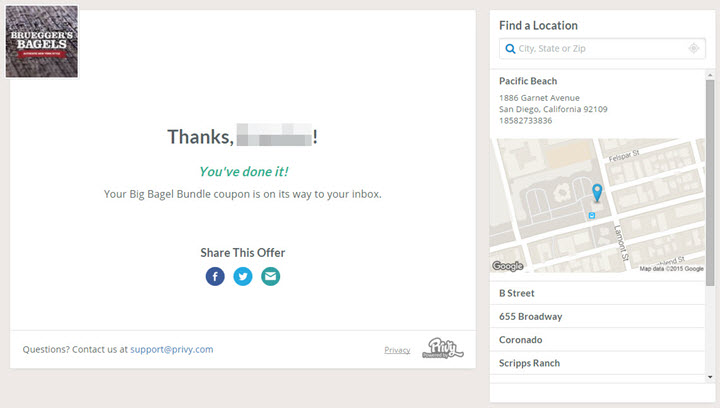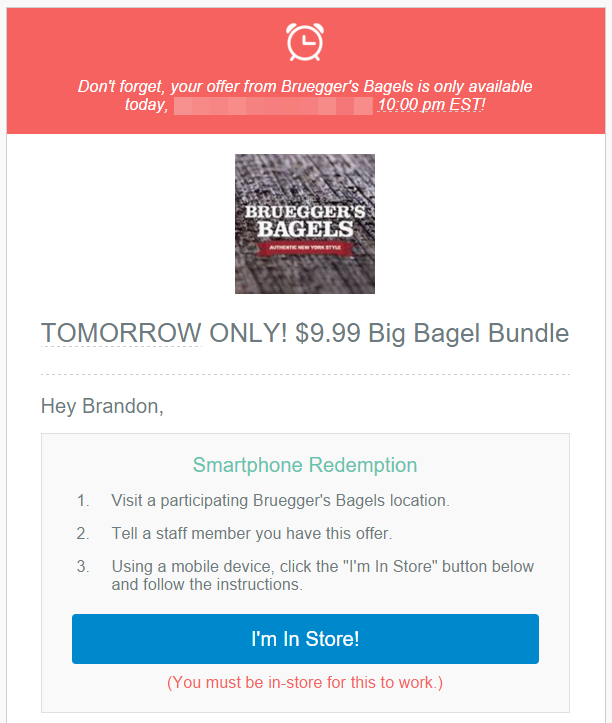 You can use any number of other tools out there for energizing your email list-building like Frost is doing. OptinMonster is a very popular one in the non-restaurant world, for example.
What I think makes Privy most interesting for brick and mortar establishments like restaurants is the offer code tracking, the social media integration, and the integration with so many existing email service providers — especially ones that restaurants use.
Summary
The worlds of email and social are merging. There's a great opportunity to blend your marketing efforts in such a way that they blend what you're doing to attract and engage customers via social with what you're doing to attract and engage customers via email. They don't have to live in two separate, but consistent realms.
Frost is starting to see what's possible in order to build a powerful email list. Now, what will you do to do the same, while engaging your social media following as well?