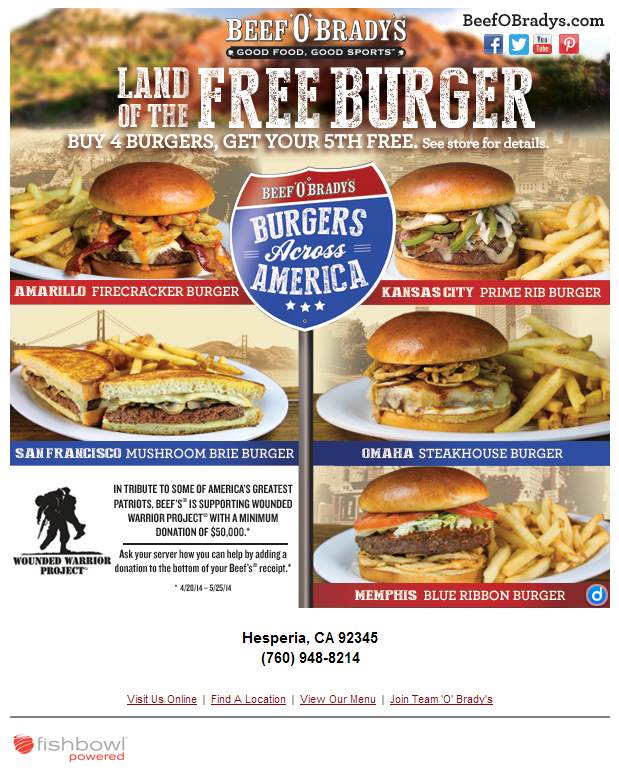 Brands, this is a great idea from Beef 'O' Brady's. I had to share it.
We're talking about a highly franchised chain of 220+ locations here. I'd go so far as to call the brand a loose confederation of affiliated restaurant owners more than a tight, cohesive "brand," in fact.
That's not a negative; that's how the franchise system has played out over the years. Local franchisees, most of whom own no more than 1-3 locations, and all deeply connected with their communities.
When we talk about "local marketing" at NextRestaurants (remember, we primarily focus on digital marketing) we still, often, mean social. But what if you took a much closer look at how you manage your local marketing with email?
Yeah, many of you know by now that the Fishbowls of the world can offer multi-tiered, multi-permissions email marketing services where you have overall control at the corporate level while local managers can shoot their own emails out as well. But this is different.
I really like the notion of offering menu items that carefully align with local preferences, trends, and tastes. And I recognize that isn't a brand new concept.
But how many of you running multiple menus publicize that fact, or make it a bigger part of your local marketing efforts?