This is the fourth post in our series comprising The Beginner's Guide to Restaurant Email Marketing. Our introductory post can be found here. Post two on selecting an email marketing vendor can be found here. And post three on metrics you need to measure can be found here. 

It's so clear that restaurant owners and marketers have a love/hate relationship with email.
On one hand, you want people on your list. The more you've got, the better chance some of them will redeem some of those crazy offers you're sending. Seriously. It's a numbers game.
Although industry stats suggest that a minority will read your emails, you know you need that list. It's the easiest way to communicate with former guests who are no longer on-premise.
On the other hand, those stats loom — so few consumers open or read your emails! 31 percent, tops. And social media looms as well. "If I send someone to my Facebook page or Twitter account," I can hear you saying, "They're not any closer to ACTUALLY VISITING my location! They're still just piddling around on the computer!"
It's the reason so many restaurant chains merely slap a delicious photo in their emails along with an offer and hope for the best. Easy peasy. Not a lot of tech savvy needed — even if you work for a major chain. Just approvals on the offer.
And it works, right!?
If 69 percent of your email recipients not even OPENING your emails is how you define "works," then, YES, I guess it does work.
There are 4.5 ways to get more restaurant visits from your email list.
Here's the deal. You can keep on keeping on with photos of your sirloin. Really, you can. Or you can make sure every email covers at least one of these bases and see your email engagement increase and visits, too, as a result:
1. Be a cool social destination.
Sadly, despite the fact that so many restaurants offer a great, social destination to hangout with a spouse, friend, or in a manageable group, I never see this emphasized in emails. "Social proof" is a proven influencer. Give it a chance.
Eating is a social activity (especially in the U.S.). Why not feature photos of the REAL PEOPLE who visit your restaurant, giving email readers a great reminder of your restaurant's vibe. Or feature photos that show the seclusion a couple will enjoy on a date to you restaurant. Feature people, not just food.
2. Feature a menu that is unlike any other.
Honestly, the chocolate cake image you dropped in your last email might as well have been stock photography. Show me the items I can't get anywhere else. Show me that eating at your restaurant is a completely unique experience.
I was just in a Cafe Rio within the last 24 hours. Know what they serve there? Besides the Tres Leches, which are legendary, mind you. They serve Horchata. HORCHATA, people. Don't know what that is? Exactly my point.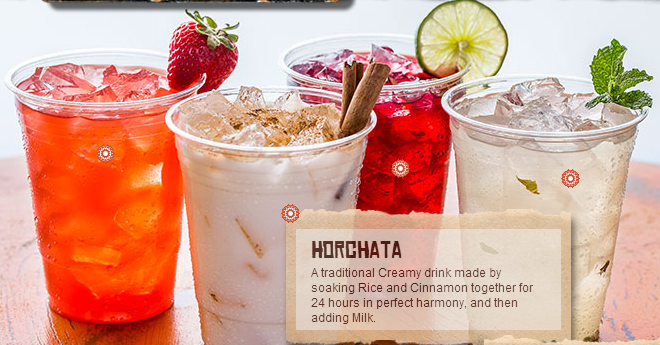 By the way, before you tell me you DO serve Horchata…Horchata's friends in the image above are (hand-pressed) Mint Lemonade, Strawberry (100% natural, hand-squeezed) Lemonade, and Southwest Limeade (with crushed Jamaican hibiscus flowers).
3. Publicize offers that are more personalized and generous.
Mother's Day email offers from restaurants this year were pretty ho-hum, I have to tell you. Nothing creative, really. "Mom eats free with the purchase of another entree!" Would it kill you to run a contest and just give a few moms the entire lunch free — no additional purchase required?
In this age of constant social sharing, do something SPECIAL for your target audience — that others simply ARE NOT DOING — and you're more likely to draw folks in. Read what I suggested carefully. I DIDN'T say anything close to "Offer a deep discount to a ton of people a la Groupon."
In one of our recent email newsletters we shared some bonus ideas for generating excitement and traffic for Mother's and Father's Day. Email me (brandon at nextrestaurants.com) and I'll share them with you.
4. Be someone your email readers LIKE and TRUST.
This is so much easier for an independent restaurant to pull off — AND YET THEY OFTEN DON'T EVEN TRY. If I owned a restaurant, my photo would be slapped into every email we sent out. Goes back to the link I shared above — we are influenced by people we like; and we are influenced by people of authority.
So many restaurant owners have so much personality, so many stories — that should be evident in every email as well. Too often, emails are crafted from a marketing department that forgets what it sounds like to read things that are churned out of a marketing DEPARTMENT. There's no real "voice" — and therefore no 1:1 bond between the hoped-for guest and the restaurant.
Get real in your emails. Cause people to really think your restaurant has a personality by GIVING IT ONE.
4.5 Write email subject lines that are FAR more funny or clever or intriguing.
The toughest thing about email marketing is often the subject lines of those emails. Bore people with them and you won't even get your renewed efforts with numbers 1-4 above off the ground.
Subject lines can be funny. They can be inviting. They can be intriguing. They can be mysterious. They don't have to include the entire offer. Some examples:
Signature 95 Update: The one seat everyone craves in our restaurant. Make it yours.
Humphreys: A brand new drink you can't find anywhere else.
Alchemy Weekly: I launched a new entree Tuesday. What happened next shocked even me.
Il Fornaio: What Alfredo says about our newest addition will make your jaw drop.