Y
ou know email marketing is important for your restaurant. Every Wednesday, you scramble to throw something together – or offload the task to someone on your team – because you know you should.
The email goes out, you feel you've done something good for your restaurant, and you can check one more thing off your list.
But what if you could harness the full power of email marketing, without putting any more time or effort towards it than you already do, to drive customers and profits to your restaurant?
Email marketing returns an average $40 for every $1 spent. It's by far the most affordable, and most successful, marketing channel… when done well.
Doing email marketing well isn't that hard. In fact, there are seven simple things you can change about your email marketing program today that will increase its effectiveness right away. And don't forget to download a free email sending checklist to ensure you don't send a bad email to the wrong segment of your list. 
1 . Add a website popup.
One of the easiest ways to collect email addresses is through your website. Websites and email marketing work in tandem to drive business for your restaurant.
In fact, you may already be asking customers to opt in during the online reservation process or through a loyalty program on your website.
Another successful and underused method of adding engaged people to your email list is by adding a popup to your website.
There are tons of case studies proving the success of this email-collecting method – in one case, a food blogger who implemented a website popup received 7,000 new subscribers over eight months.
The type of business you won't find floating in these case studies is restaurants. They don't exist because unfortunately, many restaurants aren't taking advantage of website popups so there aren't any success stories to share yet.
A common objection for implementing a popup is they seem annoying and might drive website visitors away. This is a misconception.
Easy-to-use and freemium website popup creators such as Justuno and SumoMe allow you to set detailed business rules so you don't make people want to click off your website popup.
These rules allow you to set a time limit on a popup (only show after someone is on your website for 1 minute), set a page limit (only show after someone has viewed 2 pages), or get page-specific (only show if someone visits your reservations page).
Once you have business rules set for your popup, it's time to brainstorm an offer people can't resist. What would make a website visitor want to give you his or her email address? Promise to send the updates when you have special offers or discounted pricing.
Customers enjoy knowing when they can get a 2-for-1 on their favorite pizza. Another tactic is to offer a discount or coupon if a website visitor hands over their email address. It's hard to resist a money-saving deal.
2 . Write a killer subject line.
Want to write emails your customers can't wait to open? Spend a lot of time perfecting your subject line before you hit send. People get pummeled with promotional emails every day, so in order to get people to open your messages, your subject line has to stand out.
Create a sense of urgency and exclusivity.

According to the Email Institute, subject lines with these qualities are more likely to get the opens you're looking for.

Add the person's first name to your subject line.

This is information you probably have stored in your Email Service Provider, (ESP), and can be inserted into the subject line with one click. According to content marketing expert Hubspot, subject lines that use first names get higher open rates.

Imitation is the sincerest form of flattery, so

hunt in your own inbox to find favorite subject lines.

Don't copy word for word, but use these subject lines as inspiration for your own.

Make sure you

stick with the personality of your restaurant.

Is it light-hearted, witty, elegant, serious? Make sure that same feeling is reflected in your subject line.
3. Make images clickable.
People are accustomed to emails being interactive: Your readers will expect to be able to click on links and text in your emails. That goes for pictures, too. You're sharing beautiful images of your restaurant, your staff and your customers – why not link those images so people are drawn to your restaurant's website?
The most important image that should be linked in every email you send is your logo. Sending an email without your logo is a no-no.
When they open your emails, readers decide in two seconds whether they are going to stick with your message. A logo can create instant recognition, and keep subscribers reading and clicking back to your website homepage.
When linking images in your emails, be strategic in choosing which pages to link back to.
Your logo should link to your homeage, an Instagram-esque shot of your signature dish should link back to your menu page, and a fun photo of your staff should link to your contact page.
4. Design your emails to be read via mobile device.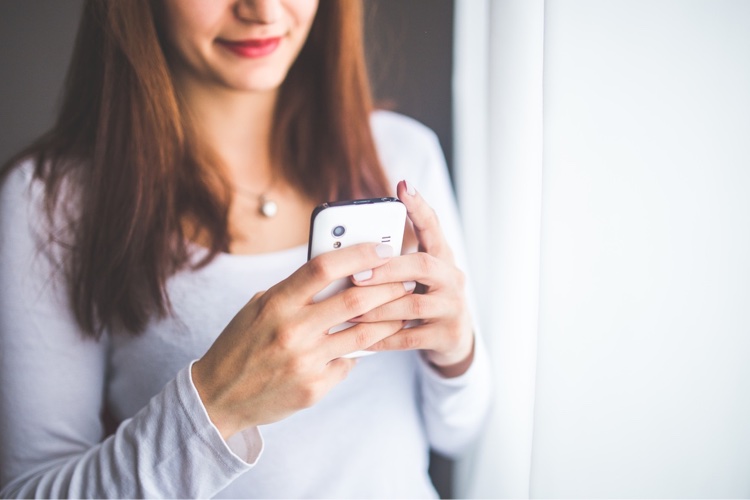 If there's only one thing you know and follow when it comes to email design, it should be this: How your email looks on a phone is the most important things about how it looks.
Over 60 percent of emails are opened on a mobile device today – meaning a phone or tablet – and that number continues to grow. If your audience is looking at emails on their phones, then you should be looking at them that way, too… before you hit the send button.
The good news is many ESPs have something called responsive design built into their templates so your emails automatically resize to fit whatever screen size they're on – without you doing anything. However, you're not off the hook.
Too many images or copy-heavy emails means readers will have to scroll for a long time to see everything. To avoid this, it's essential to review your email design before sending so you can make edits for length when necessary.
Use the preview options built into your ESP to preview your email in different screen sizes or use a free tool such as Litmus to see it on over 50 screen sizes and email clients (Google, Outlook, Yahoo, etc.) And you can always send a test to yourself to see it on your own phone or tablet.
5. Track your links.
Whenever you include a link in your email marketing, it's important to add tracking. This allows Google Analytics and your ESP to give attribution to specific email sends, and to your email marketing overall.
For example, if you see a majority of your website traffic for the week came from email marketing, you know what you're doing is working.
Adding tracking to your links is simple.
Go to the

URL Builder Form

online.

Enter the link you're using in your email, to which you want to add tracking.

Type in your Campaign Source. This should reference the type of email you're sending and/or your ESP, e.g. MailChimp, newsletter, Wednesdaypromotion

Type in your Campaign Medium. Since this link will be used in email marketing, enter the word "email" in this form field.

Finally, give your campaign a name. Get as specific as possible without entering too many words. Typically, I use the subject line of my email: Fridays-Specials-Are-Here
Once you've entered all of those required pieces of information, the URL Builder Form will create a customized link Google and your ESP can use for tracking purposes. In this case, it would look something like:
http://www.YourWebsite.com/?utm_source=MailchimpNewsletter&utm_medium=Email&utm_campaign=Fridays-Specials-Are-Here
This customized URL will still send you to the same website page, but now it will give you additional information about how well your emails are working.
6. Stop doing stuff that's not working.
If you're tracking your links, it only makes sense to check in with your email performance regularly. By giving your Google Analytics reports a once-over once a week, you can see what's working and what's not working… so you can stop doing the latter and put more effort into doing the former.
Besides looking at your channels report in Google Analytics, your ESP will also give you stats for each of your email sends, as well as your email marketing overall. There are a couple of metrics to pay attention to:
Open rate:

Knowing how many people opened your emails will give you two indications: how good your subject line is and how good your sending time is.

Click-to-open rate (CTOR):

This is the amount of people who opened your email and then clicked on an image or text inside it. If this number is high, then your email copy and images are good.

Unsubscribe rate:

This is how many people clicked to opt out of getting your emails. If this is high, it's a good idea to add a survey to your ubsubscribe confirmation page. Find out if people never opted in for your emails in the first place, you're not sending the types of emails you promised subscribers, you're sending too many emails so people feel overwhelmed, or if there's another reason readers are opting out.

Hard bounce rate:

These are emails that are on your list, but don't actually exist. Maybe the email has been deactivated, or someone entered a fake address, or there was a typo. These emails get "bounced" or sent back to your ESP. Go into your settings and make sure these emails are deleted right away.
7. Use a sending checklist.
No matter how much of a perfectionist or detail-oriented you know yourself to be, you 're still capable of making mistakes – especially when you've been putting together an email for more than a few hours.
What should be obvious boo-boos such as spelling, grammar, and capitalization tend to fly off your radar.
That's where a document such as a sending checklist can come in handy. Once you've finished your email and think it's ready to send, have two or three people on your team review it using a sending checklist.
This checklist should cover spelling, grammar and punctuation edits, to making sure information is accurate, to checking links send people to the right web pages.
Email is the only form of digital content that cannot be edited after it's sent.
Make a mistake on a blog or social media post, and you can easily edit or repost with no harm done. Once an email goes out with a mistake in it, though, there's nothing you can do about it.
Because a sending checklist is so important, and you don't have a lot of time on your hands to create one, I'm giving you the one that's worked the best for me.
It's one I put together based on the items I've found most important when reviewing emails. It brings me peace of mind when I go to hit the send button – here's hoping it does the same for you!