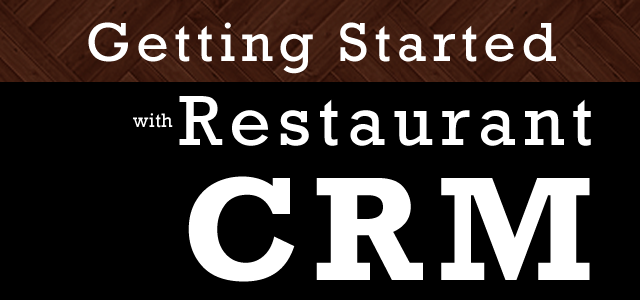 Are you using CRM in your restaurant? I know what you're thinking CRM? WTF? OMG!
Don't fret, CRM stands for "consumer relationship management" and you may already be using it in some form or another in your business.
But even if you are, you could be doing so much more…
CRM at its core allows you to know your guests and carefully manage your interactions with them. It also helps develop relationships with potential diners in your establishment.
So, based on that, do you want to use CRM to grow your business? Of course you do!
And you're in luck as this is the first of a three-part series on using CRM to grow your restaurant.
What We'll Cover
In this first post we'll  discuss what restaurant CRM is and how it can help you. In part two, we'll take a high level look at some of the major CRM services that you can use in your business. Part three will discuss how to build relationships with your patrons using CRM. We'll have one final post where we tie it all together.
So without further adieu, let's jump into part one.
What is "CRM", Really?
Restaurant industry insiders have been encouraging restaurant owners to go to greater lengths to get to know customers for years.
CRM, as mentioned above, stands for consumer relationship management. CRM helps businesses of all types, not just restaurants, build relationships with their current and future customers. It accomplishes this through the information gleaned about customers and their interactions with your business.
There are three main capabilities of having a CRM approach to managing your interactions with guests:
1. CRM can generate action
First, it creates action by encouraging the customer to patronize your restaurant. This can be triggered by an event such as an anniversary or a birthday.
If you have an email list, you can request your customer's birthday or anniversary and then the CRM system will automatically send a "Happy Anniversary/Birthday" message to the recipient along with a special offer.
2. CRM creates a connection outside of the restaurant
Second, CRM creates a connection outside of the restaurant by allowing you to drip messages to your customers. The messages can be advertisements or coupons and can be mailed or emailed, encouraging the customer to take an action.
The messages could also point the customer to your website, Facebook page, or Twitter account.
3. CRM helps you know who your customers are
Third, CRM encourages repeat business as the habits of the guest are monitored, allowing you to know your customer and tailor an offer that's tied to a customer's previous experience in your restaurant. It also gives you the opportunity to send additional offers (discounts / coupons) in an effort to get repeat business.
As with anything, knowledge is power and people like being recognized and remembered. CRM gives you the ability to know your customers and create customized campaigns specifically for them and their needs.
CRM isn't just a spin on 'email marketing'
Email marketing is a component of many CRM systems, but on its own is more broad and promotional in nature. A CRM solution allows you to tailor the message so that it's customized and unique for the particular customer.
For instance, if you know that the customer enjoys your Southwest Burger they would probably be really interested if you created a Southwest Fries side dish or a Jalapeño Popper Pie or something like that. You could also send them a coupon for a discounted Southwest Burger in an effort to get them to return.
CRM isn't just limited to traditional mail or email; you can also use SMS text messaging and social media to interact with your patrons.
CRM and Customer Data
As mentioned earlier, CRM allows you to "know" your customer. This is achieved through loyalty programs which will specifically track the behaviors of your customers. Case and point, if you're a grocery store rewards member, the grocery stores have tons of data about you and your buying habits.
In exchange for giving the stores your information, they'll offer you a modest discount in return. They can instantly generate on-demand coupons to give to you upon checkout in an effort to get you to return.
Using CRM in a restaurant is no different and is tied to your point of sale system. Once you have the customer's data, it's relatively easy to create offers that appeal to them. We'll discuss the nuts and bolts of using CRM to build the relationships in part three of this series.
Conclusion
CRM is a valuable strategy to implement in your restaurant and will help you generate more business. Having data about your clientele not only helps you create things that are appropriate for them, it can help shape your future offerings based on purchasing trends.
In part two, we'll take a look at CRM providers and get a bird's eye view of what they offer and their capabilities. And then in part three, we'll jump into building the relationships with your patrons by using your selected CRM system.