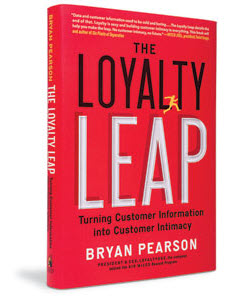 I'm devouring The Loyalty Leap right now, and thinking through it with the eyes of a restaurant marketing leader. A variety of immediate takeaways jump out at me for the restaurant industry.
There is an absolutely brilliant opportunity right now to "develop an everyday conversation with customers." Page 15
It doesn't matter if it's true or false; perception is everything. Page 22
The scary truth…is that many satisfied customers are simply tolerating [companies] until they can find a competitor that offers a better price, service, or location. Page 65
There's a difference between behavioral loyalty and emotional loyalty. Behavioral loyalty is a reflection of convenience, price advantage…but but it falls short as a measure of customer engagement. Page 66
Emotional loyalty is based on the company's capacity to recognize the customer directly. That customer is yours, despite the competition. Page 67
Let's just be honest here. There are so few truly unique, definitive brands in the restaurant industry.
There are quirky brands who aren't your typical hamburger, pizza, sandwich, or Mexican restaurant. But few who deliver as a brand.
That emotional loyalty nugget screams out that the restaurant industry still needs more brands willing to go out on a limb. Restaurant loyalty can be a real thing — where you're chosen over others right next door or down the street.
The book, written by Bryan Pearson of LoyaltyOne, highlights research by Gallup, they discovered that emotionally loyal customers spend 67 percent more than others over a 12-month period. Now, a lot goes into nailing emotional loyalty. While the book doesn't go into a bullet-point list for the restaurant industry, here's a few we'd offer, inspired from The Loyalty Leap:
1. Have a clear-cut vision of whom you're trying to attract as a guest.
Be crystal clear on this. It doesn't mean you want your locations to alienate others, but it does mean you (and your managers, and your staff) all know exactly who the ideal guest is when that person walks through the door. What does he or she look like? How old? Married? What household income? Children? What are his or her interests? Digitally savvy? When does he or she come to your restaurant and why (besides just " to eat" of course).
2. Collect data on your guests.
It starts with your email marketing list. But it extends to their purchase history as well, if you're ready to tap your POS that way. There are providers who can help with this. What's stopping your brand from developing its own, engaging, custom app that allows guests to create profiles that can be appended to their participation in your E-club?
3. Talk to, offer, and reward guests based on their interactions with you.
Be transparent about this, first of all. State clearly on your website and Facebook page that you want to make their restaurant experience personal and satisfying. And then DO IT. Don't blast generic offers out to an entire list that you've spent time segmenting and appending. Send highly targeted, even behaviorally based emails to your most loyal guests.
Let us know if we can help you do this.
A shout-out with huge kudos to Gretchen Sherlock at Old Chicago, who has done this in a laserlike way within the last 12 months as Old Chicago began its massive rebranding effort.