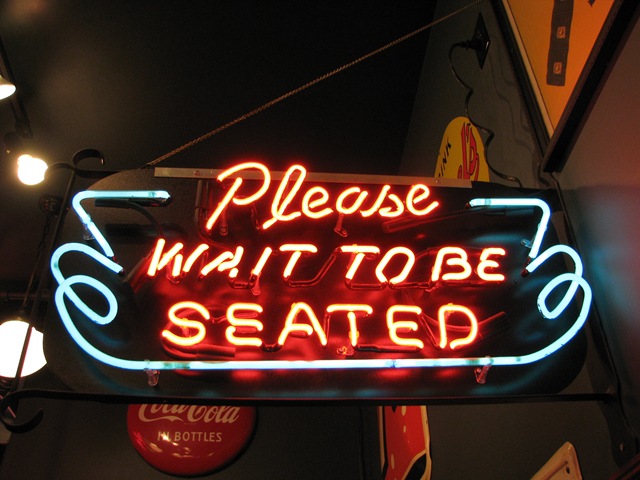 While some restaurants wait for Apple to unleash its reservations/waitlist service to the world, there are a host of companies doing a rock-solid job for restaurants in this area already. If you've got a line to manage, and want to make the wait more convenient for guests, while turning it into a marketing opportunity for you, give some thought to one of these providers.
We've got 6.5 listed below. How 6.5, you ask? The last one on our list debuts in the USA later in 2014 but is already well-established with an outstanding online reservations presence in the UK.
NoshList offers a free plan that includes unlimited, free texting and phone call notifications to your guests with no per-party, per-text, or per-diner fees. The NoshList service includes a tablet (and extras for managers who walk around the restaurant), historical averages of wait times for more accurate quotes to new guests, and a local phone number, two-way texting, weekly email summaries, table number assignments, loyal guest recognition, and more.
Guests can also check where they are in the queue on their own phones or on an in-venue screen.
NoshList offers a free plan without all of the features above, with paid plans starting at $49/month/location.
BuzzTable provides far more than waitlist management, but it nails this valuable utility at its core. View customer info, preferences, and visit history the moment guests walk in the door. Staff can even add to customers' profiles. BuzzTable's tablet-based offering features text and call notifications, offline mode, custom messaging, guest auto-updates as their wait time changes, sortable lists by party size, table number assignments, and kiosk mode (when there's no wait).
There's also a BuzzTable app for guests that allows them to give PRIVATE feedback, social media integration, full-featured recommendations that can be delivered via push notifications.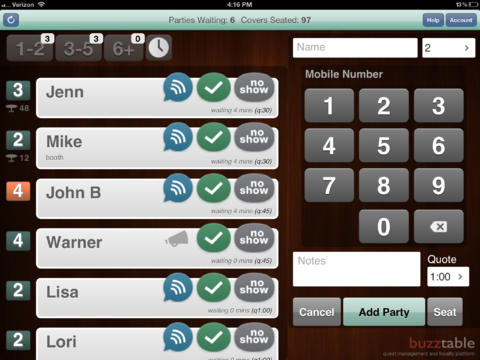 NoWait is an iPad-based waitlist management tool that manages call-ins as quickly and easily as walk-ins. The NoWait platform allows for customized seating plans, hosts can add party sizes, one-touch notifications to guests' cell phones, customized messaging, and a complete dashboard with statistics on total parties, removes and walk-outs, actual vs. quoted wait times.
Guests can confirm or cancel, or reply with any comment or question) via text message.
There's a free plan for restaurants, and then pricing starts at $59/month/location for up to 500 parties served.
TurnStar's platform is online, so the system can be accessed via traditional PC or tablet at the hostess stand, but guests can also join the queue via their smartphones. The TurnStar service eliminates pagers and each restaurant's account is completely customized.
Guests can opt-in to receive surveys about their dining experience, special offers, and become recognized VIPs when they walk in the door. TurnStar also provides a widget that can be embedded on your restaurant website to make nabbing a reservation Faster.
Plans start at $99/month/location for up to 750 phone numbers monthly.
The Table's Ready system is text-message based (see the trend here?!) and is designed for lightning-fast staff training and guest entry, whether via call-ins or walk-ins. The system allows restaurants to send unlimited text messages (and voice call messages) each month.
Managers can customize messages, hosts can quote more accurate wait times based on the easy-to-access analytics screen, and they can send one-touch notifications to waiting guests. Each location receives its own phone number from which text messages will be sent.
After a free trial, plans start at $69.95/month/location.
With OpenTable's acquisition of QuickCue, the mega-online reservations provider is now, also, in the waitlist management business. The merger was only announced this past December (2013), but existing OpenTable customers can inquire about adding the service to their account.
simpleERB allows restaurants to track all existing tables, call-ins, and walk-ins. The simpleERB platform, which provides a customizable seating layout, works on all PCs, Macs, and the iPad, creates guest profile histories, allows restaurants to run VIP promotions, generates a website- and Faceb0ok-embeddable widget, and sends notifications via text message or email.
Managers and hosts can view the current queue via the simpleERB custom mobile website as well. The premium/paid plan allows for unlimited messages, coupon integration, staff PIN numbers for greater security and tracking, and separate table plans for different times of the year.
simpleERB offers a free plan, then pricing plans start at (estimated) $124/month/location.