Several months back we introduced you to 10 digital marketing tools for restaurants.
That is one of our most popular posts to this day. Gives a great rundown of a variety of some new companies (and some established, but lesser known ones) that are building intriguing solutions for the restaurant industry.
Over time, we've amassed over 100 companies in our Directory — all geared towards helping restaurants better market themselves — so we thought it was time to publish an update. This introduction includes several more outstanding companies providing digital marketing services for restaurants.
Reminder: We receive no revenue or payment from any of these featured companies. Our evaluations are completely objective.
We have been beyond impressed with what Swipely has built. They're the closest thing to a no-brainer we've found, as far as marketing (and operations) partners to independent restaurants and small to medium chains.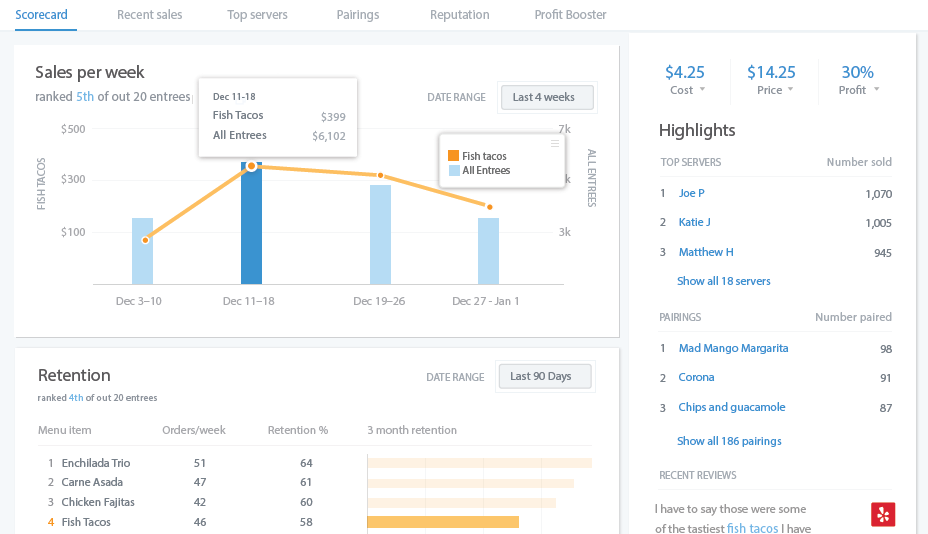 The concept is simple: get rid of your current merchant card processor (you can probably barely stand them anyway), and for the same amount you were paying those guys, you'll get unbelievable metrics from Swipely. Same money, far more value. The screenshot above is a sample of the retention-oriented dashboard that's available, one of many dashboards.
Using Swipely gives you complete visibility into every aspect of your sales: by item, by server, by daypart, by degree of "retention" (which means how much more quickly a guest returns after having a certain entree), by customer, by marketing campaign, and more. The decisions you will be able to intelligently make, quickly, through Swipely will astound you. Seriously.
And with a final gesture to show how well Swipely understands the restaurant industry, rather than force you to only see your stats through multiple dashboards — although that's available too — restaurants receive a weekly summary email that gives them a recap of the highlights.
Zuppler is an online ordering solution for restaurants. We've previously publicized ChowNow, which is an alternative. What makes Zuppler unique is its full branding and multi-location capabilities — where your restaurant's brand carries the day. The online ordering solution, the mobile website they provide, the way your menu is displayed — these are all customizable so that the guest experience is YOUR experience.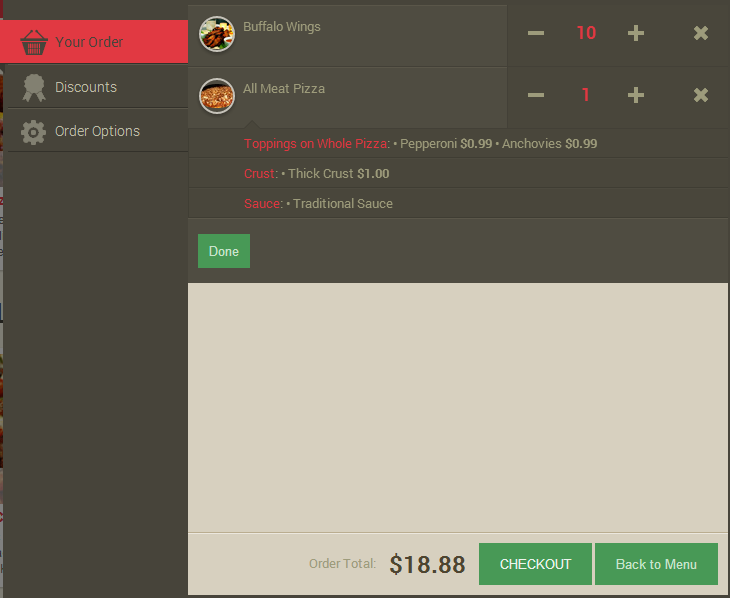 That screenshot is of a real customer's online ordering platform. We've checked out two others and can attest that each restaurant's online ordering, when done with Zuppler, has its own distinctive look and feel.
Menu changes appear in real-time — and you can control those yourself through an online dashboard or via phone-in. And we should mention that orders are not simply for online ordering = pickup. Online ordering with Zuppler can = delivery just as easily. We're also very impressed with the group order functionality, which makes it easy even for smaller restaurants to handle local business orders.
Thanx provides a card-linked mobile loyalty program for your restaurant. That's a lot of jargon. Let's put it this way: with Thanx, you've got a fully automated customer loyalty program that requires no new hardware, no new software, no physical card for customers to carry. All they need is their phone and a credit card.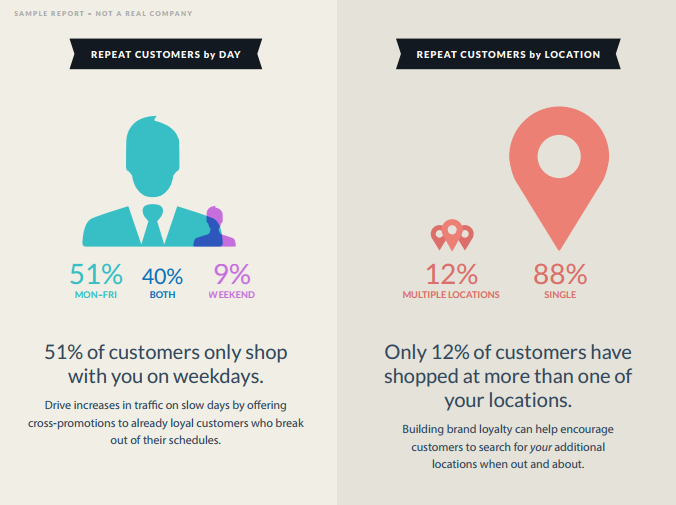 The screenshot is of just one part of their customer report (and this is a sample, not a real customer), which you receive as a Thanx customer. You'll also receive, in that report, details on lost customers, customer frequency and average check size, top customers by frequency and spend, and a few more stats.
Enplug adds a digital screen element to your guests' in-venue experience. Don't think "digital menuboard" or "digital signage." Think: social billboard. Your guests are already there, in your venue, smartphones in-hand. Guests can interact with your screen using a wide number of apps (determined by you), including Facebook posts, Twitter, Instagram photos, Foursquare check-ins, and Yelp reviews.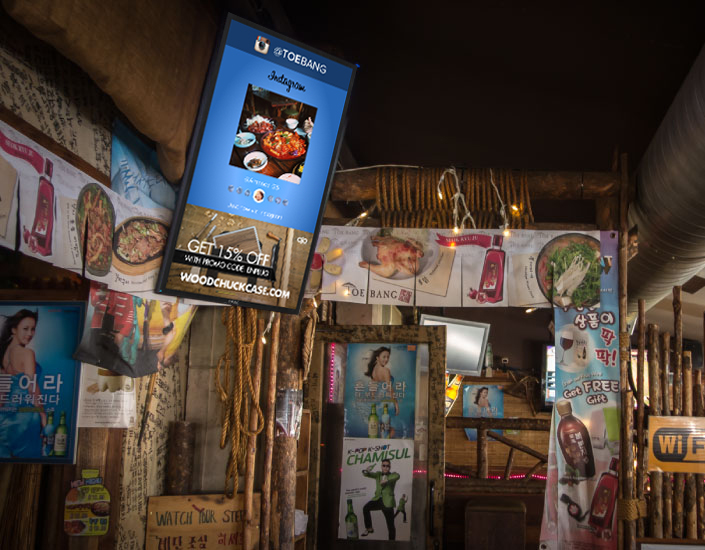 You can curate the content that goes on that screen, filtering in or out specific sources. You can also moderate the words and accounts that are used, to prevent abuse and ensure your restaurant's messaging is reinforced. Really, you are in control of what's on the screen, including weaving in your own offers and specials.
I need you to think creatively here with me on this one. Moasis gives you a platform with which you can distribute digital "mflyers" to consumers within specific locations that you define, when they use ad-supported apps such as Pandora, Words with Friends, ESPN Sportscenter, MSNBC, Huffington Post, and others.
Here's their mFlyer concept works: You define the grid in which consumers must be to see your ad. You determine the timeframes during which the ad will run. You design the ad (this is so simple using their online tool), and that's it. Full metrics are available for every campaign you run — and you do NOT have to be a large chain to do this. You can advertise within VERY popular apps that consumers use daily, and make limited-time offers available.
So, basically, you can advertise like the big boys but make sure to only drive traffic during certain time windows, with highly-targeted, specific offers.
Imagine one online solution where you can not only manage your social media accounts, but you can publish to those accounts PLUS your website PLUS your digital signage PLUS the list goes on. That content could be your menu, photos pushed to Instagram, tweets that encourage consumers to visit your location to watch the local team play an away game, online reservations, live weather-tailored offers, and pre-built campaigns for all the major holidays.
Regarding that idea to publish tweets that encourage consumers to visit your location to watch the local team play an away game, UnoApp is powerful in that ALL major sports teams' schedules come pre-loaded in the app.
So…with just a few clicks, and a couple typed sentences, you can automatically push out a scheduled Twitter tweet or Facebook update to happen, for example, 2 hours before tipoff, or the first pitch, or kickoff, or the drop of the puck. That's efficient.
Crazy, but available. Hence the name "uno app." Get it? Uno? One?
Listen, it doesn't make sense to incorporate every tool we mention at NextRestaurants. Sometimes you just want to make it easier for a) customers to talk to you so you can better serve them, and b) Intervene quickly to avoid a bad Yelp or TripAdvisor review.
And you get full statistics on all interactions.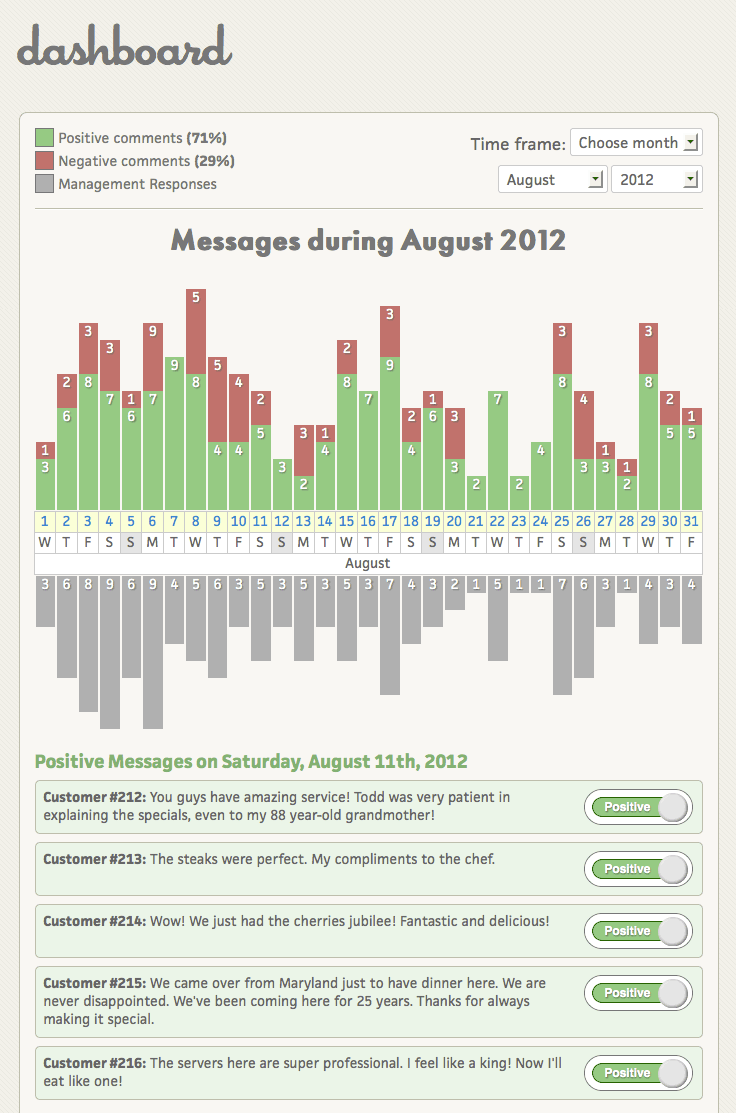 That's where Talk to the Manager comes in. For $29 per month and with NO APPS INVOLVED, you get an easy-to-use system that centers on a local telephone number that customers can text to, and from which your designated staff (you can make this as open or closed as you like) can respond.
You can even use the service to broadcast a message the staff you've designated as users of the system. The company also provides you with in-venue signage you can use to promote your new customer service number.
Summary
From the simple to the comprehensive, from mobile marketing to sales analytics and guest loyalty, this roundup is a great one for restaurants wanting to look at new technologies for improving service, running smarter marketing campaigns,
Got some other providers you think are truly next-generation? Add them in the comments or via Twitter with the hashtag #nextrestaurants. Let us know if you'd like help with sorting through these vendors with their competitors, or with implementation!