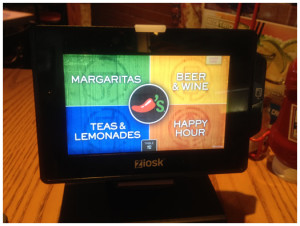 In 2012 and very early 2013, I was the Vice President of National Accounts and led all sales efforts with chains at NTN Buzztime. While their BEOND product was under development, I personally spoke to many restaurant chains about that product.
We were obviously well aware of Ziosk and E La Carte. Another key player was HubWorks.
I talked to many franchise owners, franchise marketing directors, regional operations directors, general managers, small chains and much larger brands.
At the time, the message from the folks we talked to was: We're worried tablets will erase the human aspect of the server-guest experience. And our brand relies on that.
(They didn't ALL say this. But the overwhelming majority did.)
Obviously things change.
Chili's and and Applebee's are officially on-board with bringing tablets to every table in every location over the next 12-18 months. That's just under 3,000 North Ameican casual dining locations that will feature a tablet. Even more if you count the numerous, smaller brands such as Stacked in southern California.
The timing is perfect.
The casual dining segment is still getting smoked by fast casual. Crushed. Something had to give — the casual dining segment has to change things up to speed up the experience, add a layer of "fun" to it, and to attract Millennials. Period.
And the reality is, if you visit nearly any tablet-based casual dining restaurant — and I've visited several using different tablet providers — you still have the option to work with a server and use a traditional menu. You don't have to freak out on this as a consumer.
As a restaurant marketer working at a casual dining brand, you've simply got to take a look at ways to energize the customer experience. The time is now for you to do this. Again, you've got to enable a faster guest experience.
Adding a tablet is one way. Maybe it works for your brand, maybe it doesn't. Mobile ordering and mobile payments are two other ways to speed up service, leverage the technology people already have in their hands, and make things a bit more interesting.
Whether your restaurant concept is ready or not, that's actually not the question. We as consumers are ready. The competition is doing this. Your labor costs are high. Your brand needs to stand out now more than ever.
And while tablets are just one innovation we'll all get used to seeing and ultimately enjoy, we've got to start somewhere as an industry with more game-changing, creative use cases for technology.
Embrace this. Your tablets — the ones you're going to have in your locations eventually — unlock so many other possibilities besides table turns. This is just step one.