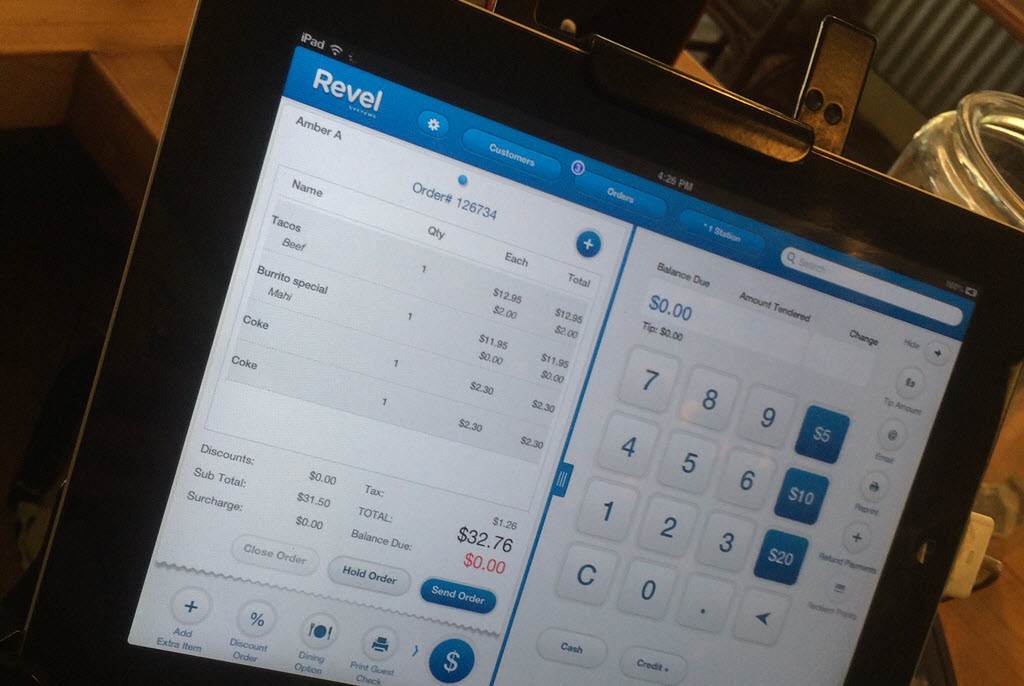 Editor's Note: I approached Brandon Fluharty, whom I've known dating back to his time at Datum, to write this article for NextRestaurants, and here's why.
Very recently, I enjoyed a week in Kauai, Hawaii, on vacation. While there, I ate at a wide assortment of restaurants. One thing I kept noticing, over and over and over, was how rampant iPad-based POS systems were. That photo in this post? I took it myself in a land called Hanalei at Chicken in a Barrel (who make life-changing fish burritos, by the way), it's not a promotional photo.
iPad POS systems are everywhere on an island where the Internet is spotty, the air is humid, and where it rains a lot. In fact, my loose calculation was that at least 80% of the restaurants I went to had either Revel, Square, ShopKeep, or Lavu in place. This was stunning to me, and it convinced me that we shouldn't think in terms of the future anymore when we say there's a revolution coming in the restaurant POS (point of sale) world. We're in the middle of it.
The days of bulky POS terminals that offer limited advanced functionality (let alone data and insights for restaurant operators) are numbered.
Brandon will mention cost savings to you in this article, for example. But the cost savings go beyond the massive, upfront cost of adding a new terminal. At every stop where I encountered an iPad POS, as the customer I was able to have my receipt emailed to me, rather than printed. Imagine just 20% of your customers choosing this option. Think of your paper costs — how much do you spend on new spools for your POS system? 
This article will help you see why it's time to rethink your restaurant POS situation, with an interesting point of view from another Brandon.
---
It's time to rethink your marriage to your legacy point-of-sale system.
It's not about wondering if the grass is greener on the other side and considering a one-time fling, it's about taking a harsh look at your current relationship and evaluating the areas where you are holding your restaurant back because you got comfortable in your current situation.
The Status Quo Is Holding Your Restaurant Back
In full transparency, I work with Revel Systems, an iPad-based POS provider headquartered in San Francisco. However, that was not always the case. Earlier in 2015 I left a solid position with an IT Outsourcing and Consulting firm that focused primarily on working with restaurants, from small independents to large multi-unit chains.
My role involved engaging with key stakeholders and working closely with them to evaluate their current systems and build a technology and IT roadmap that encompassed the best-of-breed solutions available within the client's budget. Since the company was product agnostic, I did not favor any one solution over the other. We were completely unbiased, except to the solutions we felt were top class in their category.
When engaging with a large multi-unit international QSR chain, a part of my job was deeply vetting Revel, as this client had over forty different POS systems across their franchise community and they wanted to unify their platform. Revel was being used by a handful of their franchisees and the more time I spent with the product and talked with their people, the more I caught a glimpse into the future. I was hooked.
I was convinced of their differentiating product offering, stability and disruptive attitude towards changing the POS landscape, and decided to join the movement myself — and I haven't looked back since.
Different Times and Different Customers Require a Different Solution
Let's face it, not much has changed for legacy POS systems over the past 20-25 years. However, technology, particularly mobile technology, has drastically changed the way we all behave.
Additionally, it's hard not to see the millennial generation being mentioned in an article or blog post everywhere you look. They fundamentally act, behave and consume differently than any other generation, and technology is at the heart of almost everything they do. It is millennials who likely make up the majority of your staff and are certainly the next crop of consumers you want to engage with if you want your restaurant to enjoy longevity.
For employees, you want your system to be as easy and comfortable to use as the smartphones they're tied to outside of work. This increases productivity and engagement. At Revel, we have been told time and time again from clients that they can roll out the solution, and with minimal to no training, their staff can learn the system in under a half hour. That's powerful, considering how time-constrained restaurateurs are already and how time-intensive and distracting it is to learn a new system.
That pain-point alone is one of the main reasons many restaurateurs are intimated in making a move to a new solution, even if it could mean enhanced functionality and flexibility.
For consumers, you want your restaurant's transactions to become more frictionless. In today's world of Uber, same day delivery and "you name it "on demand, it's what your customers are expecting and demanding, and if you don't deliver and keep up with current trends, they'll leave to go somewhere else.
If you are a full-service restaurant for instance, providing offerings like Zapper will help you put the power of closing out the check in the customers' hands (literally). This leads to happier, repeat customers, faster throughput and keeps your staff focused on delivering exceptional customer service. There are numerous services popping up all the time, and by having an open, flexible POS system, you ensure you can better engage with your customers on their terms and expectations.
The New POS Landscape (And What You May Be Missing Out On)
POS is the central nervous system of your restaurant. Stability is key, but there are a number of factors that new solutions are bringing to the table and that your restaurant needs to consider. For one, less hardware is needed with the newer hybrid and cloud based systems.
Forward-leaning restaurateurs recognize both the cost and space savings of not having to install bulky terminals and additional servers. iPads also provide a more modern and uncluttered look for your guests. If you are going to invest heavily in the design of your restaurant, you don't want your POS terminal to look like it came straight out of 1997.
Secondly, the move away from legacy POS systems is proving to be more secure. Going away from a Windows based system that is prone to malicious malware to an iPad POS solution was a large reason why Smoothie King chose to install an iPad based POS at their locations. In a time of increased data breaches and the impending EMV transition, the iPad as a point-of-sale solution makes more sense today than ever.
A third reason is the ease of adoption and shorter learning curve by employees, which I eluded to earlier. iOS software (even if you're an Android user) is intuitive and simple to use. This has a meaningful impact to training new employees, especially as more millennials enter the restaurant workplace. The positive impact this could have on ramping up new employees and limiting the resources needed for NSOs (new store openings) is significant.
Finally, the iPad (and its software) is more scalable as your brand grows. One of the most costly and limiting factors with legacy POS systems is that they are not "future-proof." In other words, as more technologies, particularly SaaS (Software-as-a-Service) products (think loyalty, online ordering, mobile payments, beacons and more), are rolled out, the antiquation of a legacy system becomes quickly apparent.
This is because as a restaurant, you need to pay for expensive integrations or you have to replace your hardware and software often. These costs add up quickly, and at some point, become untenable as more new best-of-breed services become available (and necessary).