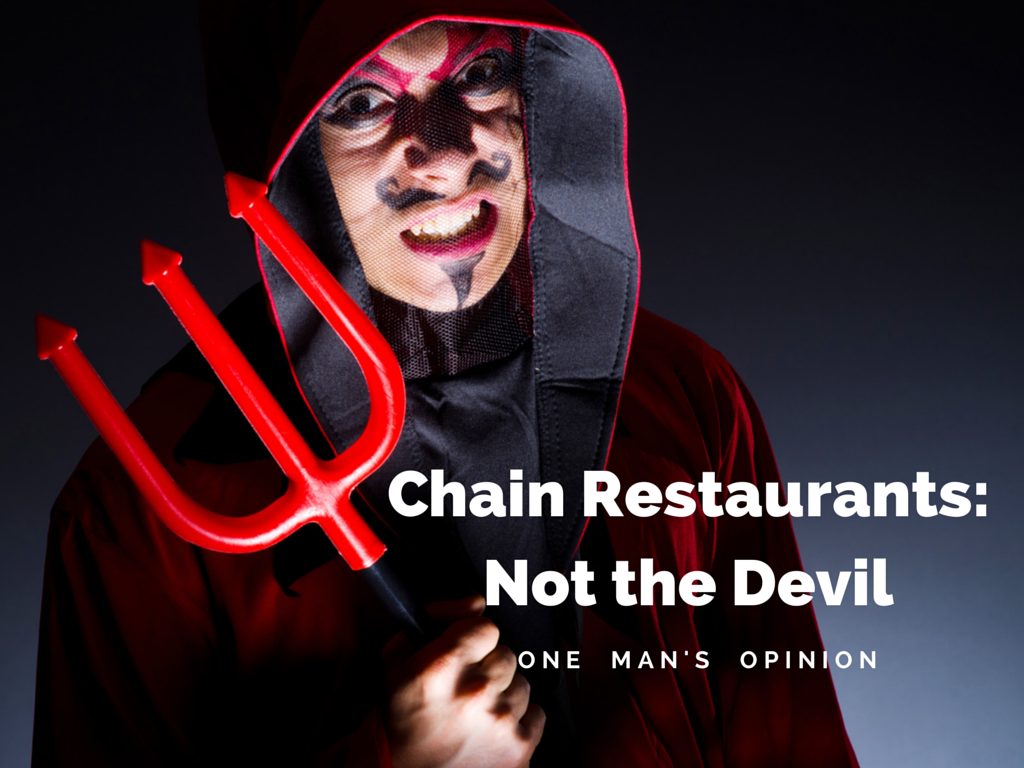 Need to take a timeout from "smart marketing" here and talk about restaurant chains.
You know, chain restaurants get a bad rap.
Would you trust a chain restaurant to cater your special day? I thought not. http://t.co/ingZpMKynd

— Kari Astrid Haugeto (@awayishome) September 25, 2014
They've got entire cities taking shots at them.
Which major city has chain restaurants in the crosshairs? http://t.co/pzgNh5xK5x

— Talk to the Manager (@TalkToTheManagr) September 5, 2014
They're ranked, from worst to best, emphasizing the worst, with no particular provocation.
Chain restaurants, ranked http://t.co/AfJRV3RuJl

— Gawker (@Gawker) August 13, 2014
They're mocked.
I once sat at next to Lauren Bacall at a Louise's Trattoria. She seemed as upset about being at a chain Italian restaurant as I was. #RIP

— Maggie Furlong (@MaggieFurlong) August 13, 2014
There are plenty of times it's deserved. Big corporate policies. Bland, impersonal marketing. Bulk food.
And yet, so many of us got our start in the working world at a chain restaurant. The top 10 restaurant chains in the United States alone employ 2-3 million Americans.
Honestly, we didn't all come from backgrounds where Mom was at home all day, waiting for the kids to arrive from school. We didn't all get consciously taught by parents to be responsible. We weren't all in sports or other groups, where we learned about the value of a team.
Restaurants, for many people, are an introduction to the working world.
We learned about accountability.
We learned how to serve people.
We learned how to be thorough in our work, detail-oriented.
We learned why food has to be prepared the way chains do it…in order to literally feed demand.
We learned how to collaborate with others to get a job done.
We learned processes to complete complicated tasks, systems, that needed to be repeated efficiently.
We learned to work with adults who weren't our parents.
And we made our first income.
Chain restaurants, because it seems they're always hiring, also serve as a bounceback job for many people as well.
Okay, are we getting locally sourced food with most chains? No. Are we getting handcrafted dishes with a local flair? Often, no. Can we count on the freshest, never-frozen, food? No.
But it's a shame that chain restaurants aren't appreciated for what they did and do offer the world. It goes beyond the employment factor.
I love small business more than you know.
I love Small Business Saturdays. I love experiencing a new restaurant in a new city — a restaurant unique to that city. I love the nuances, and the flair, and the quirks, and the delicious menus, and even the occasional inconsistencies that come with independent restaurants.
I love the idea that THIS WOMAN, at the register right now, poured her savings into THIS RESTAURANT. That's heart and soul. She also designed the logo. And developed the menu.
I'm just not an either/or guy.
Listen, I can appreciate what both independent restaurants bring to the world and what chains bring to the world. On a simple level, they're the same: a dining experience. Looking at it from a new perspective, they give us different things, many of which we need– not just some of which we need.