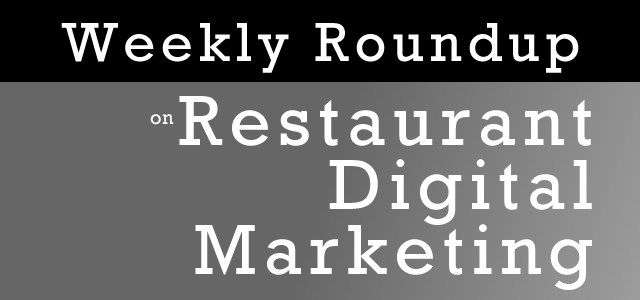 As we dive into this week's restaurant marketing news and ideas update, a heads-up: Street Fight is sponsoring its Local Data Summit in New York on February 25. That is right around the corner. If you run a restaurant chain with more 10 locations, we couldn't recommend this event more highly.
Review the event details and register  before it's too late!
Alright, let's get to the news…with a little commentary.
eMarketer has published the results of its study on the primary driver for mobile apps. While transactions were a key factor, how about this: the #1 driver was to initiate customer communications. As we rush to mobile payments, think long and hard about that one.
Social Media Today's Stephanie Frasco published her 10 ways to get more Pinterest followers. Listen, it's easy to post announcements everywhere. It's easy to follow people who follow you, too. The real difference makers in social media (seriously, you can look into this) follow her advice on #3: comment on other pins. Interaction develops friendship. Friendship equals trust. Trust, in business, equals sales.
Paul Barron over at Foodable TV and Digital CoCo did a mind-bending video interview with Joe Sorge, he of AJ Bombers fame. AJ Bombers comprises just 3 locations in Wisconsin, but you need to pay attention to Joe, he  has established an outstanding local restaurant brand through connecting with guests via social media. "I took this laptop right to the front door…and paid attention to what they [guests] were doing at their tables. They were doing something with their phones. It was really about this connection between what was really happening in the restaurant and what was happening online."
GoDaddy purchased Locu last year, and that acquisition is now turning into a new offering restaurant chains can take advantage of, called "Get Found": subscribe to their Get Found listings service and your multiple locations will have accurate, updated listings on major networks including Google, Yelp, Facebook, Foursquare, Bing, and elsewhere.
Social walls are the next big thing in in-venue engagement and entertainment. Beyond the traditional digital signage providers, there are so many companies lighting up this space. If you're looking for ways to learn from Joe Sorge and display carefully selected (buzzword = curated) content to post, take a look at Postano, Enplug, Wayin, and Tintup to get started.
Dunkin' Donuts isn't intimidated by Starbucks' perceived ownership of the mobile coffee customer. Mobile Commerce Daily has a breakdown on the chain's plans to energize its own DD Perks program: "The company plans to use the program to build a purchase history with each customer so it can tailor one-to-one marketing to drive the purchases and generate sales increases for its franchisees."
Props to Arby's on Twitter for garnering over 83,000+ retweets and 48,000+ favorites with one tweet during the Grammys, shown below. Pharrell Williams responded, having some fun of his own, causing another 15,000+ retweets and 12,000+ favorites. Seizing opportunities when they present themselves, people, that's what social media marketing is all about.
Hey @Pharrell, can we have our hat back? #GRAMMYs

— Arby's (@Arbys) January 27, 2014