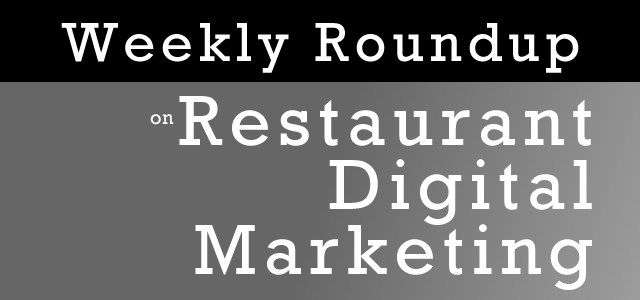 Buzzfeed tells us there are a multitude of technologies that know us better than we know ourselves. Indeed there are.
I've got a son who wants me to buy him a $299 sensor-embedded basketball that gives him detailed feedback on his shot speed, trajectory and backspin, his dribble intensity and crossover quality.
Why do I bring these up? To ask you this question: What are YOU doing to gently incorporate technology into your operations, yet maintain the personal touch and vibe every restaurant needs? Comment away, tweet at us, or silently think about it. Meanwhile, on to our restaurant marketing news and updates for the week:
Chipotle wants to speed up mobile payments. "The company is spending a few hundred dollars per restaurant to add equipment for this feature, which is similar to the readers used at Starbucks cafes." One unique thing I've noticed about the Chipotle experience that already speeds things along: take a look at your receipt when paying by credit card, as you walk away. You'll note that it says, "Authorizing…" rather than "Approved…" what does that tell you?
Consumers can now order ahead through from 20,000 restaurants with their Foursquare app. Foursquare partnered with GrubHub/Seamless to make this possible. Now, in my personal opinion, it's ridiculously buried within a restaurant's listing on Foursquare, but it is a start.
If you're serious about the MARKETING part of your job, not just the RESTAURANT part, you should subscribe/follow Jeff Bullas. He's not a restaurant guy, but there's so much good content, especially regarding social media marketing. This week I want to point you to a killer article he posted: 12 Fantastic Facebook Contest Ideas to Build Your Email List. I've always loved those articles that point out ideas you can leverage for this month or that month — but what about practical implementations of those ideas? That's what this blog post delivers very, very well.
Speaking of social media (we do, a lot), here's a really important commentary from the folks at Sprout on how one restaurant, Puesto in San Diego, drove social media engagement with a guest, while here was there eating!! A key takeaway: "Puesto won over Newbom as a customer by weaving a great customer experience into the restaurant's social media interactions."
Fishbowl has a really great breakdown on Facebook's Custom Audiences feature and how you can blend your email list with it, to run highly targeted ads, pulling guests back into your locations.
You're probably using Google Analytics to track website traffic, referral sources, etc., yes? But do you do much with their Custom Campaigns feature? Do you build URLs so they're more trackable? We're going to address this with a post soon, but meanwhile, give both the URL Builder and Custom Campaigns overview a good read today.