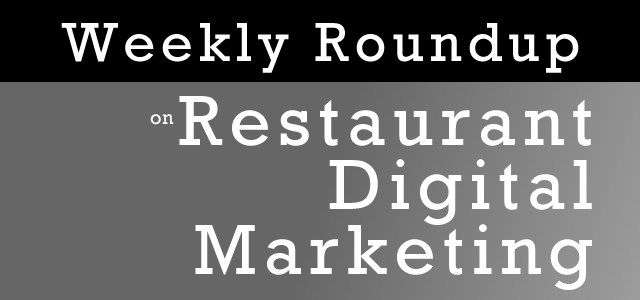 My NCAA picks are in, are yours?
As I'm sure most of you who are filling out brackets have also jotted down: the Kansas Jayhawks will win it all. Not Florida. Not Arizona. Not Michigan State. Kansas will go to their third National Championship game in 6 years and will win their second championship in as many.
Okay…let's get to this week's list of selected restaurant marketing news and ideas.
Good post from the guys at Rockbot (great service they offer, by the way), titled Five Local Social Media Tactics to Build Your Restaurant Brand. A nice takeaway from the article: "Active community engagement can mean the difference between thriving with a positive brand image and simply maintaining business. The best global brands are also the best local brands." While it seems aimed at "global brands" it's just as meaningful for regional chains as well.
Nation's Restaurant News published this great article on restaurants looking beyond basketball with their latest promotions. Though it's too late for you to duplicate this one, you can take some lessons from it: "Even a concept like fast-casual pizza chain Your Pie, which is neither an Irish pub nor a sports bar, is looking forward to the collective momentum of St. Patrick's Day and March Madness, both which follow its biggest promotion of the year this Friday, 'Pie Day' — when the date 3/14 is a play on the mathematical constant pi, or 3.14."
That last bullet-point update brings us to this: April 16 is National Stress Awareness Day. It's not too late to plan a one-off test promotion around an obscure, but "fun" day like this to build a digital promotion. Have consumers share the stressful moments they'd love to be rescued from in 140 characters or less on Twitter, copying your Twitter handle and using a specific hashtag (like #StressRescue). Pick one, and give that person a free lunch or gift card. You could do this via Instagram or Facebook just as easily. You'll not only get a lot of engagement, you'll get a ton of shares as you relate to your guests without simply cramming offers down their throats.
Tablets: No small thing to implement. All the big boys in the casual dining segment are forced to at least consider tablets in order to speed up the experience and/or reduce labor costs. How about you, if you run a smaller chain or independent? This article helps you think through that. Via Restaurant Technology magazine.

I liked

this insight at MobileMarketer.com

. "

With

more marketers leveraging mobile to hook Millennials

when they are sharing and accessing content with friends, user-generated content is generating significant buzz with brands in building brand affinity and loyalty." What's important to takeaway from this brief article is the fact that Millennials are increasingly consuming/preferring/trusting user-generated content over traditional media. Also, there is NO REASON why small, local restaurants and chains can't compete just as effectively in this realm as the big brands. The ability to act locally while letting consumers interact with your brand with their own media is the key.

We stumbled across this extensive whitepaper from Paytronix (free registration required to download) that will help you sort through choosing a loyalty program approach that makes sense for you. It's not just for the large chains, either.
Hey, before you go: Are you an email subscriber? If not…why? We don't send more than one per week, we never spam you with silly offers, and we add bonus content in the way of recommendations, links, and ideas in each weekly edition.
Jump on board now by clicking on the blue SUBSCRIBE NOW box below!