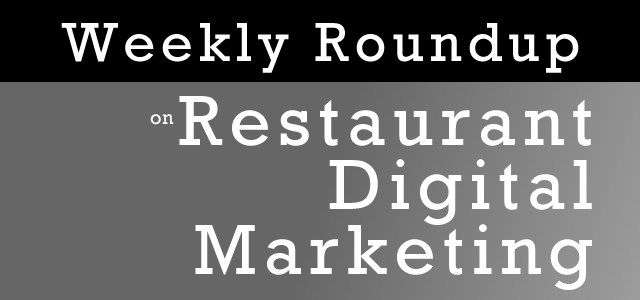 This week's restaurant marketing news and ideas roundup is full of all kinds of  mobile goodness. Not SOLELY mobile goodness, but a great dose of it. Let's dig right in:
No sooner do we forward an update regarding Yelp and Yahoo partnering — we all heard the announcement that Yelp and YP are also partnering. The short of it: future provide YP advertisers will enjoy an enhanced presence on Yelp. And Yelp gains access, sort of, to YP's 4,000-strong salesforce nationwide. For those of you who aren't too excited about Yelp's sales tactics, I suppose you're not going to be happy that it's now 4,000 people stronger, eh?
How could we NOT follow-up that news update with three tips on handling a bad online restaurant review from Restaurant Branding Roadmap? Tip number two on that list is particular a good one: "Your response should have a calm, diplomatic and empathetic tone.  Show the reviewer that you care about their experience at your restaurant and offer a solution to fix the problem."
Taco Bell just shipped out 1,000 feature phones across North America, as part of a new mobile marketing effort. Reportedly: "Recipients of the "Breakfast Phones" will be given various missions to complete in the hopes of winning prizes including a Waffle Taco button-down shirt or hoodie, a set of A.M. Crunchwrap sheets with hashbrown pajamas and free Taco Bell breakfast for a year." This is one of those so-crazy-it-just-might-work kind of mobile marketing campaigns.
Good post over at FastCasual about why right now is the time for mobile ordering. Author Greg Constantine of SecureNet pens that: "Mobile ordering and payments go beyond just the transaction. The reason Starbucks has been so successful with its app is because it includes other value-adds for the customers, like loyalty programs and special offers." This is an argument we've been making for some time. It's not JUST about the order. It's about the experience, the data, the engagement.
Via Mobile Commerce Daily we learn that 75-location chain Farmer Boys is launching its own branded app that will feature its menu and a new loyalty/rewards platform. Says Farmer Boys VP of Operations Kevin Kelly: ""We want to connect with our customers and give easy access to Farmer Boys information to deliver real satisfying value for people that appreciate farm fresh food." Farmer Boys partnered with Punchh for their custom solution.
I'm here to tell you that there are conflicting reports on this, depending on which survey you trust. But a Verifone survey suggests that consumers want mobile wallets right now. Among the other key findings from their survey: Consumers see "the most popular advantages of mobile wallets are tracking spending and mobile deals (45% each), followed by faster (34%) and no wallet (28%)."
Listen, if you run your own restaurant and are not part of a chain, don't discount some of this news we keep sharing on mobile payments and mobile ordering.
There are companies you can partner with, no matter the size of your restaurant, that can deliver similar features for your restaurant as well — should you believe in this path as part of your guest experience.
For those of you reading this who ARE NOT email subscribers, we hope you'll take a minute to jump on our email list. We recap all of our weekly article but ALSO provide some seriously helpful bonus material. Some of it is practical how-to content, some of it is hey-give-this-some-thought content.
Hit the SUBSCRIBE NOW button below to join us today!