I published an article for Foodable titled, "The Changing Restaurant CMO in 2015". Before clicking to go check it out, hang on, let's talk about it for a sec.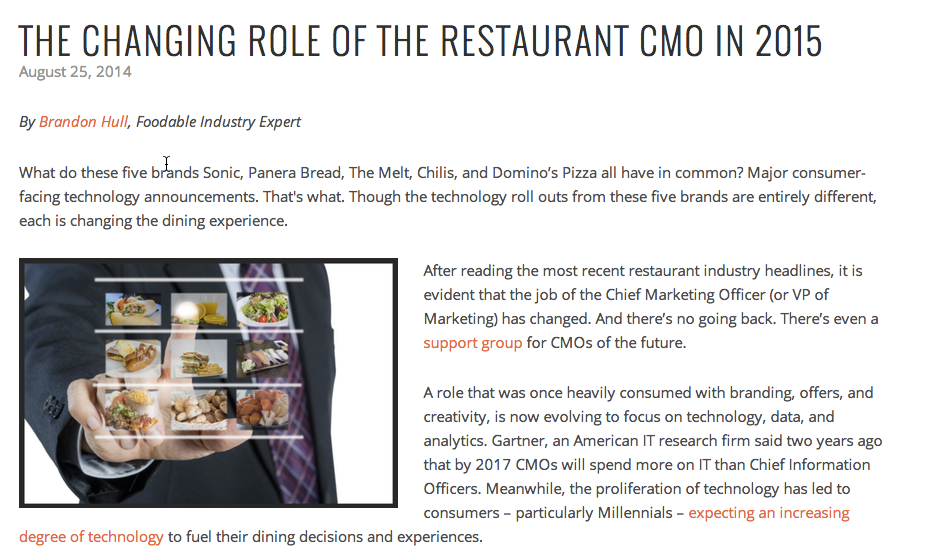 In it, I suggest there are three elements that the restaurant CMOs of the (immediate) future will need to do and consider:
Think big.
Get used to asking, "What is the data telling us?"
Integrate your Point of Sale (POS) and customer marketing
But there's obviously more to the story than three helpful snippets. Let's talk about that.
The Hidden Message in My Foodable Article
When you read the article very carefully, there's a really powerful lesson in it that's NOT listed in the 1-2-3 above. It's a huge secret weapon.
I've long held that the restaurant industry, as much as I love it dearly, has a bit of an echo chamber problem.
The secret weapon: innovations from outside the industry. 
Things are moving very quickly for restaurant marketing leaders — CMOs, VPs of Marketing, and even Directors — and many, many, many of them are finally adopting new strategies, programs, and approaches to capitalize on the tidal wave of opportunities. It's really refreshing to witness (and take part in).
But the hidden message in that article came in the commentary from Dan Fogarty of Noodles & Co. that originated back in November 2013. Since I didn't quote him directly in my Foodable article, here's a question he got and what he said in response:

Now, don't get hung up on the "frictionless payments" part — although that's a great insight. DO get hung up on the brilliance of asking that question in the first place (nice work, Clay) and whom Dan has selected as a model (Amazon), and how he's drawn correlation to the restaurant industry.
Just five years ago, it would have been a Crazy Restaurant Marketing Leader who would have identified Amazon as a great source of inspiration for their restaurant concept or marketing strategy. Today, it's still pretty darn enterprising and creative, but it's going to become the rule.
I don't mean to say that everyone should look to Amazon, specifically. What I mean is that looking at trends outside of the restaurant industry that could be incorporated into your brand — THAT is the way to go for the Restaurant CMO of the Future.
10 Ideas from Outside the Restaurant Industry

So let's do this: I'll give you 10 ideas from outside companies that will serve as brainstorming prompts. Some are tech based. Some promotional. You're encouraged to use them to spur your own thinking for what your brand could consider doing. Sound good? Let's get started.
Sometimes the best ideas come from sparks of genius elsewhere. As you strive to get your restaurant brand and restaurant marketing efforts to a new level, be open-minded about where those initial ideas come from.
("Ideas" image courtesy of Sean MacEntee.)