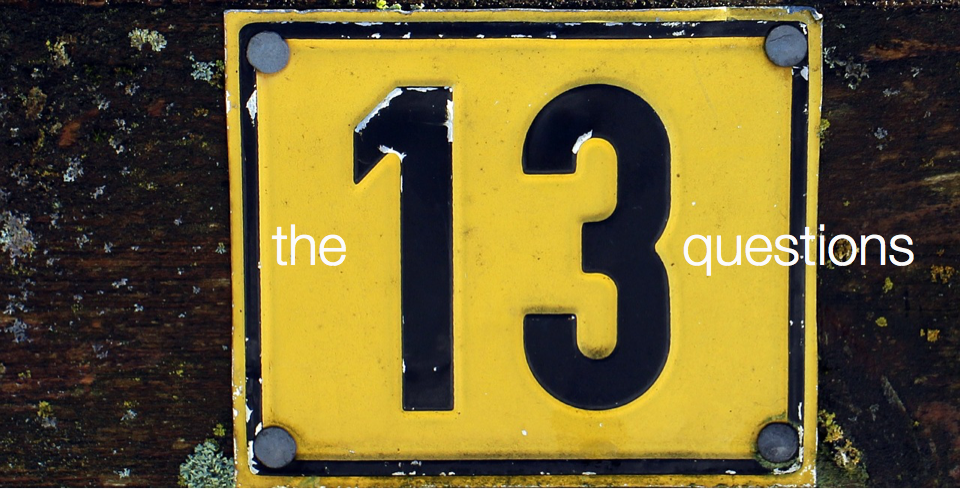 Our post on succeeding with online marketing produced a tidal wave of interest.
Let's take a second look at this. If you're going to succeed with online or digital marketing (they're not exactly the same thing, but we're using them interchangeably for now) as a restaurant, restaurant group, or small chain, there are 13 questions you need to address.
And when I say "address," I mean "have a solid answer for." They're must-have issues you need to take care of if you're going to succeed beyond print, traditional advertising, and even word of mouth.
These are questions that are even bigger than "Should I have a mobile app?" or "Should I run a promo on Facebook on Superbowl Sunday."
These are the real questions you need to address as you build your online marketing strategy.
1. Do you have a compelling brand that stands for something?
I like how Aaron Allen puts it: "You don't merely want to be considered the best of the best; you want to be considered the only one who does what you do." This is essential.
Randy Lopez and I conducted an in-restaurant interview with Paul Motenko of Stacked in southern California. Read the show notes and listen to this great episode.
And for a great, 3-minute tutorial on this you can read, check out Barry Chandler's post on branding. It doesn't hurt that Barry has extensive bar and restaurant leadership experience.
2. Have you established your restaurant brand as an authority from a digital perspective?
Over 71,000 links point people to Taco Bell's website.
It's one thing to feel like your brand has name recognition locally or regionally. It's another for other website owners — local businesses, local associations, review sites beyond Yelp and TripAdvisor, etc. — to link to you, thus proving it.
That is one crucial determinant of online authority, as far as search engines are concerned: people link to you. They refer people to your site, digitally.
Taco Bell is a massive brand and can easily amass the kind of numbers mentioned above. But has it even occurred to you that you need inbound links, too?
3. Is your website credible from a UX perspective?
Yes, you must have a brand (see #1 above). You have to stand for something. But that doesn't mean you can get away with anything regarding your restaurant website.
In an effort to be unique, don't alienate people through a sloppy, confusing, overly sophisticated, or overwhelming user experience (UX) at your website.
To that end, in my personal opinion, the Momofuku website is completely off-the-mark. You have to REGISTER before you can do ANYTHING at the site. That's ridiculous and inward-focused — not customer-focused whatsoever. They'll alienate their target market as much as those they don't care to attract.
On the other hand, take Donatos, whom we've featured before. It's brilliantly efficient and effective. The site visitor doesn't have to think, and she doesn't even have to wade through a menu.
There's zero confusion.
4. Is your website code well-optimized behind the scenes for search engines?
Many restaurant websites are coded poorly. There's an over-emphasis on the brand in the code, and a complete missed opportunity with location-based elements.
We will dedicate an entire series of posts on this soon. Meanwhile…
Your website title, your H1 tags, your meta description, each page's individual URL — these are the very first things that need to be dialed-in and optimized…and don't need to be excessively branded — particularly for local restaurants.
Do you have a sitemap? Not a sitemap that visitors can take a look at, but one that search engines can crawl? How about a robots.txt file?
5. Is your website built upon a modern content management system (CMS)?
WordPress powers 24% of websites around the world now. That's tremendous. It's a free platform to start with, you only then need to design a theme (or purchase and customize one) that speaks to your brand.
But whether you choose WordPress, Drupal, Squarespace, or even Shopify for that matter, you need a website powered by a content management system, where you can add new pages that will have a consistent look and navigation to them.
---
We have a great lineup of restaurant website developers in our Directory who can help build your site on a proper platform, thus making future updates and changes fast and efficient.
---
6. Are you reviewing your website's analytics regularly?
You've got to do this to understand traffic patterns, referral sources, visitors' geographic breakdown, top pages, and how users behave on your site, what percentage of customers bounce away without visiting even a second page of your site.
But based on our recent article about Old Chicago, it should be clear that you need to do it for bigger and badder reasons as well.
Here's my quick and dirty list of the stats you should be on top of, at a minimum:
How many sessions per month your site gets.
How many users that number of sessions represents.
How many pageviews those sessions delivered.
How many pages/session that equates to.
Avg. session duration.
What your bounce rate is.
What percentage of your sessions were new vs. returning.
How your site's age and gender demographics break down.
What browsers are visitors using when visiting.
What percentage of your traffic is mobile.
How does your incoming traffic break down (organic, direct, referral social, paid search).
What are your most popular pages, in order.
Oh yes, there's more. But these 12 are crucial.
7. Are you found on Google Maps and local directories?
Let's say your restaurant is located in Broken Arrow, Oklahoma. Someone has just conducted a search for "broken arrow restaurants". Here's what they're going to see: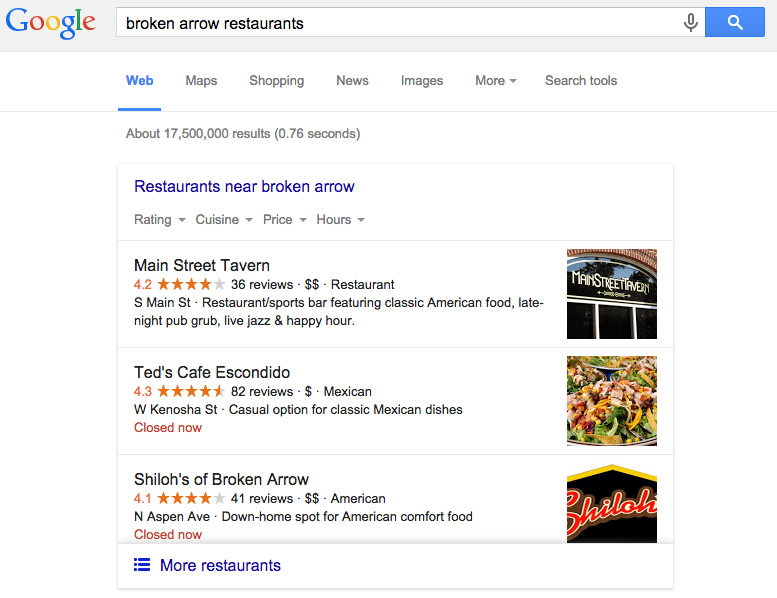 See what's missing from that screenshot? Actual search results. Google is experimenting more and more with search engine result page (SERP) layouts. The very first thing that shows on the SERP for "broken arrow restaurants" as of today are Google Maps listings.
Below this, by the way, the next item on the list is a TripAdvisor listing of the 10 best Broken Arrow restaurants, then there's a link to a Zomato page, then a Yelp page, etc.
In fact, across the ENTIRE FIRST PAGE of that search you'll find ZERO restaurants' websites directly linked.
So…have you ensured every listing site has your accurate (and consistent) name, address, and phone number? They're just as important, cumulatively, as your own website.
8. Are you analyzing where your online order visitors are coming from and their behavior in particular on-site?
What do you know about your online ordering customers, if you offer this service? Do you know where they're located, by zip code or better? Do you know how much time they spend on site? Do you know what pages are most-viewed?
You must get this data from your online ordering partner, and this part is important to note: not every online ordering platform integrates with your own Google Analytics. So you'll have to ask for this data versus seeing it for yourself when you dig into #6 above.
9. Are you communicating with customers consistently via email?
Most restaurants are good at this, and we cover email marketing frequently, but it's great to think through your email marketing strategy rather than simply blast a random offer out each week.
Have a plan. Communicate with people. Build brand preference not through the frequency with which you offer people, but through your brand's story and No one likes a friend or company who ONLY propositions them, asking for favors or money at every turn.
10. Are you publishing new content frequently to build your brand, generate online orders and foot traffic, and attract search engines?
Blogging is a real thing that can generate real awareness, loyalty, brand preference, inbound links, and search engine preeminence locally. Take a look at what Firehouse Subs has recently started doing with its Hero Fuel project. It's incredible.
They're publishing content that works perfectly with their brand.

11. Are you using social networks to distribute content, establish your voice, promote relevant offers, and genuinely engage your target market?
Review our series on social media marketing for restaurants. It's a great starting guide to craft your strategy. The key in this, though, isn't just the "using social networks" part. It's the rest of the sentence — to distribute content, promote relevant offers, and genuinely engage.
12. Is your brand messaging consistent across all online channels?
Nothing's more sad to see than a company that doesn't know what it wants to be, whom it wants to attract, and what it wants to steer clear of.
In an effort to please everyone, many restaurants come across as generic, vanilla, prone to follow the wind whichever way it blows.
Your brand's voice should be consistent in-restaurant and digitally. Your ad copy, your brand's personality, these things shouldn't stop with the in-store experience. Digital isn't different in this regard. Keep things consistent.
13. Is your digital strategy nimble enough that you can capitalize on immediate opportunities that emerge online?
There's no need to have everything you could or should or will do this Christmas locked-in right now. You're still a good month away on this. I generally recommend brands think in six-month increments.
I also recommend that you avoid over-burdening your marketing director/coordinator/manager/friend with calendar-driven events and promotions. Allow some room for creative, on-the-spot, opportunistic marketing.
Summary
This is a lot to digest, yes. But it's also not something you need to invent or strategize over every day, week, or even month.
Many of these decisions are great to think through when your restaurant is just getting started, or when you're rebranding/relaunching.
Got any questions you think are necessary to add? Feel free to jump in with the comments below, or reach out via Twitter.