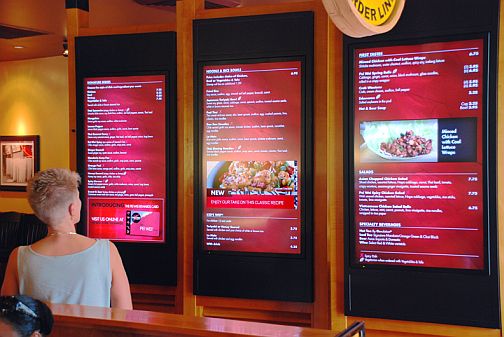 As laws and regulations change, most restaurants are now starting to see and enjoy the benefits of digitizing their menus as compared to using traditional paper boards, including faster and cheaper menu updates. Here are nine ways digital menu boards benefits restaurants and the food service industry.
Save time by maintaining a digital menu
Digital menu boards are flexible and allow restaurant owners to communicate to their target customers as needed in a quick and efficient manner. Furthermore, any changes made using the digital signage software can update the menus in your entire restaurant regardless of where the target audience is or how many you have.
Lower costs & higher profit margins
By investing in digital signage menus and boards, there will be a cost reduction in printing out new menus every time a minor change comes up. With digital signage, more information can be shared without bothering the viewer's eyes which is often the case with an elaborate menu board. More information shared means more purchases; this will increase your profit margins.
Brand consistency
There is always a tendency of employees to ignore or forget to change static menu boards. Digitalized menu boards ensure that all the restaurant locations are up to date and enhance consistency with each other. This is an important factor, especially for restaurants that have a chain of businesses in different locations as diners get to enjoy the same service irrespective of where they choose to go to.
Good customer experience and entertainment
Digital menu boards promote efficiency in the industry. They ensure speed in delivering the right information at the right time and at the right place. Additionally, they help the customer feel as if they were at home. Business videos, food pictures, recipes, and food ingredients are just some of the things that can attract the attention of your guests. The experience and entertainment will make guests come back and will boost brand loyalty.

Visual appeal
Digital signage has raised the bar and at the same time provided creative and easier ways to satisfy the needs of customers. The restaurant menu board signs have the ability to grab their diners' attention with videos and animations. Humans are visual creatures, so being able to tap into that appeal is imperative in the restaurant industry.
Makes communication easier
With digital menu boards, restaurants can market, advertise and also share customized menus and information such as nutritional information about their meals. Restaurant owners can incorporate digital solutions into their marketing strategies to ensure that their guests get tailored information with special features and formats. In addition, information can be scheduled to be released at the right time to target audience and inform them about special offers available and any upcoming events.
Reduce perceived wait time
Restaurant digital signage can be used to distract customers by displaying fun facts, trivia or promotional material. Since digital menu boards are highly configurable, a certain area on the screen can be dedicated to displaying special content that will help keep guests waiting to sit down less frustrated. Using restaurant digital signage to reduce perceived wait times is something that not only prevents customers from abandoning a restaurant's queue but also encourages them to come back in the future.
Support community
For any industry to survive, the community has to be involved in all aspects. The restaurant industry can survive for years with the support from the locals. With digital signage, restaurants are able to give back to the community through displaying of local news on their menu boards or other digital screens in the restaurant. This way, the community is able to see their input and achievements. You turn your location into a central hub for all things going on in your area.
Adaptability to the surrounding
Digital signage is flexible and adaptive since they can be used to display most of the available foods and drinks in your restaurant menu. In addition, they can be used to showcase other information that you would display on the regular boards. To achieve remarkable success with these sign boards, restaurant owners should put the guests' needs into consideration. They must carry out market assessments for updates and ensure that changes are effectively initiated.
To wrap it up…
A digital menu board is worth a thousand bites. With digital signage, you are able to show realistic expectations of what your restaurant offers in terms of food and drinks, hence having the platform to draw people in and make them order for more. Digital menu boards have fully replaced traditional signs and posters. A digital menu gives you better control over where your customers' eyes go. They allow you to make smart use of negative space, making your signage easy and fun to look at.
Restaurant owners should stop losing customers and up their digital menu game! Long gone are the days of using the sign-spinner.
About the Author
Karen Anthony is a Business Tech Analyst. She is very responsible towards her job. She loves to share her knowledge and experience with her friends and colleagues.