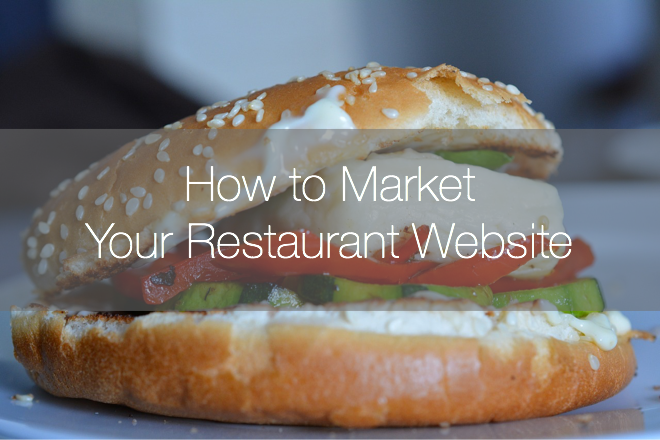 Let's talk some more about your restaurant website.
There have been a multitude of fresh restaurant marketing campaigns over the last three years leveraging email (yes, email), text, social media, mobile apps, reservation tickets, and many more channels.
Meanwhile, some restaurants are frozen in their decision-making — worried about hitching their wagon to the wrong partner or approach. We see independents and chains alike in this camp.
The reality is, no matter what you do "out there" to attract consumers, you've got that one asset — your website — just screaming for you to do more with it.
Our recent article about leveraging recipes is just one great example.
Of all your marketing channels and tools, your restaurant website matters most.
There's a big difference between having a website and using or even marketing your website.
Just about every restaurant has at least some semblance of a website now. And I'm going to share one with you that's an awful site — but very well leveraged and marketed.
But first, a special note:
Mobilegeddon just hit. Surely you've heard about this. Google gave us all a deadline for getting our websites mobile-ready. When people do a search via mobile device using keywords that you want to be discovered with, they need to see a mobile-friendly website. Makes sense, right?
(We previously shared a series of restaurants who have done a great job with their mobile sites.)
If you're not delivering a mobile-friendly web page to a mobile searcher, Google is going to penalize you by way of lower search rank. You can check to see whether your website home page, or any other individual page at your site, is mobile-ready using Google's own tool for this.
For the purposes of the rest of this article, we're focusing on the desktop version of your website. Let's get to it.
Look at what this one San Diego restaurant has done to get more eyeballs on its website.
Let's say you're vacationing in San Diego, and you're hankering for a pro-level burger here, preferably from a local burger joint. You're ready for gourmet. The good stuff.
So you do a Google search for "gourmet burger San Diego."
Now, if you were to do this right now from wherever you are, your results may differ slightly from mine, but here's what I get, below. I've added the red and white numbers.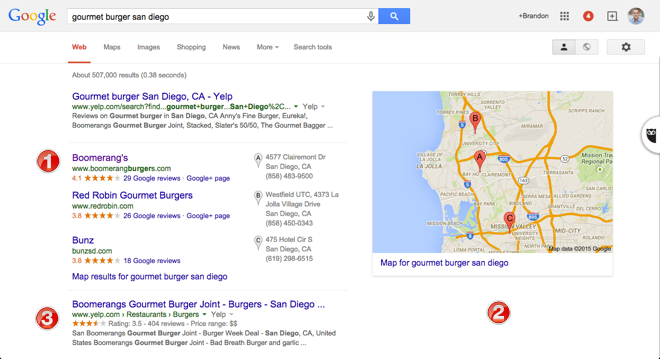 The #1 section above represents a list of Google Map's results for your search.
The #2 section on the right is one of two areas where you would see pay-per-click (PPC) ads, if there were any (there aren't in this case).
The #3 section represents Google's organic search results (no ads).
I didn't let my screenshot go further south than that first organic search result, but I'll talk about those other results in just a minute.
Do you see what I see in that screenshot? Boomerangs.
Sure, I see Red Robin, too. And Bunz. But I don't see The Habit. Or Burger Lounge. Or Five Guys. Or In N Out. Let alone any of the other major chains. I also don't see Hodad's, Corvette Diner, or Crazee Burger — all local spots with killer, gourmet burgers.
I see Boomerangs. It has just one, single location in San Diego. It's sitting at a paltry 3.4 stars on Yelp. It has an awful website.
And yet, there they are.
Any of the aforementioned burger joints could just as easily have come up as Boomerangs with a search like this — especially given the massive marketing departments of some of the chains. And yet, Boomerangs dominates the gourmet burger search results in the 17th-largest metropolitan area in the United States.
And here's what's incredible about this…
Boomerangs' website is bad. Really bad.
It is NOT mobile-friendly. It's, dare I say, ugly. And when you try to order online, a whole new window opens up, taking you to their templated, barely-branded Eat24 website.
But we're not talking about website design here. We're talking about marketing (and architecting) your restaurant website. There's a difference.
And really, there are two simple things they've done to accomplish this.
1. Restaurant Name
It's may be "Boomerangs" to many people. And their restaurant website URL may be http://www.boomerangburgers.com. But how are they consistently referenced everywhere you go? Boomerangs Gourmet Burgers.
If you perform this same Google search and click on the Yelp link at the very top of the results, Boomerangs is #3 on Yelp's list, with the title of "Boomerangs Gourmet Burger Joint."
When you visit their website, the title of their home page is "Boomerangs Gourmet Burger, San Diego restaurant…"
Say what you want about Google's algorithm and whether it puts any weight into into meta descriptions, but what is theirs? "Boomerangs Gourmet Burger San Diego…"
The word "Gourmet" is also mentioned twice on their home page.
The point is, they have taken ownership of the phrase "gourmet burger" in San Diego.
2. Inbound Links
Notice the first bullet-point above? They're not just listed by Yelp as a top burger joint in San Diego, that article includes a link to their website. But wait, there's more.
What you don't see on my Google search result screenshot are the following search results from #2 onward. So let me fill you in.
The first organic search result below the map listings (next to the red #3 in the screenshot) takes you to Boomerangs' own Yelp page, which includes a link back to Boomerangs' website.
The third organic search result is Boomerangs' own website.
The fifth organic search result is an article at San Diego Family's website article listing "Your Juiciest Burger Joints in San Diego" and you know who's mentioned: Boomerangs, with a link to their website.
The second-to-last organic search result on that first page is a TripAdvisor page for — you guessed it — Boomerangs, with, of course, a link back to their website.
This is authority, folks.
Make sure reviews translate into links.
The lesson here is simple.
You need to prepare good food, provide good service, and have selected smart geographic locations for your restaurant(s). Sure.
Slapping up a website isn't enough, either. Launching social outposts isn't enough. Using these channels the right way is what it takes now.
A good review on authoritative websites is a step in the right direction. A LINK from that online reviewer — be it a list generated by Yelp, a local newspaper critic, or a Mommy blogger with a decent following — THAT is a LEAP in the right direction.
Awesome if a roundup of the best restaurants in town includes your restaurant, whether you're #10 or #1. But a link from that article to your website matters more than the rank on that list.
After all you've read here, I don't mind telling you that it's unclear whether Boomerangs did ANY of this consciously. I haven't spoken to them. But they sure benefitted.
Don't leave without this last, crucial tip.
Boomerangs provides a case study in how to use your restaurant website effectively.
It's more than having the site; it's leveraging that site.
There are a multitude of long-tail keywords your independent restaurant can dominate search results with. What are long-tail keywords? Here's what Wordtracker says about them:

If little old Boomerangs was able to put a stranglehold on "gourmet burger" in a metropolis like San Diego, what long-tail keywords and phrases could you own in your market?
This is a great way to capitalize on highly specific searches foodies and restaurant goers make.
What do you think?