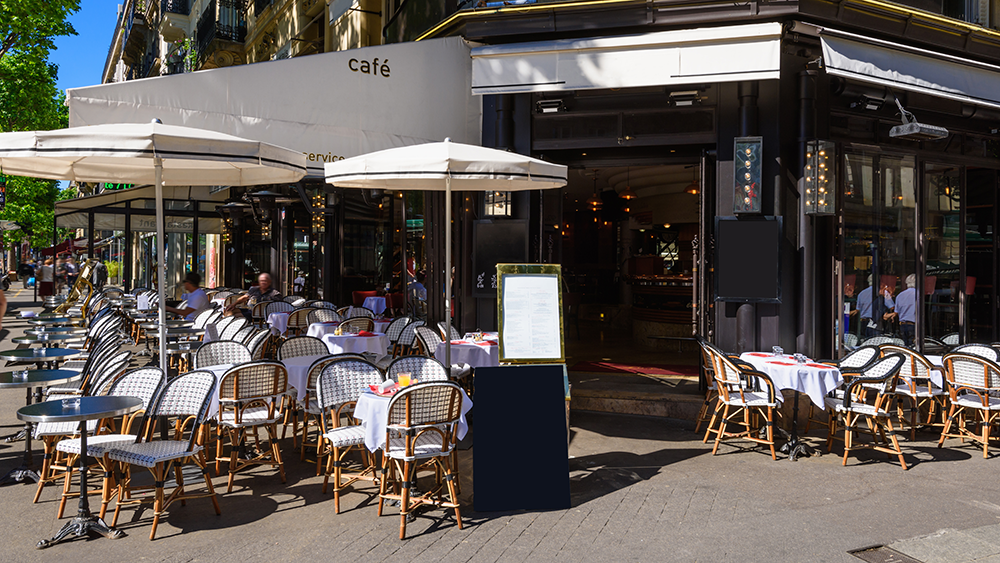 With spring and summer just around the corner, why not transform your restaurant's outdoor area into an alfresco dining hot spot?
Outdoor balconies, patios and even pavements are often underused by restaurant owners, when they could increase appeal and covers during the warmer seasons. In fact, with suitable cover and outdoor heaters, they are also a viable proposition for additional restaurant seating most of the year round.
Here are some simple but effective design tips for making the most of your restaurant's outdoor space.
Have Sufficient Shade & Weather Protection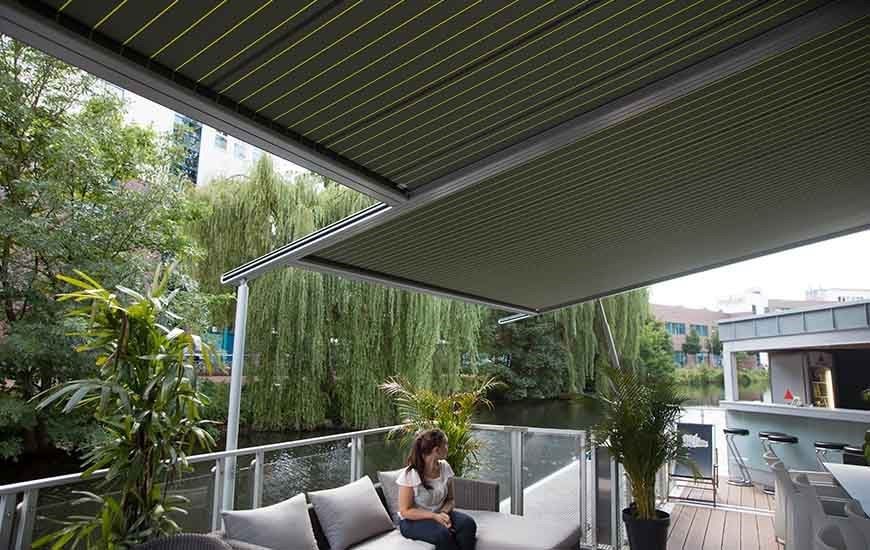 Some form of awning is advisable for outdoor dining areas to protect your guests from brutal sun glare and the inevitably changeable weather. Consider terrace awnings for patio areas directly outside of your restaurant, or butterfly awnings for outdoor dining areas that aren't directly attached to your restaurant building.I
Get the Right Outdoor Restaurant Furniture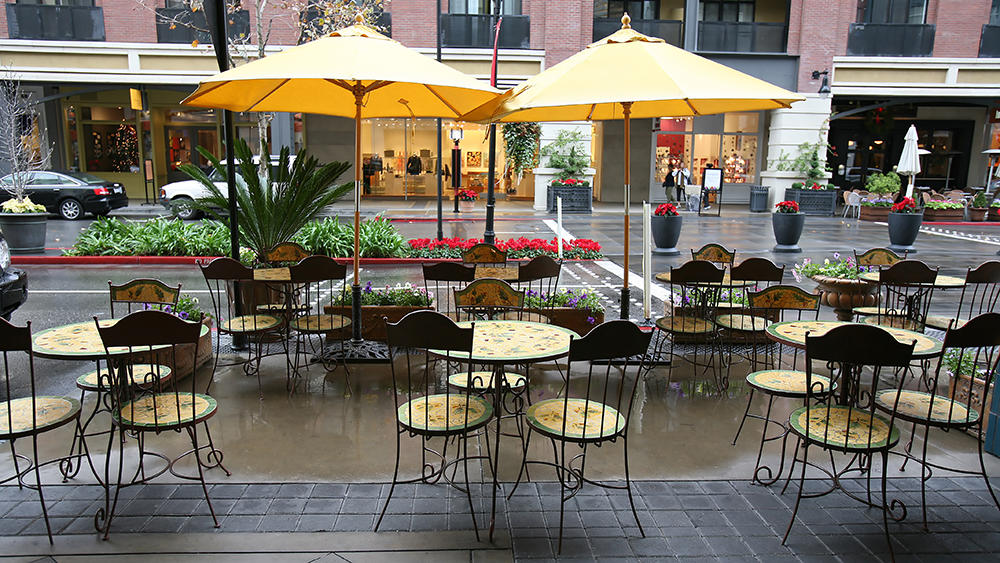 The type of furniture you choose for your outdoor dining space matters. It needs to be waterproof and easy to move and stack. Above all, outdoor restaurant furniture needs to be both functional and comfortable.
When it comes to outdoor furniture in particular, the tables and chairs you choose should be durable and designed handle the varying weather. Even with an awning, any outdoor furniture will be exposed to the elements for hours a day.
For security, it is likely you will be stacking the outdoor furniture inside when the restaurant is closed. For this reason, it should be light and easy for your staff to move. It's worth choosing chairs that stack easily if space inside is limited. Add furniture pads to the bottoms of furniture legs to protect floors if the furniture is regularly being moved inside and out.
Consider matching the style of your outdoor furniture with your restaurant interior. Do you have a bistro-style café, a rustic eatery, or a chic restaurant? Pick furniture that represents your menu and your brand.
Tables with conical bases are on trend and provide greater stability outdoors in windy weather conditions. 
Don't Forget About Your Greens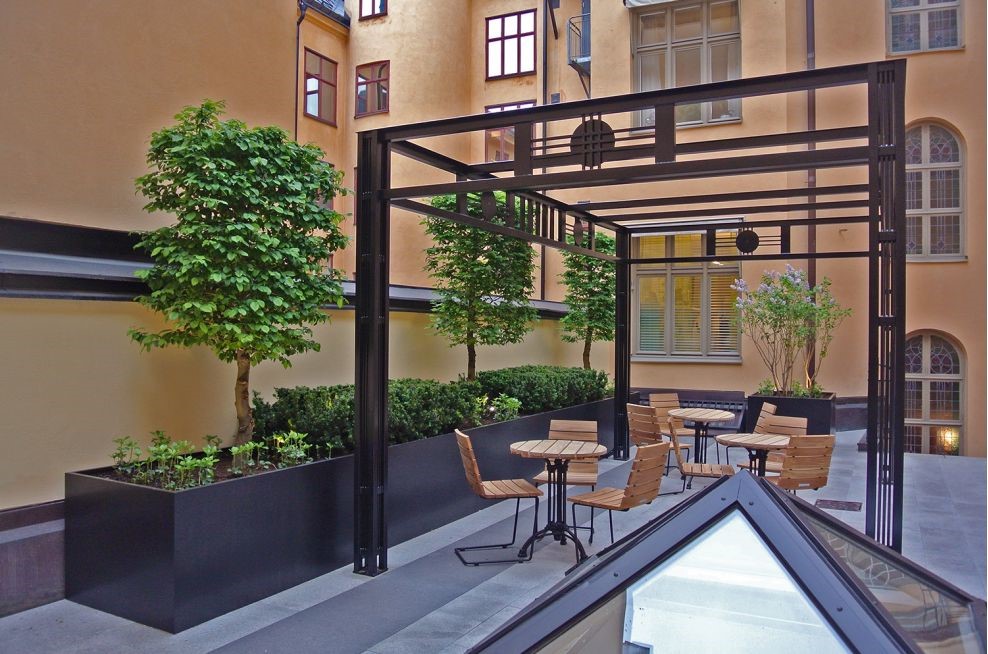 There's nothing more inviting than an outdoor dining space that is full of lush foliage. Along with great food and decent weather, it's what makes eating alfresco so enjoyable. This is easy to achieve with pots or by growing climbers around a pergola or permanent gazebo.
Greenery can improve the visual appearance of your restaurant and entice more guests in. Foliage in planters are a great way to improve privacy between dining spaces and can act as screens between the public footpath and your outdoor patio. Planters with miniature trees add a sense of refinement to any roof terrace.I
Decorative Exterior Lighting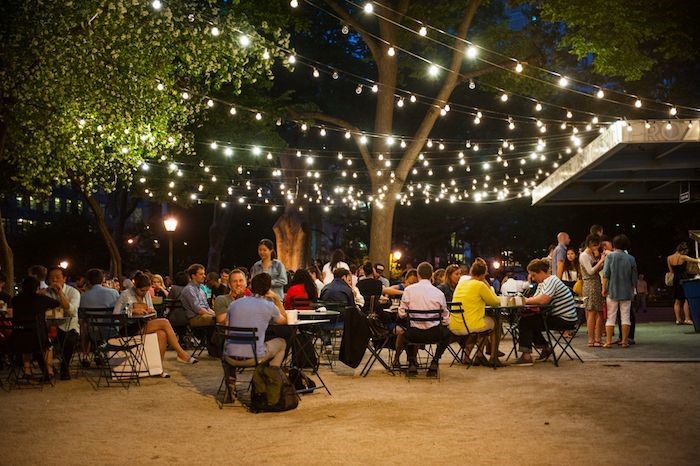 Lighting design — especially above outdoor seating areas at the front of any restaurant — plays a huge role in attracting customers in. Lighting is often added as an afterthought but it's actually essential to the ambience you are trying to create. Without careful planning when designing your outside eating area, you may inadvertently find some tables over-lit and others in a dark corner.
See here for a 10-step guide to lighting in bars and restaurants. When it comes to the outside space, you may want to consider highlighting the architectural features of your building and illuminating any signage. String lights and lanterns create a romantic ambience. Outdoor lighting can also diminish the chances of break-ins when you are closed for business too.I
Get Outdoor Heaters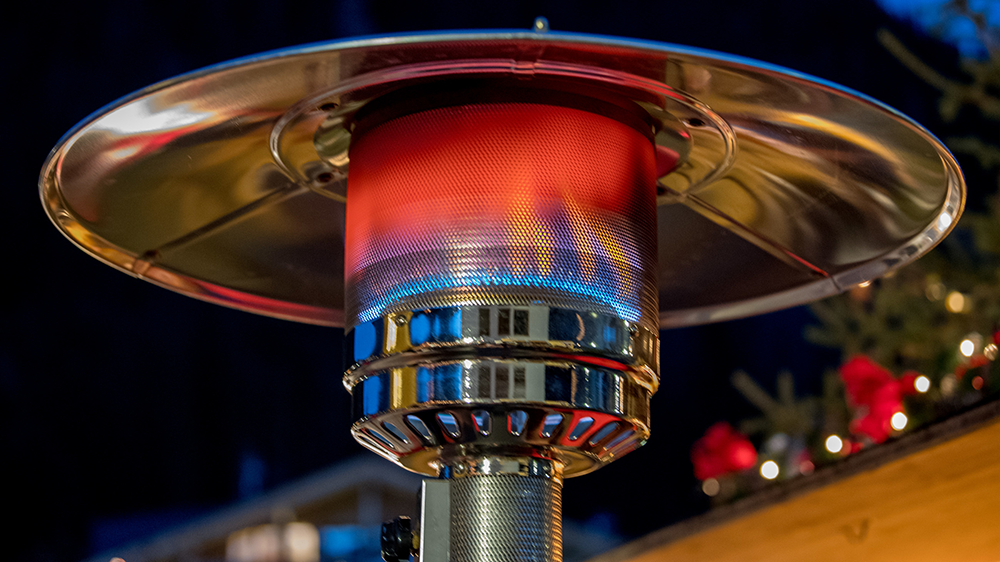 Outdoor patio heaters can benefit your business. They make a great addition to any outdoor dining space and will keep your customers comfortably warm when the sun goes down. Infrared commercial outdoor heaters are less expensive to run than gas heaters. Terrace heating enables permanent use of outdoor spaces even on colder days.
You'll need to adhere to safety regulations and ensure any cabling is suitably installed to prevent trip hazards. Parasol patio heaters are an easy way to provide consistent heat for diners or gas flame patio heaters look impressive.