A couple of weekends ago, I rallied together a group of my closest girlfriends for a not-so-uncommon Sunday Funday adventure. I set our sights on a particular brunch destination based on the buzz I had heard about their killer Bloody Mary's.
Let's be real, when you hear a specific recommendation like that on several different occasions, then you know you've got to check it out for yourself.
So Sunday finally came, and the girls and I found ourselves at Bier Garden Gastropub Restaurant which sits on the historic Highway 101 in downtown Encinitas, California, just blocks from the beach. I love this part of north county San Diego because it feels so calm and peaceful, yet there is a certain "happening" vibe to it.
Stepping into Bier Garden, the first thing I noticed was that it captured that characteristic Encinitas vibe perfectly. As for my second observation, not surprisingly, the place was packed! And it seemed as though almost every Sunday bruncher sat happily with one of the infamous Bloody Mary's in hand.
So let's talk about how we can take a good restaurant experience and make it great
We'll start with the drink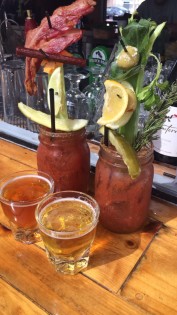 My friends and I were seated at the bar on the patio side. That's right, there's a patio side, and an indoor side of the bar that face each other, allowing customers to make casual eye contact across it. The whole place had this incredible open-concept floor plan that created an airy and inviting seaside experience. But anyways, back to the drinks…
We decided on our Bloody Mary orders (there are five options btw). Shortly after, we each received a mason jar, filled with delicious red liquid, and piled high with things like bacon slices, cheddar sticks, rosemary sprigs, feta cheese stuffed olives, and more!
Believe it or not, on top of the out-of-this-world alcoholic beverage, we got to select a beer chaser of our choice to go with it! You simply pour over the bar and take your pick from one of their 32 (rotating) SoCal beers on tap. Talk about gastronomic! But that wasn't all.
Now, how about the whole restaurant experience?
Sitting in the center of this unique restaurant was a giant vine-like, artificial tree that traveled up to the ceiling and weaved through the wooden rafters. This statement piece was accompanied by crafty industrial lighting, as well as natural wooden tabletops.
You would think that the chic interior would have make it seem a bit posh, yet the vibe I got was more of a classy, neighborhood watering hole than an uppity brunch spot. So, did the decor play a part in this whole trendy experience? True, the fabulously fun drinks may have gotten us in the door, but what was it that hooked us? Why is it that we have gone back several times since?
The interior definitely helped set the tone for our brunch, but what impressed me even more than the design, and even more than the drink, was the energy. The decor simply served as a backdrop to this lively spot where it seemed everyone wanted to be.
People may come here for the sky-high drink, but they come back for the full-package.
Here's how to take it one step further!
Why not take this Bloody Mary marketing idea a step further? I thought it would be interesting for Bier Garden to pick one day out of the week to host a self-service Bloody Mary bar. My friends and I would be willing to line up out the door to stack-on wildly, fun ingredients and build the Bloody Mary of our dreams.
Additionally, Bier Garden could have an employee snap a picture of your creation before you nestle down to consume it piece by piece. And, while your munching, sipping, and chatting away, the staff could sort through the pictures and then announce a winner of the Bomb-est Bloody Mary Contest!
Pictures would be taken, Instagrams, Tweets, and Facebook posts would be sent out, and Bier Garden would have increased their local business even more. They could even feature that lucky winner's Bloody Mary recipe for the week as the grand prize. This would no doubt have people talking about your business, and coming simply to see what all of that talk is about.
Let's apply this to your restaurant
Every owner wants to deliver a good restaurant experience. But to make it a great one, think of ways to go overboard. You might try your hand at offering your own crazy, fun, token menu item. Maybe you don't even change the ingredients, but simply the presentation.
For example, you could offer a large side-order of waffle fries that are skewered and staked on top of a base which makes it look like the Eiffel Tower. That may sound a bit ridiculous, but it's a conversation starter.
Once someone receives your magnificent waffle-fry display, they will feel compelled to snap picture and tell all of their friends.
So why not try it? What have you got to lose? One wild menu item could potentially bring dozens more in the door, and then its up to you to create the decor, the energy, and the menu that will make that surge stick.