Last week, we touched on how to get started with Instagram. This week, let's take it to a new level!
If you own a local private restaurant, it wouldn't be unheard of if your social media engagement didn't extend beyond a few scattered posts about restaurant deals, and maybe a few photos here and there.
Most restaurant owners don't think they have the time, nor even think it's worthwhile, to use social media. Restaurant owners are much more concerned that two servers and a bartender called off, one of the front-end managers is on vacation and the most popular mid-shelf wine is all gone.
I mean, an Instagram photo contest? What not-so-sane, busy restaurant owner/manager has time for that? But, boosting customer engagement via social media means boosting brand awareness. Ultimately, that means boosting the number of seats filled in your restaurant.
If you know how to go about it, creating an Instagram photo contest will not take a lot of time, especially if you use social app tools to help you along the way. And the pay-offs, if it's done right, will be worth those 10–15 minutes that you'd otherwise use to pick out tomorrow evening's dinner plate garnishes.
Selecting and Preparing Your Restaurant Instagram Photo Contest
A lot of local businesses try to jump on the social media bandwagon and garner customer engagement, but they don't invest in getting the right information or tools. Hence, their social media efforts resemble a hot dog vendor waving and yelling at a massive crowd of people at a street fair: half a dozen people may wander over to briefly check it out, but are then tempted away by the Bangkok chicken stand on the next corner.
Your photo contest should have the following criteria in order to be set up for success:
Define a Contest Run Time
Whether it's a week or a month, the dates of the start and end of the contest must be part of the details. For local restaurants, it's probably better to have longer contests, such as two weeks or even a month. Why? Because most local eateries don't have the kind of traffic or large social followings for a week to be long enough. Give it enough time for word of the contest to spread in your community to create maximum impact.
Of course, if you're Whole Foods, a couple hours might be all it takes: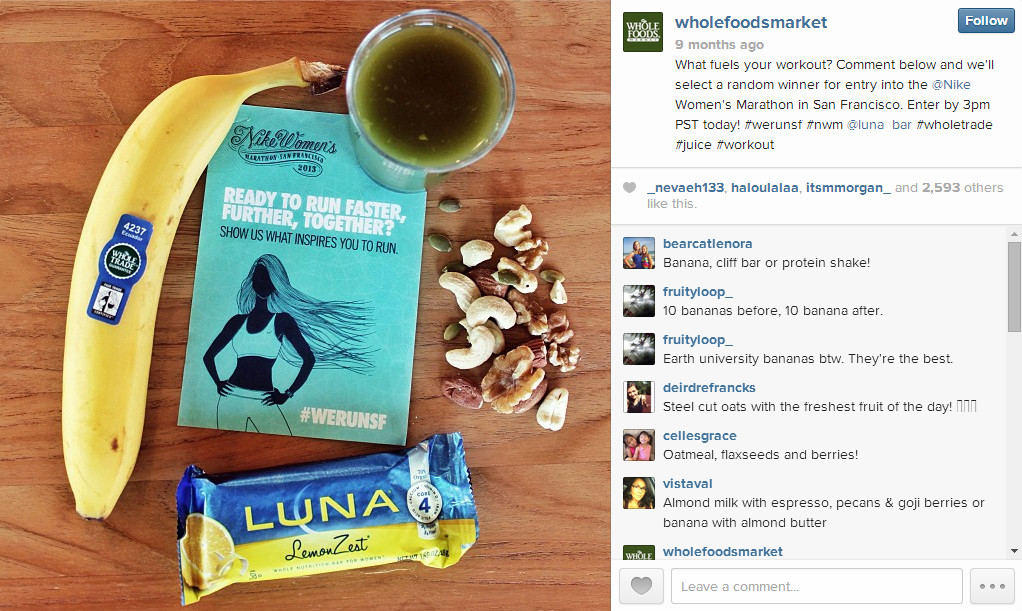 Choose a Theme
Photo contest themes are only as limited as your creativity. Pour My Beer could theme a photo contest in which contestants share a creative shot of their favorite brew. If you run a Chipotle franchise, you could create a photo contest for the best new burrito ideas, broken down into ingredients. Dunkin' Donuts could do a contest where they ask users to share a dressed up coffee cup. Oh, wait, they actually did that.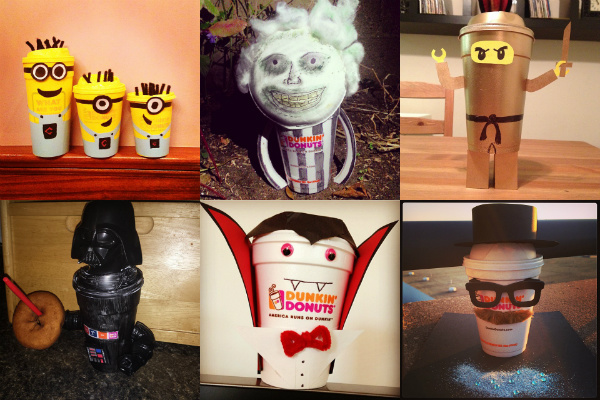 Choose a Hashtag
Hashtags not only promote your brand, but they make it easy for you and your contestants to get involved with all the other contestants. Make sure you don't use an overly generic term but rather one that incorporates your business name or brand, like #BubbaGumpShrimpin.
You want something that won't likely be used by another business. If you have a generic business name, like "George's Bar and Lounge," try using an acronym in your hashtag.
Choose a Prize
Prize? That's easy – gift cards!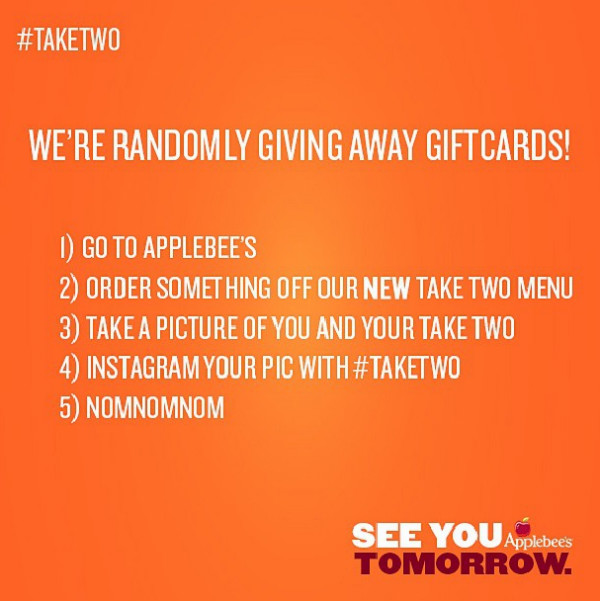 You may think you don't have a lot to give away other than gift cards, but you can make it more specific or creative than that. Promote a new menu item or drink by using that as the prize — these kinds of things lend themselves much better to Instagram.
A picture of a $25 gift card isn't visually inspiring. A mouth-watering photo of your most popular entrée, or your most colorful beverage, is way more visually appealing.
Other prize ideas for restaurants or clubs may be free VIP seating, free valet parking, free admittance, free appetizers or a free round of drinks for up to four people.
Announcing and Implementing the Contest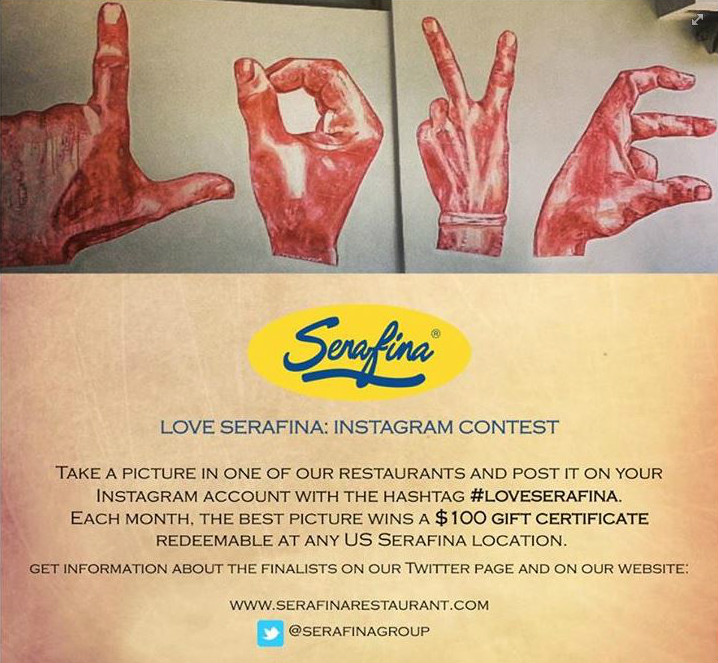 As a local establishment, you'll probably want to go old school to announce the contest, since you may reach more eyes and ears compared to using just social media. Whether you hang a banner in the foyer, put an insert on each table, print it out on customer receipts or all of the above, announcing it to your already established and engaged customers is a good idea.
However, it's also important to announce the contest via Twitter, Facebook, LinkedIn and any other social media sites where you have presence and followers. Don't be shy about asking your followers to pass the word along — none of them can read your mind, and many will not think to share or retweet unless you ask them to.
Tracking the Contest
Instagram contests are great because you can get up and running totally for free. As long as you've given entrants proper instructions to tag you and use the hashtag, it should be easy enough for you to follow along if you've got a small reach and under a hundred entries.
However, if you're anticipating a bigger response, you'll want to consider using an Instagram analytics service like Nitrogram or Wishpond in order to truly get a scope of the entries as they come rolling in. These services allow you to accurately track customer participation and the effectiveness of a contest. You can take what you learn the first time to improve upon future contests.
Selecting the Winner
There is no one way to select a winner, nor do you have to choose only one. You can choose the winner(s) yourself, draw names, use a random selection method or let your dog sniff one out — it doesn't matter.
Some places actually keep contests going by selecting weekly or monthly winners. This is a great way to keep your social media audience engaged regularly, as long as you can keep the prizes interesting and something people want enough to participate.
You can also go for a top three, or top five, or whatever you want. Just remember to let your audience know when, where and how the winner will be selected. For instance, it's usually easiest to create an additional hashtag to announce the winner, such as #IHOPpancaketopperwinner or #WorstBeerFaceEverwinner.
Instagram has multi-platform publishing/posting, which means photos posted on Instagram can then be posted on Facebook and Twitter — don't forget to do it. Announcing the winner is the icing on the cake for your audience.
Even if your first Instagram contest doesn't go as well as you'd like it to, it's not like there's a limit to how many you can have. With a little info-gathering, a little organization, a tad of creativity and a lot of tenacity, your Instagram photo contest could really help fill those seats on a slow Tuesday night.
Have you run an Instagram contest? If so, please share your experiences in the comments below!