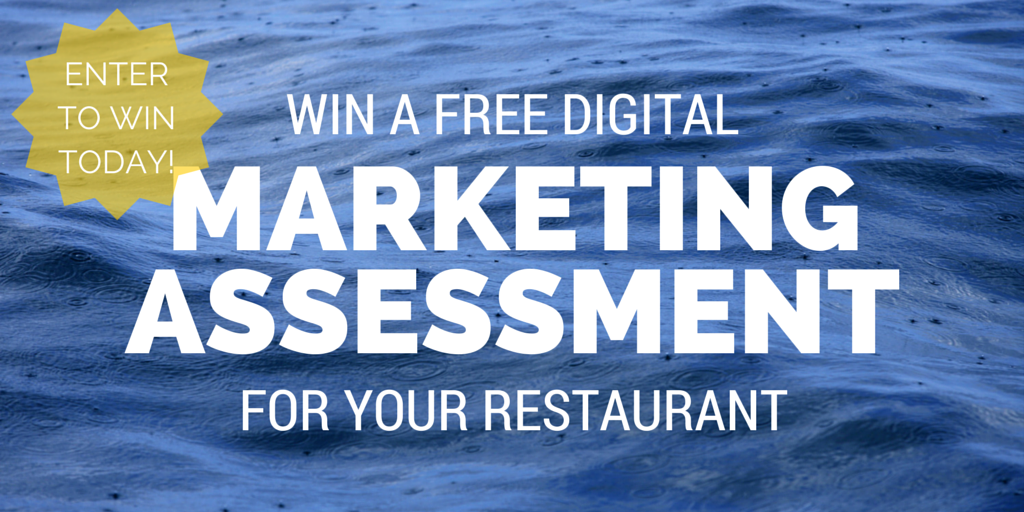 When it comes to restaurant digital marketing, there's a lot to fret over:
Your website and how it represents your brand and converts visitors.
Your reviews on Yelp and elsewhere.
Your social media presence.
Your email marketing efforts.
Your SMS marketing.
Your mobile app.
Even your online advertising.

For a limited time, and in partnership with Revenizer, we're offering a free digital marketing assessment for restaurants. And this is no minor, automated report. We'll go deep.
Winners may be selected as entries are collected, but the contest will officially close on December 31, 2014. Up to 10 winners will be selected.
If you are a consultant who works with restaurants, you may enter your clients' restaurants with your name as the point of contact.
NOTE: THIS PROMOTION HAS ENDED.
The assessment will best serve established restaurant concepts and small chains, however the only hard-and-fast criteria to win is that you must have been in business for at least one year to win, and you must complete our assessment form in its entirety.
But look at it this way — even if we don't select your restaurant as one of the winners because of that, you'll gain access to the benefits in section 2 below.
1. For the lucky winners
Your results will be private and you'll get a comprehensive digital marketing score for each of the areas included in the assessment, sent via email. We'll objectively evaluate your restaurant digital marketing efforts in all of the areas above, with the exception of your online advertising, along with custom feedback and recommendations for each area as well.
Results will be personalized for each restaurant selected to participate.
We will incorporate as much information in our report as you provide in the form you complete for the assessment.
2. For everyone who participates
Just for entering to win, you'll gain access to a comprehensive checklist of digital marketing action items to ensure you're firing on all cylinders with your marketing efforts. Beyond what's available in our articles at NextRestaurants, this will be a quick-hitting punch list for you to evaluate your next steps to upgrade your marketing.
Just distribute the checklist to your team and delegate the changes you want made.
NOTE: THIS PROMOTION HAS ENDED.
Take advantage of a fresh set of expert eyes
We work with restaurants and SMBs all day, every day. We are experts in SEO, web design, lead conversion, digital analytics, social media marketing, and content marketing. We see what over 1,000 restaurants are doing on a weekly basis with their marketing.
You have nothing to lose by entering to win — but a lot to gain. At the very least you will come out with an objective assessment of where your brand stands.
If you've got further questions about the contest, complete our contact form with your details and we'll reach out to you. We're excited to offer even greater value to the NextRestaurants readership.
Final details
We realize some restaurant groups run multiple concepts and brands. Any given independent restaurant with one location may enter once to win. Restaurant groups that operate multiple brands may enter once for each of their brands. Follow-up entries for brands that have already been submitted will be rejected.
NextRestaurants and Revenizer reserve the right to customize or limit the scope of the full, free assessment based on details provided through the contest form made available to winners.
NOTE: THIS PROMOTION HAS ENDED.