Why did we start NextRestaurants two years ago?
If a picture says a thousand words, let's start with this: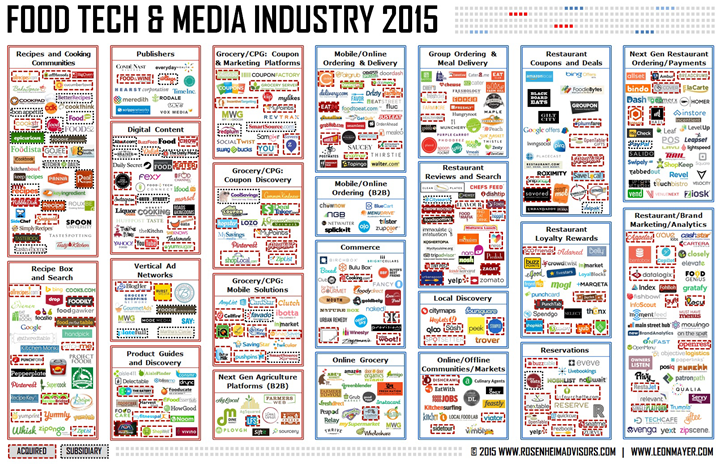 Click that image and you'll be taken to the details from FoodTechConnect, where you can see the full-screen version in all its glory.The graphic is compiled by Brita Rosenheim of Rosenheim Advisors.
It's mind-numbing, but it's why we exist. Three years ago the idea of NextRestaurants was conceived with this idea in mind:
Restaurants need help adopting new technology in order to better attract and engage guests.
But — and there's a big but here — how in the world can you sort through all of the new companies emerging out there in the world? Of all these new startups cold-calling you to death, who's going to be around for the long haul? What do they do? How do they differ from one another?
Does this provider focus on independent restaurants or do they only work with chains?
Will they integrate with my POS?
Will their tool integrate with my email marketing provider? Or my other vendors?
This is why we founded NextRestaurants. Helping you as an independent restaurant navigate this crazy, mixed-up world of "restaurant tech." (That's a thing, in case you didn't know. "Restaurant tech" is an entire industry now.)
The name NextRestaurants signifies the next generation of restaurants. The things the next generation of restaurants can and should do to thrive.
We mix in restaurant tech companies with restaurant marketing ideas
When we first launched about six months after the idea was conceived, we featured a full Directory of marketing providers. It had 65 companies in it. Now, it's over 150, and we've got about 15 more to add over the next month. If we wanted it to, it could be nigh 1,000 vendors who provide some form of restaurant marketing technology.
No one pays to be included. In fact, we turn down many, many companies who want to be in the Directory because, in all transparency here, we're just not sure they're going to be around, or they only serve restaurants in one geography of the United States, or they're focused on operations (not marketing), or some other fourth reason where we just don't have the "feels" about their company. It's never personal nor does it involve money.
But, to tell you the truth, running a Directory, even if you use a capital D to refer to it, isn't a whole lot of fun. Educating and challenging peoples' thinking — especially when you can include real-world examples — THAT is fun.
So, from the outset, we mixed some creative, digital marketing ideas in with that Directory. Okay, we actually LEAD with those ideas and the Directory has become a bit of an oh-by-the-way. And we'll do better to highlight that to you starting in February.
Those ideas have spanned over 300 free articles with case studies, fresh and new digital marketing tactics, and others' opinion pieces on what you can or should do to accomplish more with your restaurant marketing.
Here's what to expect in 2016 from NextRestaurants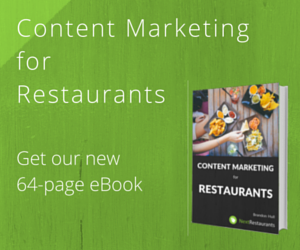 At the time of me writing this, we serve up over 13,000 pages of content every month at NextRestaurants. We enjoy over 6,200 visitors each month.
There you go. Full transparency. As of right now, we also have well over 125 new restaurants jumping on our email list(s) every month, too.
While we're not, and won't ever be, a news site for the restaurant industry, we have covered almost every area related to digital marketing for restaurants over the last 2.5 years.
Now, we're going to adjust that a bit going forward. You can see with our top navigation the primary categories we'll cover in 2016.
Email. Social media. Mobile marketing. Your website. And the concept of "content marketing for restaurants," which we're very proud to be leading the way on with our first premium resource.
Doesn't mean you won't see great stuff on POS or Big Data or the changing face of the customer experience in-venue. Just means we're focusing on what you've told us — some of you, literally via phone and email have told us — that you want more help and ideas on.
All the text-based content you've come to enjoy, but with an increasing dose of multimedia.
A new podcast. And video training.
Yes, we're doubling down on education.
Do you want to contribute?
So, here's the thing. As we look ahead to what NextRestaurants delivers THIS year, I ask you: do you want to contribute?
We'll give you a voice. Your restaurant's stories of greatness. Your lessons learned. If you're a marketing provider, your case studies and your RELEVANT, newsworthy stories.
If you want in our Directory, shoot on over to our New Directory Request page to get the ball rolling. Let us know if you want to sponsor NextRestaurants in some fashion.
Shoot on over to our Contribute page to get that ball rolling.
And stay tuned because this is going to be a wild and fun ride in 2016. We're pumped to deliver for you.
By all means, follow us on Twitter and like us on Facebook, if you've found value in what we do, will you?