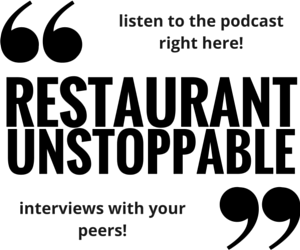 Team-building is one of your most important jobs as a restaurant owner.
That's what Russell Davis of Bar Rescue fame wants you to take away from his interview with Eric Cacciatore, host of Restaurant Unstoppable, on the restaurant podcast's 199th episode.
World-renowned as one of the most creative restaurant and bar mixologists, Russell's interview with Eric was a great one on many levels. Give this episode your time and attention!
They talk team-building as one of the most important jobs of a bar or restaurant owner.
Listen to Russell's UNBELIEVABLE approach to hiring can make the difference in attracting and keeping the right kind of restaurant employees.
Push the play button on the featured image at the top of this post.
For full notes on this episode, feel free to shoot over to the Restaurant Unstoppable website.