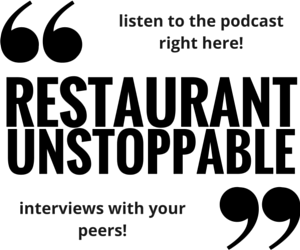 "Have a plan and go for it," are words of wisdom. Do your research first, yes, but then go all-in on pursuing your passion.
Eric Cacciatore interviews the co-founder combo of Allison Arevalo and Erin Wade of Homeroom Mac + Cheese in this 196th episode of Restaurant Unstoppable. They operate this fun restaurant concept out of Oakland, California, and this is their first golden ounce of guidance for aspiring restaurateurs.
The fuel for Homeroom was to build a restaurant that not only stands apart from others, but a workplace where people absolutely love to work. Listen to the episode to find out how they make that happen.
From talk about the Craigslist ad to hire their very first employees, to their current unofficial status as the Restaurant with the Coolest Merchandise, including the best macaroni and cheese cookbook you may ever find, this is an outstanding interview that is both educational and motivational.
The trust the duo places in managers and staff to track the right metrics and how to track them.
Push the play button on the featured image at the top of this post.
For full notes on this episode, feel free to shoot over to the Restaurant Unstoppable website.