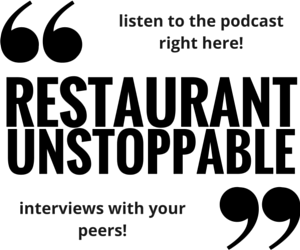 Learn, learn, learn. Let every restaurant situation you face become a learning experience.
That's the big message from Hosea Rosenberg, chef and owner of three-year-old restaurant Blackbelly Market in Boulder, Colorado, as the always-exuberant Eric Cacciatore interviews him for episode #193 of Restaurant Unstoppable.
Hard to not like Hosea. Despite getting his undergrad degree in engineering and having no ambition initially to become a chef, he ultimately learned under some celebratory chefs, and finally got a chance to do his own thing and start his own restaurant.
Learning isn't just a top-down thing — you can learn from anyone. From prep cooks, your team on the floor, everyone, Hosea believes. Cooking helped get him through college while he dreamt of other career paths, until the bug hit.
How did he get to work under luminaries such as Wolfgang Puck, Kevin Taylor, and Dave Query, he felt if he's going to put time into something, he better learn from the best.
Give a listen to the full episode to learn how Hosea moved along in his career, how he failed with an early food truck endeavor, how he leads his staff at Blackbelly Market, and what drives him today to master his craft and build a unique brand in Colorado.
Push the play button on the featured image at the top of this post.
For full notes on this episode, feel free to shoot over to the Restaurant Unstoppable website.