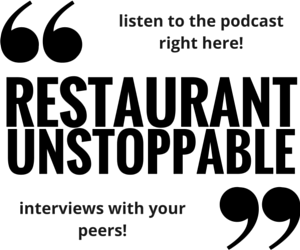 Restaurant branding success starts with focus.
You've got to know where your restaurant adds value, and what's a distraction.
We've introduced you to Chomp previously. Founded by Sam Glynn. If ever it were possible to be an award-winning burger joint with a cult-like following, Chomp is that restaurant.
And Sam is Eric Cacciatore's guest for this 197th episode of the Restaurant Unstoppable podcast.
Sam was raised in the restaurant industry so he has a firm foundation in the value of true, guest-centric hospitality.
And his goals are transparent with Chomp — how he wants staff to feel about working at the restaurant, how he wants to attract guests, even is welcoming attitude towards new and nearby restaurants.
But he also represents the next generation of restaurateurs — who value data, running the restaurant as a powerhouse business,
Push the play button on the featured image at the top of this post.
For full notes on this episode, feel free to shoot over to the Restaurant Unstoppable website.