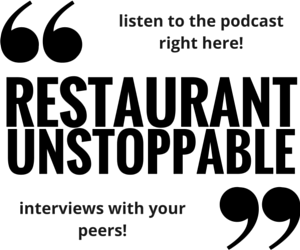 Square meal, stiff drink, and fair price. That's the mantra at Work & Class out of Denver, Colorado.
Starting with episode #185, we're now featuring the fantastic restaurant podcast, Restaurant Unstoppable, with host Eric Cacciatore, and couldn't be happier.
Push the play button on the featured image at the top of this post.
Check out Eric's Restaurant Unstoppable site for the full show notes, but with Eric's permission you can now listen to each episode right here at NextRestaurants.com. We're excited.
In this episode Eric interviews Delores Tronco and gets the personal story that ultimately landed her as a partner at Work & Class, along with her thoughts on restaurant leadership and staff development.
Additional Marketing Note on Work & Class
Work & Class has an outstanding Facebook and Twitter presence.
They do a tremendous job of mixing their own promotions with reviews and links to the top restaurants in Denver — very engaging, shareworthy stuff. Check them out.