T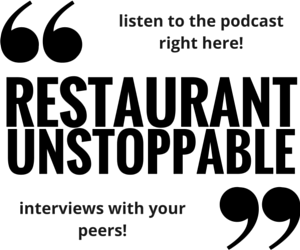 here are many obsessed and crazed restaurant veterans out there. But maybe none as obsessed and crazed as Mike Ganino.
In this 187th episode of Restaurant Unstoppable. Eric Cacciatore interviews Mike and covers more ground than should be legal in a restaurant podcast, such as:
Reba McEntire
How work can be something that adds tremendous value to your life
Building workplaces that make a difference in peoples' lives
When it comes to restaurant metrics, what is the #1 most important number you need to track
But as always, run over to the Restaurant Unstoppable site for more detailed show notes.
Push the play button on the featured image at the top of this post.
Mike's a superstar. We've talked to him for some of our in-the-works projects here at NextRestaurants. Great guy. Unmatched energy. Mountain-top optimism. Super servant-leader.
The feature photo of Mike in this post is courtesy of Courtney Lindberg Photography.