It's time for a bonus episode of Table Touch! You've been very patient, but here's the thing:
Every other week we come to you live with a new restaurant podcast episode where we talk restaurant news, restaurant marketing ideas, and interview a guest from the industry. But we're squeezing in BONUS EPISODES because of the litany of interviews we've got lined up. Aren't you lucky?!
If you aren't yet familiar with Charlie Hopper, you need to be. Not only did he write Selling Eating (see below), but he now pens the Food Fiction column at The A.V. Club, and it's absolutely incredible.
Show Notes
Did you know America is about to declare its best burrito? You didn't? You haven't voted. Well, much like you don't vote for a king, you don't vote for America's Best Burrito, either. You're told whom it is.
In this case, the fine folks at FiveThirtyEight.com are in the midst of declaring America's Best Burrito.
Randy and I talk about this and bring on our guest — Charlie Hopper, principal of ad agency Young & Laramore out of Indianapolis, Indiana, and author of the outstanding book, Selling Eating. Charlie's book is a crisp, tender, succulent look at restaurant advertising with a multitude of examples good and bad.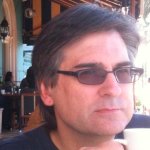 And it wouldn't be Table Touch without a game. We play a round of Either/Or with Charlie, giving you a chance to get to know him in more ways than, perhaps, you wanted to. Charlie is speaking at the upcoming National Restaurant Association MEG Conference in Atlanta.
If you're headed to MEG, make to sure to say Hi and tell him you heard the episode!
More About This Episode
What are the criteria that determine "best burrito"? Look? Flavor? Context? We kick this around a bit.
Randy waxes profound with his philosophy, "from small acorns giant, mighty oaks grow…"
We lament the trajectory of many brands from scrappy upstart to Big Evil Brand. What a shame this is. Our first jobs — many of us — were working for a chain restaurant. They employ millions upon millions. Say what you want about the food, but they're always hiring.
Charlie touches on TGI Friday's $10 endless appetizers.
Love The Table Touch Show Restaurant Podcast?

Give us a 5-star rating in iTunes!
We're so thankful for recent reviews on iTunes and having a ton of fun with this as we carry on these easygoing conversations with movers and shakers in the restaurant industry.
More outstanding restaurant leaders are lined up for future episodes — so subscribe or hop on board the mailing list (to the right) and we'll let you know about each episode.