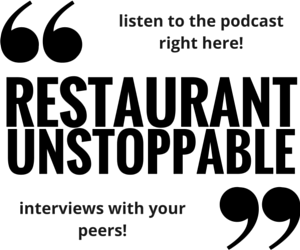 When did you first get the feeling that running a restaurant is what you want to do for the rest of your life?
Host Eric Cacciatore speaks with Chef Alon Shaya, owner of new restaurant, Shaya, in New Orleans, Louisiana, for this 195th edition of Restaurant Unstoppable, where they talk about exactly that and much more. For Alon it happened as early as four years old!
"Have passion for what you do, and everything else falls into place."
That's Chef Shaya's mantra. He's a multi-award winning chef who was born in Israel, moved to the United States at four years old, ultimately attended and graduated from the Culinary Institute of America in 2009, moved to Vegas, moved to Louisiana, moved to Italy, moved back to Louisiana and opened Domenica, then ultimately started Shaya.
And what a great story he shares of that journey.
Push the play button on the featured image at the top of this post.
For full notes on this episode, feel free to shoot over to the Restaurant Unstoppable website.