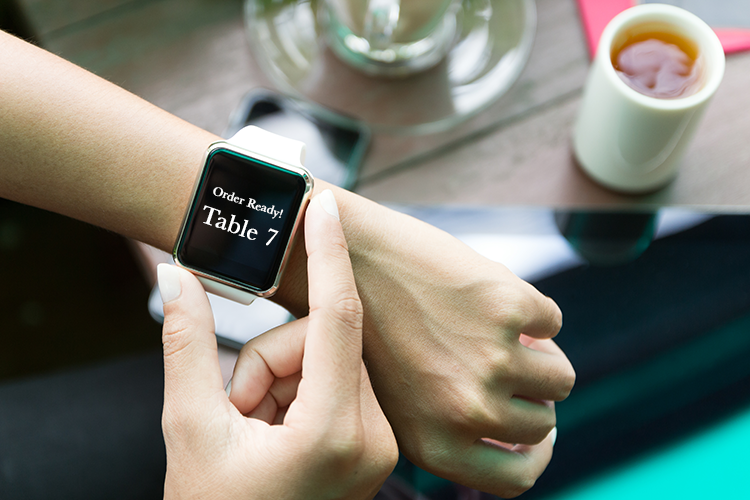 I am extremely bullish on the use of wearable technology in the restaurant industry. Devices like the Apple Watch can provide subtle notifications, reminders, and guest details that are much less intrusive than a smartphone.
In many restaurants, servers are directly told not to use their smartphones. This is for good reason. Personal smartphone use, such as messaging and Snapchatting, can quickly detract from a server's focus on their tables. Once you open the door to staff smartphone use on the restaurant floor, you are supporting a habit that sees the average person check their phone 85 times per day.
Taking advantage of wearable restaurant technology
The real question is, "How do you leverage the technological benefits of a smartphone without threatening the overall experience?"
The answer is wearable technology.
Wearable technology like a smart watch benefits from a simplicity in communication that only requires a glance. Everything from a back-of-house alert that a guest's order is ready to a front-of-house notification that a VIP has just walked through the front door. Wearables can serve as a critical link in sharing just-in-time information.
A smart watch provided to staff also eliminates the threat of personal messages interfering with business communication.
Wearable tech in its infancy
While the days of wearable technology permeating the restaurant industry are still young, savvy operators are beginning to test the waters. Danny Meyer, of Union Square Hospitality Group and Shake Shack, will be utilizing Apple Watches in his soon-to-reopen flagship, Union Square Café.
In a partnership with reservation and restaurant management platform Resy (a new on the scene OpenTable rival), all restaurant managers and sommeliers at Union Square Café will wear an Apple Watch. The initial app will alert managers to VIP guests, real-time inventory information, and will communicate with sommeliers when a table has requested a bottle of wine.
Even though the initial launch is not staff-wide, it's only a matter of time until all front-of-house staff are wearing Apple watches. Servers using wearable technology is where where the tech rises above smartphones in the restaurant environment.
Arguably, managers can be trusted to use their smartphones respectfully on the restaurant floor to access important information. For servers, hosts, and other restaurant staff, wearable technology can be an invaluable customer service tool.
Here are five uses for wearable technology in the restaurant industry:
1. Communicate specialized guest information to front-of-house staff
This could include everything from VIP, loyalty status, and visit frequency to known allergies.
2. Track real-time metrics from the floor
Rather than having to spend time in the back office, managers can receive real-time inventory information right on the restaurant floor in a "glanceable" format. This gives them more time with guests while continuing their managerial duties.
3. Communicate important staff information
Rather than relying on printed signs in the kitchen or staff room, Apple Watches can serve as a valuable internal communications tool. Wearable technology can ensure that all staff receive important messages in a timely manner. No more chasing staff down or playing operator.
4. Facilitate guest requests
With connected systems that enable guests to request another drink or assistance from a tabletop top tablet or smart device, a server with an Apple Watch will be alerted in real-time. This paves the way for providing the highest level of guest service.
5. Alert servers of guests' mobile payments
As reported,  43% of restaurants planning to implement mobile payments in the next two years. That means an increasing number of guests will choose to pay with their smartphones. To keep up, servers will need to be seamlessly alerted when guest checks are paid.