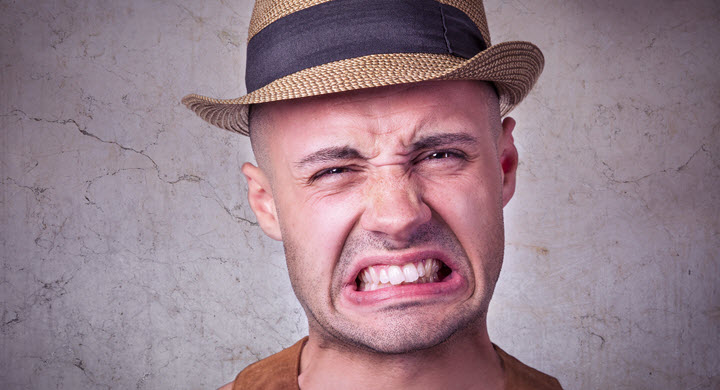 There's a massive movement for restaurants to seize control of their online reviews. Are you fully in control of yours?
It's powered by today's reality that consumers can easily leave simple or epic reviews on websites such as Yelp, TripAdvisor, Zomato, Foursquare, and so many others. It's thoroughly energized by the search engine power of those platforms. It's within your control because of the tidal wave of providers who can help with this.
I need to underscore how crucial it is to get this under control for your restaurant, and then I'm going to give you three steps to follow to get the ball rolling.
Let's do a quick experiment in restaurant searches
Do a search of the "top 10 restaurants in Davenport, Iowa". You'll find ZERO restaurants' websites on that first search engine results page (SERP):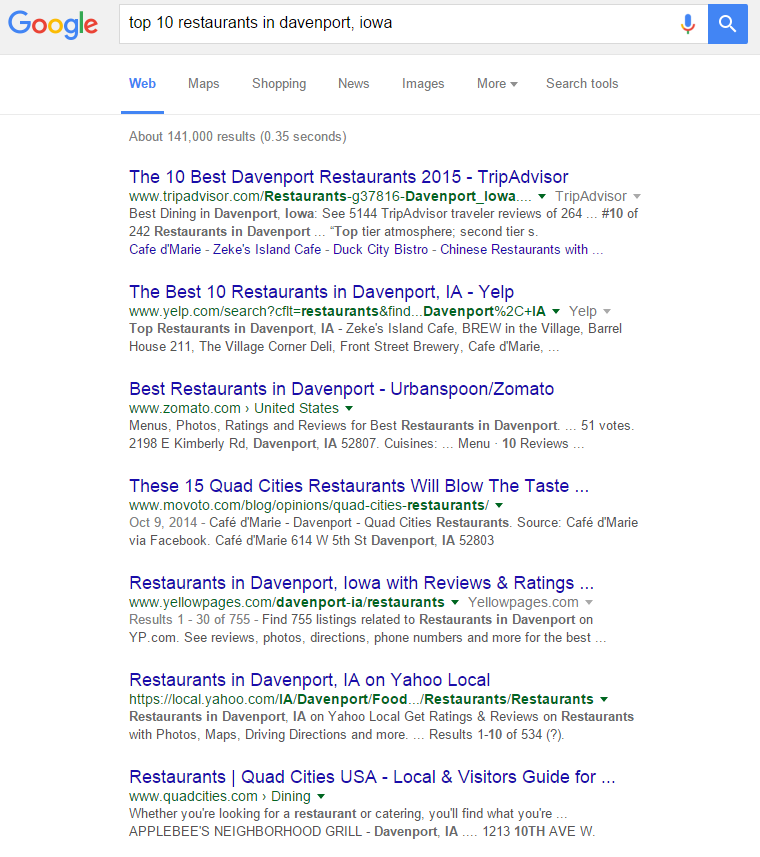 Review sites dominate the first page.
Now, before you point out that I said you should do a search for the "top 10 restaurants," and nobody really does that, take a look at what happens when you pull out the phrase "top 10" and simply perform a search for "restaurants in Davenport, Iowa":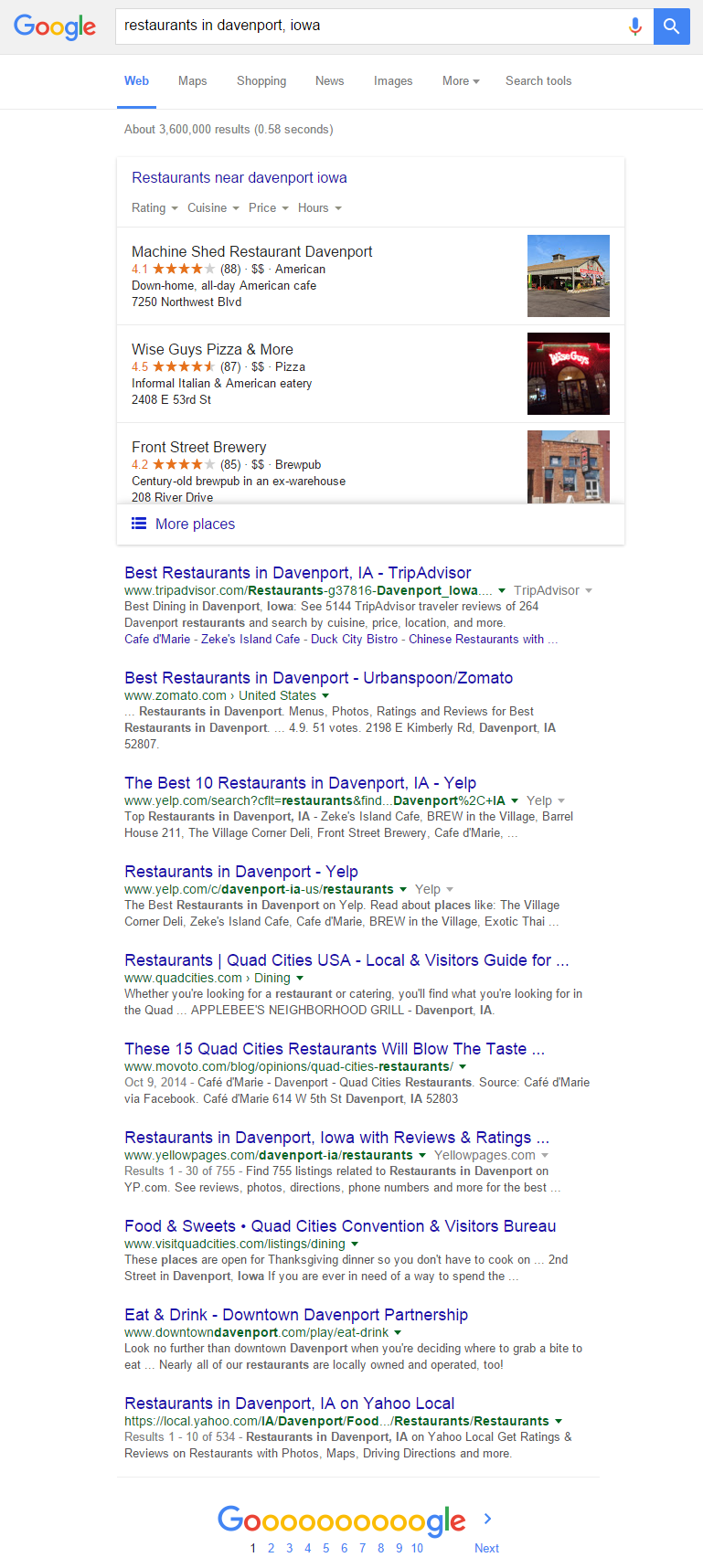 Other than the three Google Places results at the top, which take you to a map of Davenport, Iowa (and kudos to Machine Shed Restaurant, Wise Guys Pizza, and Front Street Brewery for optimizing their listings there), there are still zero restaurant websites linked-to from that first page.
Again, review sites dominate the page.
I'll tell you this, too: If you were to drop the "s" in restaurants, making it "restaurant in Davenport, Iowa" as your search phrase, you'll FINALLY get a SINGLE restaurant website listed on that first Google search result page: Barrel House.
Do thousands of people conduct this search each month in Davenport? I'm not going to tell you what the estimate from Google's Keyword Planner tells us. It's irrelevant.
What does this tell you about how people find you online — and whether they'll elect to eat at your restaurant? 
It tells you it's NOT just about designing an engaging and well-thought-out site, though that's important. It tells you that you've got to establish a page at each of these major reviews sites, believe it or not. And it tells you you've got to keep a close eye on those pages for a variety of reasons.
You can and should spend a weekend doing this — or having your niece or nephew do it for you. Just make sure every listing page is dead-on accurate with your name, address, and phone number.
Here's what matters now about your online reviews

If you don't have a plan for online review management, you're sunk. It's pretty simple.
88% of consumers trust online reviews as much as personal recommendations. Crazy? Yes. Frustrating? Undoubtedly. Do you need to do something about it despite this? Uh huh.
I'm extremely pumped about a book that's about to be published that addresses this crazy world of online reviews and ratings. It's called Manipurated, and it's written by Daniel Lemin. I get nothing for telling you this, but GO PRE-ORDER IT NOW.
What matters most right now is that it's within your control to get on top of these online reviews, even if you've got just one single restaurant location and feel you can't dedicate the time to doing this.
88% of consumers trust online reviews as much as personal recommendations
There are so many service providers out there now who offer a way to solve this problem. Some are focused primarily on reputation monitoring, where you get great visibility and notifications when new reviews are left.
Some strive to mitigate the possibility of bad reviews by encouraging guests to leave feedback using their deployed solution on your behalf on-premises or immediately after the guest has left. Some perform a complete, managed solution to review monitoring, responses, and reporting. And some incorporate social media brand monitoring and comments, not just review sites.
A lineup of companies for you to take a look at (there are many more, I'm just getting started here and I have NOT investigated most of these companies yet):
Get Five Stars. ReviewShepherd. ReviewTrackers. Shout About Us. Reputology. ReviewPush. Trackur. Pedanco. Perch. Humm. FeedbackDog.
Check out the Reviews category in our vendor Directory for more help here.
Put your money where your money is. Yes, that's not a typo, that's what I meant to say.
There is money is in these reviews. Well, it's either your money or your competitors' money. You can either benefit from online reviews sites, or you can be scorched by them.
Here are 3 steps to get on top of your online reviews
1. Capture more feedback in the moment.
Use your own platform like a FeedbackDog, Humm, RocketCards, or some similar service, and capture guests' reviews and feedback at the table, before they leave, off of those review sites. You don't have to deploy tablets or anything like that.
2. Monitor your reviews carefully.
You can use a service like ReviewTrackers or ReviewPush and keep the Perch app on your smartphone to stay on top of new reviews. It starts there, doesn't it?
3. Have a plan for responding — or outsource it.
You can use a service like Shout About Us, which gently manages your response to reviews (with humans!) while keeping you informed of and in charge of how to handle the squirrly ones.
The time has come to own these reviews
Get in control of your online reviews…before they take control of the future of your restaurant! It's worth the $49 or $99 per month to do this not only from a reputation management standpoint, but from a discoverability standpoint.