Yelp reviews.
There are ways to get a handle on them and drive new customers to your restaurant. All review sites, for that matter, this isn't limited to Yelp by any means.
Click this image to enlarge.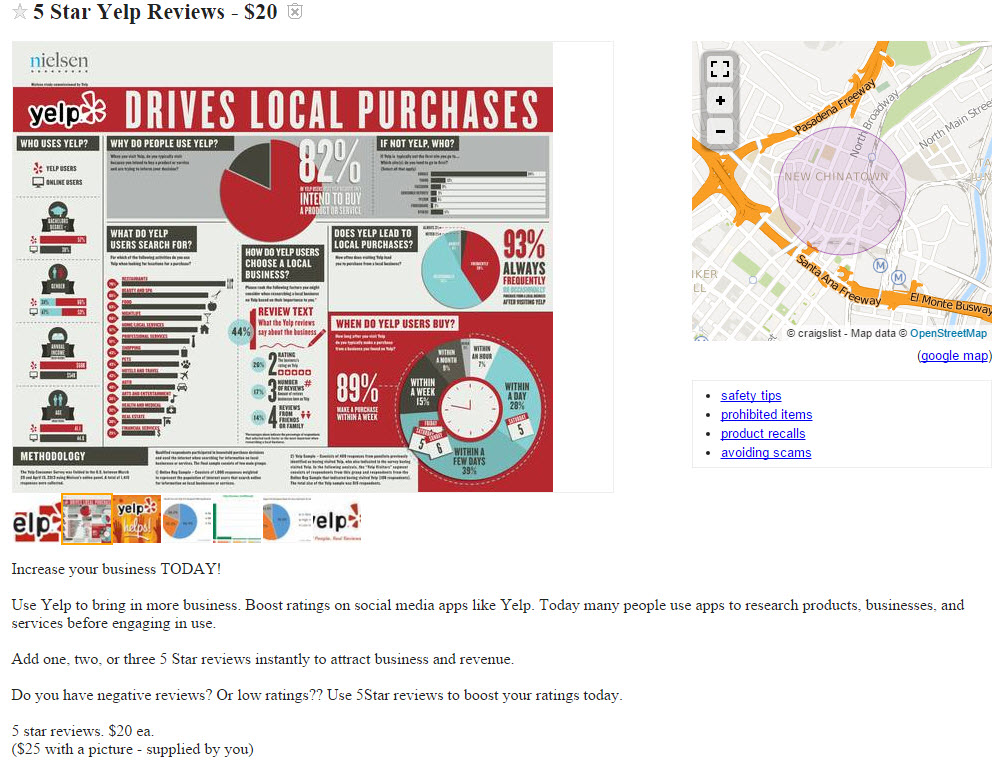 This is really great to see, isn't it? People are offering valuable services like 5-star Yelp reviews at such an affordable price! $20! Seems credible to me.
THIS IS NOT THE WAY TO WIN WITH ONLINE REVIEWS AND RATINGS.
Brodie Tyler challenged readers to check out their "Gigs" section on Craigslist, suggesting that you'll find offers that will amaze and astound you, such as this one above.
I took him up on that challenge. The screenshot above was found within seconds of doing a Craigslist search for "Yelp Reviews" in the Los Angeles market. Will similar posts come up in your local Craigslist market? I suspect so.
Desperately Seeking Yelp Reviews
Instead of desperately seeking reviews this way, which will get you in hot water with Yelp anyway, consider this your formal invitation to attend our free, upcoming webinar:
---
HOW TO MASTER YOUR ONLINE REVIEWS
with special guest Daniel Lemin on March 9, 2016
---
Daniel Lemin is a senior marketing strategist with Convince and Convert, and author of the new, best-selling book, Manipurated, which we've told you about before. That book is a great read for your day-off, as you contemplate the future of your restaurant. Crucial read, even.
We'd love to have you join us, and there will be bonuses available and prizes drawn at random only for registrants…although those bonuses and prizes don't include free 5-star reviews of your restaurant.