Let's talk about your restaurant's content, shall we?
When I say "content" I don't mean the food or drinks you serve. I mean how you market with content.
But first, I'm going to wean out a large percentage of you right out of the gates. Those who are inclined to only do what other restaurateurs or restaurant leaders you know and trust do will not want to read this post.
Those of you who are energized by stepping out with fresh marketing tactics to attract and engage guests, read on.
Let's talk about content marketing
We're going to talk about content marketing for restaurants. It's the art and science of educating and/or entertaining consumers with high-quality, valuable content in a variety of formats (graphics, text, audio, video, etc.), versus the common practice of merely publicizing offers and promotions.
Inspiration for this post on content marketing comes from two sources: Smokey Bones, a 60+ location chain based in Orlando, and Marcus Sheridan, the Sales Lion, who rescued his plummeting pool business through content marketing.
We'll talk about what Smokey Bones did in a minute. We've talked about Marcus before.
You really need to know the content marketing story of Marcus Sheridan…
If you've never heard of Marcus and doubt his story is relevant to you, here's the gist, ripped straight from the New York Times interview he did: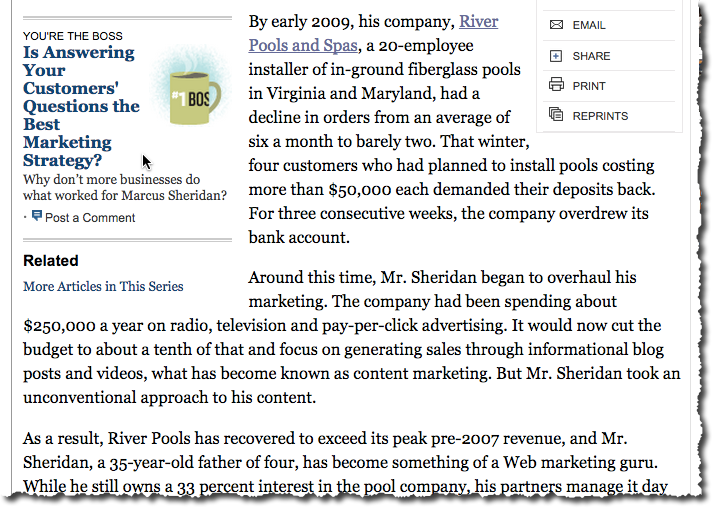 Marcus's local pool business was failing and he attributes his content marketing plan to bailing him out. I'm not here to tell you that selling custom swimming pools is just like getting people in your restaurant. I AM here to tell you that lessons can be learned and applied from his story.
Not only did his business survive and thrive, Marcus went from spending $250,000 per year on traditional media to spending less than $40,000 per year by focusing on driving inbound traffic. I'm going to summarize what he did within the context of you as a restaurant, how you could adapt his approach, tell you about Smokey Bones, and then share with you five additional articles on content marketing for restaurants.
I'll then take a deep breath and await your emails with more, great examples. Right?
1. Your website is far more powerful than you realize
You can succeed as a restaurant with content marketing, and that doesn't start with Facebook, or Twitter, or having your own custom app. It starts with your owned media: your website.
Marcus wasn't selling an online product. He was selling a service. His goal was to get people to find him more easily. To build trust with them through the information he freely shared. To engage them no matter where they were in the buying process. To stand out versus his competitors because of that willingness to share information.
In other words, when it was all said and done, he really wanted to funnel people to his site and then on to his contact form to get that ball rolling WHEN THEY'RE READY TO DO SO.
Your goal is the same, and you could actually funnel people similarly. Lure them to your site with your content. Stand out as a restaurateur or brand that shares insights freely, and become a name people trust. So how do you do this?
Marcus started by thinking like a customer.
He literally wrote down all of the questions people had about backyard swimming pools. Who are the companies in the area who install them? Should you go concrete or fiberglass — what are the pros and cons of each? What kind of maintenance costs are involved after install? You get the idea.
His list ran into the hundreds. And he started writing his answers out for each. Voila, he's got a content-rich, keyword-rich blog.
He put content to use — answers to questions — as a powerful marketing weapon.
What questions do customers have about food, eating, and restaurants in your area?
Lots. Let's say you've just moved to Temecula, California, where I live. There are all kinds of questions you might ask:
What are the best Mexican restaurants in town?
Does anyone specialize in gluten-free in Temecula?
How are authentic tamales prepared?
Are there any well known chefs with their own restaurants in Temecula?
Where's a great place to eat near the mall?
What's a good recipe for fried chicken?
Which winery has the best brunch?
What's the best time of day to eat if visiting the wineries?
What restaurants are inside the Pechanga casino?
And those are just off the top of my head, literally. I don't care what kind of restaurant you are, you could answer those questions — because people aren't deciding just between your BBQ restaurant and others, they're often deciding between restaurants in general.
(You watch, I'll get web traffic to THIS site by people punching in those questions into a search engine.)
I'm just going to tell you straight out:
If you were to talk to people like a human, not like a brand, you'll probably win friends and influence people…and show up in more search results. Check it out: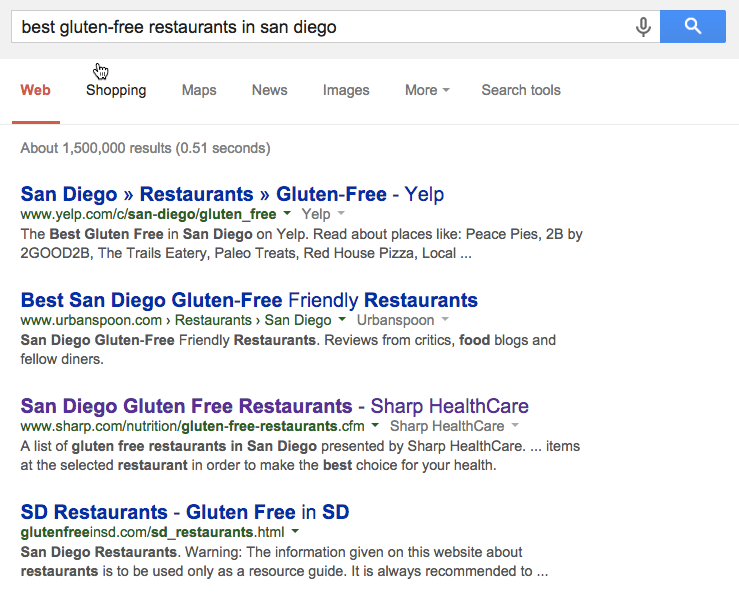 Search result #3 is a list published by Sharp Healthcare. What a shame. Could have been an actual restaurant sharing openly and honestly where one can grab a gluten-free bite in San Diego.
You can guide people locally on where to eat and what to do, because you know the lay of the land so well and because you take pride in helping. You can teach people how you prepare your carnitas, or your fettuccine alfredo, or your mushroom burger.
Two things are accomplished by compiling an extensive list of answers to common consumer questions:
You become a part of peoples' lives. The more authentic you are at your website, the more people trust you.
You are more likely to appear in local search results for the very questions people enter into Google's search box. Proof is the example above.
And don't get me started on what McDonald's Canada does, yet again.
Their entire homepage is dedicated to questions and answers. And we're not talking softball questions either.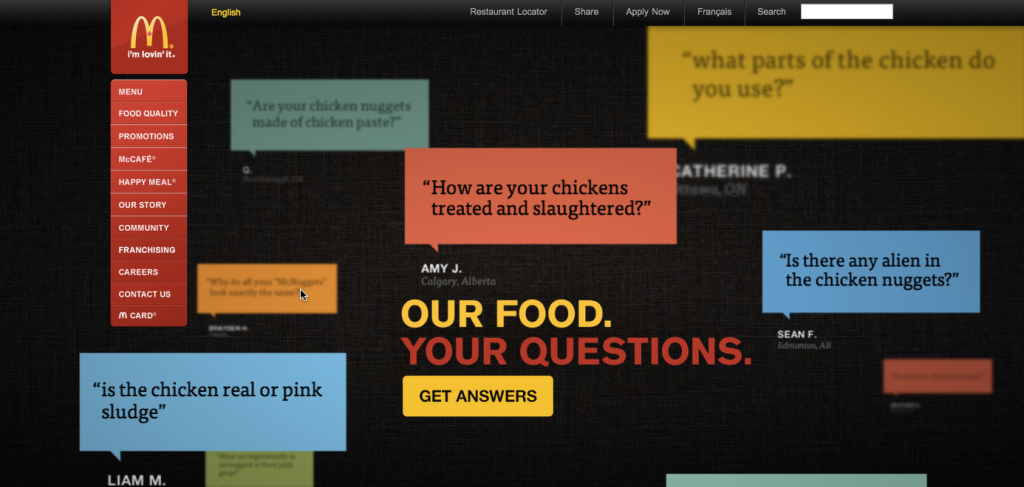 Say what you want about McDonalds food, their market situation, whatever you like. But I triple-dog dare you to do the same.
That's right…the triple-dog dare.
This is content marketing for restaurants, ladies 'n' gentlemen.
2. Your email list is far more ready to be engaged than you realize
Smokey Bones did something easy, fun, and completely different with a recent email. Different from any of the hundreds upon hundreds of restaurant emails I get each month. And that includes the Happy Birthday emails I got in August. (If you forgot, I won't be offended if you grab something off my Amazon wish list.)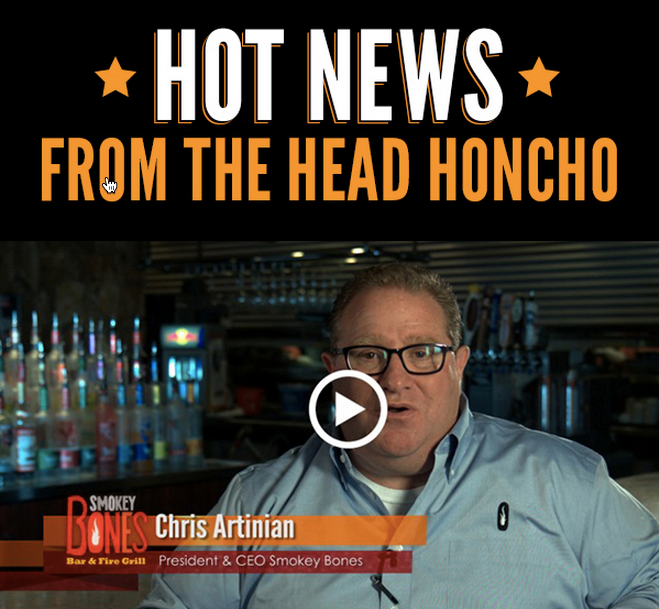 Click on the image above and a new window or tab will open in your browser, taking you to Chris's Vimeo video.
Now, Chris and Smokey Bones could have just listed all their new offerings and put the obligatory birthday hat clipart signifying their 15th birthday. Football is kicking off, literally, and they've got plentiful TVs to watch the games on. They've got new menu items — lunch burritos, pocket sandwiches — and new online ordering you can take advantage of.
Rather than do that, like everyone does, they put Chris on the spot for 57 seconds to tell the tale. Restaurant content marketing brilliance.
Authentic. A real person runs that chain. And he's excited about the brand.
It's easy to show food, it's hard to capture sincere enthusiasm
I suspect it's the first time Smokey Bones has done this video, as it's the only one on Vimeo and Chris hints to that. But get this: that video has over 4,000 views and three comments. Three people stopped what they were doing to add their voice to his 57-second message.
Awesome.
If I were Chris and Smokey Bones, I'd do at least a new video every month. I'd sprinkle in shots of our people at work, cooking and serving food. Super close-up shots. I'd interview staff for 15 seconds, I'd show people laughing like crazy and stuffing appetizers in their mouth — not over-the-top polished video, REAL VIDEO filmed with a stable iPhone or other HD camera.
To some of you this is a slight twist on email marketing. Okay, maayyybe. But you know what it really is?
Rock-solid content marketing.
It's all about taking the content you were going to share one way already, and turning it into new ways to attract and engage people, in order to stand out and become preferred.
So what are you going to do about this?
I've painted a picture of what you could do with content marketing for your restaurant to truly stand out from a search and a branding standpoint. I've given you some concrete ideas and examples to work with.
Now it's up to you.
I'll share three more articles on content marketing for restaurants published elsewhere and send you on your way:
Want more how-to on Content Marketing for Restaurants?
We've got a complete resource to content marketing for restaurants coming soon — get on our email list and we'll notify you when it's available!