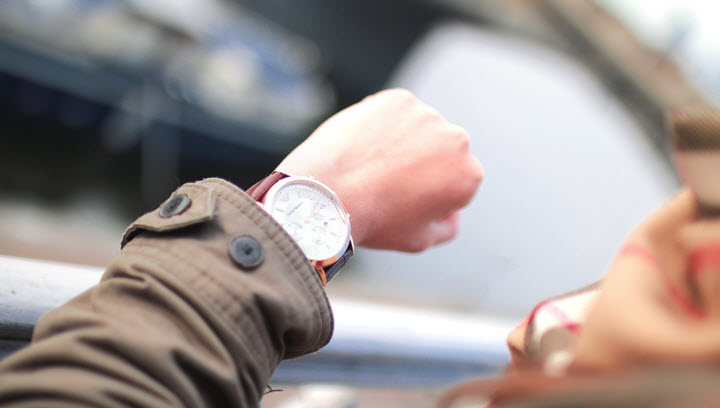 You know you need to market your restaurant in order to draw in more customers. You may even know that content marketing is becoming the most valuable type of marketing, especially when combined with social media. But if you're just doing marketing for marketing's sake, you're making a huge mistake.
Every minute of your time is valuable – there's always something to do as a restaurant owner, operator or manager. You're pulled in a hundred different directions every day. You have precious few minutes to devote to your marketing, and yet the time you are spending on it, you're probably wasting.
Here are the content marketing mistakes that are eating your time and the ways to put a stop to them.
No Strategy (or a Messy One)
Starting content marketing efforts without first outlining a strategy is like cooking dish when someone is handing you surprise ingredients. You may be able to make something edible and satisfying out of the items, but you won't create a delicious dish that wows and keeps people coming back for more.
Your content marketing is like a good meal, slowly and carefully prepared to bring the best of your restaurant to the table.
Going into your content marketing blind will, in fact, drive your customers away and cost you time and money.
Many restaurant owners and operators rush into marketing, wrongly associating its value with how fast they can produce it. They think that doing something is better than doing nothing, but they couldn't be more wrong.
The Coffee Bean & Tea Leaf has a good social media presence. But they may not have a detailed content marketing strategy, other than sharing a lot. This picture it posted on its Instagram account and Facebook page looks like a snapshot of a manager or the owner sitting at his haphazardly organized desk. The caption says he is answering questions, but it doesn't say how people can ask those questions.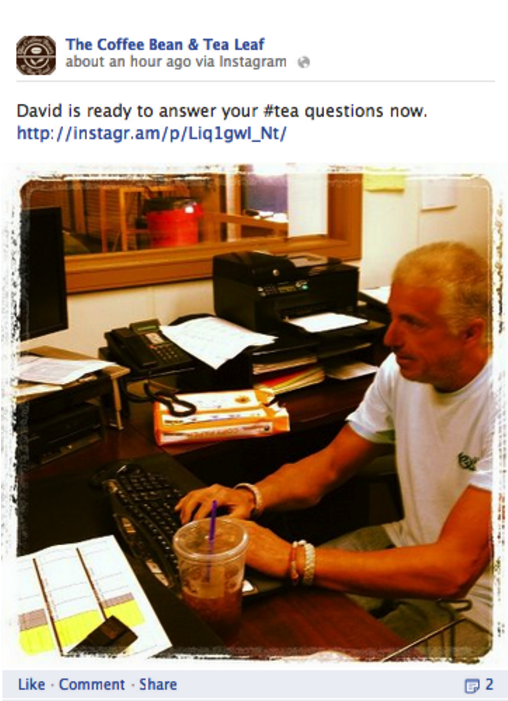 There's nothing wrong with taking a quick picture of a staff member and posting it on social media. But doing it without a strategy – a reason that supports your restaurant's brand – won't get you far.
A strategy is the foundation of making your content marketing a success in the long run.
A strategy is the foundation of making your content marketing a success in the long run. If you don't get it right the first time, you'll have to pay for your website to be redesigned or you'll pay with not many followers on your social media sites.
A strategy doesn't have to be complicated. The first step is creating a vision or purpose for your content marketing, e.g. to show our community you serve good food, offer a delightful atmosphere, and run your restaurant with friendly, helpful staff.
Next, create strategies for each content marketing channel you'll use. What information do you want to be front-and-center on your website? Set social media goals: What will you post on Facebook – photos of your restaurant, blog posts and news, text updates about your specials, or a smattering of all of these? Who will write blog posts and how often will that content be posted?
Answering these strategy questions and sharing them with your team will make for a smooth and consistent execution of marketing tactics.
Doing Too Much
You're already stretched thin managing your restaurant. Even with a team of employees helping you with your content marketing, the checklist of to-dos can seem a mile long and the time it takes to get them done never-ending. You spend countless hours trying to accomplish a bevvy of content marketing tasks in order to make sure you're on track for success. What winds up happening is usually just the opposite.
Restaurants who try to tackle too many content marketing channels at once usually wind up failing at them all.
Dedicate enough time, energy, and critical thinking to attacking one piece of content marketing at a time, and you're sure to grow – slowly, but surely. Understand not just what's possible to do with your marketing, but what your team has the ability and time to do, and what it doesn't have the ability and time to do.
The Publican Chicago has been named to Zagat's and Food Network's best restaurants to follow on Instagram lists. It does Instagram really, really well.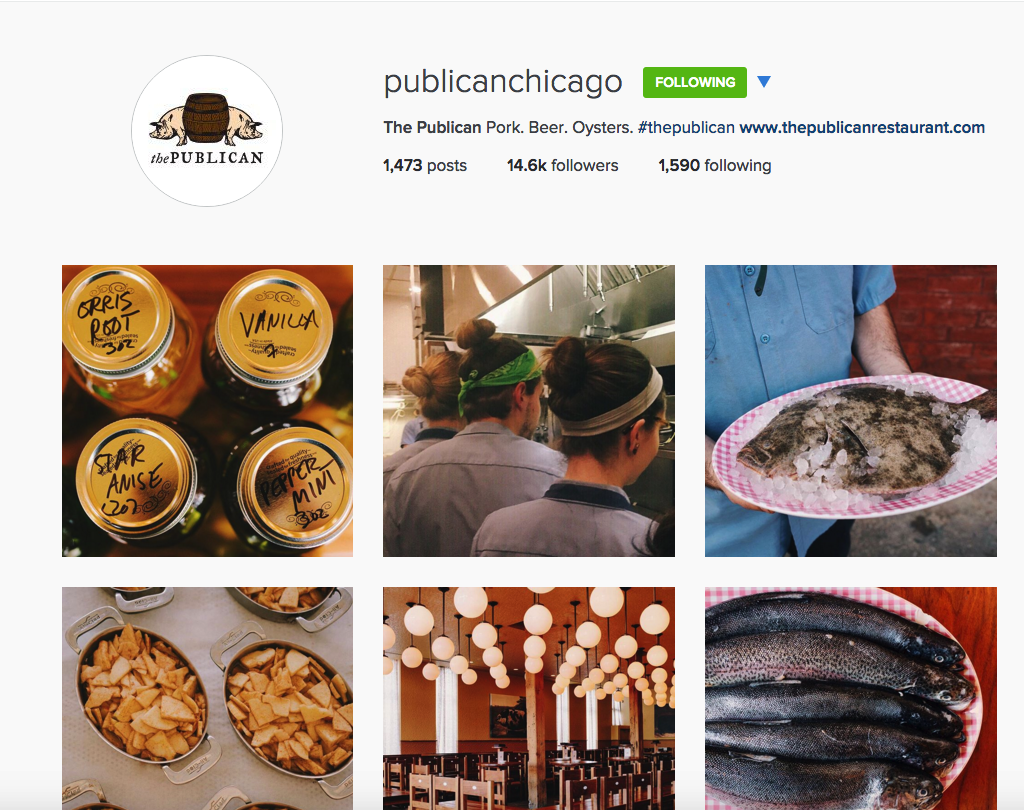 The only other social media sites it maintains are Twitter and Facebook, and these are mainly reposts of its Instagram images. The restaurant's website doesn't boast a blog, either, just a series of updates and local headlines. The Publican Chicago is clearly focusing on only one social channel right now that it can do well.
Maintaining social media sites and updating your website copy may be easy to tackle. Building a website and sending email marketing messages may be higher level areas where you need to lean on team members or outside resources for help.
You can still do everything on your content marketing list, you'll just have to prioritize which ones need to be accomplished first. Start by implementing the content channel that will make the most impact on your business.
Not DIY-ing It
The digital world has made marketing straightforward for even the least tech-savvy people. Most people today know how to post a tweet or could easily learn. Many understand how to upload photos to Facebook and Instagram. Writing an article to post online can be done with the click of a button.
If you know how to access the Internet, you can take care of your restaurant's marketing without needing to hire an outside party.
Some areas of content marketing may require you to call in outside help. It's safe to say restaurant operators and owners probably aren't skilled in the areas of building websites, setting up an email template, or designing promotional materials. Hiring a contractor or freelancer to complete these tasks at one time is necessary.
However, consider the fact that there are many website-building, email marketing and design services available today that even the least digital-friendly person can use. Also, remember that the downside of hiring an agency or consultant to handle your content marketing is that they won't be familiar with the inner workings of your restaurant, its history or its personality.
Managing your restaurant's content marketing doesn't mean you have to do it all. Find the right people on your team who are tech-savvy and passionate about social media, email marketing, digital or learning new skill sets. As a team, you and your team can keep your content marketing running.
Easier Than You Think
Sometimes success isn't tied to what you're doing right, but what you're not doing wrong. Avoiding the most blatant mistakes when it comes to your content marketing can mean the difference between failure and success. Spending time on one significant project that brings in $1,000 is better than spending time on 10 smaller projects that bring in half that.
If you're already implementing content marketing, assess your current strategy or create one if necessary. Understand what channels you're doing well on, and which ones you can afford to cut out until you have the ability to do them well. If your team isn't helping you with your marketing, offer training to the staff members you think are the most capable and passionate in this area.
Don't have a marketing plan in place at your restaurant? Start with strategy, understanding who and what will make up your content. By avoiding these content marketing mistakes, you'll gain a deeper level of understanding and confidence in your content marketing.
And you'll also stop wasting a lot of time on what doesn't work.