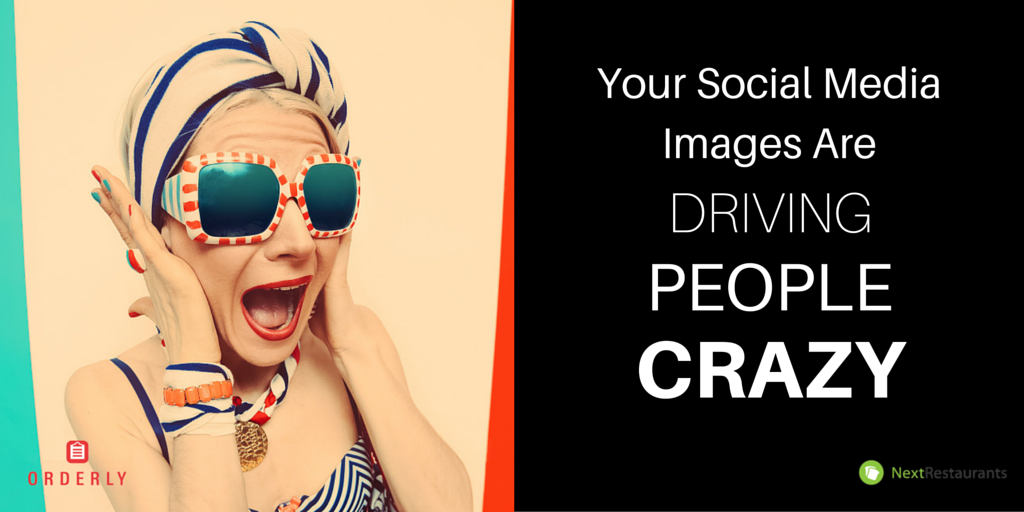 People's attention spans are short today – shorter than that of a goldfish, in fact.
If you can't get your point across in 8 seconds (or less!) on social media, people will scroll right past you.
In fact, on almost every social media site, your post can be gone from a follower's feed within seconds. People follow tons of friends, family and other businesses whose updates push yours out of the way.
For this reason, it's more important than ever to make sure your social media posts are the best they can be. Yet, many restaurants are failing miserably at this very task and driving their followers crazy.
Here's what's going wrong with your social media images.
First, your poorly sized images look amateur and drive followers away.
Second, you talk about yourself too much. Plain and simple, you're selling all the time.
Finally, you talk about stuff that has nothing to do with what you do. This confuses your followers.
So how do you make sure your social media posts are the most engaging and beautiful they can be so they're not passed on by? It's easier than you think.
Step 1: Get the Right Tools
It's more important than ever to make sure your images are sized correctly for the channels on which they appear. Facebook, Twitter, Instagram and Pinterest all require different sized images in order to be seen completely in a newsfeed post.
If you don't size images correctly – heads cut off, the context of the image missing, a beautiful shot of your dish incomplete – these subconscious clues will drive followers away.
Canva is your best friend for resizing images. Create one image to promote your Saturday special, and then easily resize it for Facebook, Twitter, Instagram and whatever other channels where you want to share the special.
Text overlays? Check. Free stock photos? Check. Already created designs and layouts? Check.
This website is your restaurant marketing dream-come-true. You can even upload images of your own restaurant and staff to resize or use in the backgrounds of your designs.
And if you don't like Canva, there are plenty of other free image creation tools from which you can choose.
When it comes to gorgeous stock images, there are a plethora to choose from. Here's a list of my favorite stock image websites, most of which offer photos for free.
When choosing stock photos, don't go with the first ones you see and like – most of your competitors have done the same thing. Dig a little deeper. Look for shots that reflect the atmosphere and personality of your restaurant – bright and fun, dark and glamorous, small and eclectic.
Step 2: Don't Just Talk About Yourself
When you ask, ask, ask constantly on social media, your followers tune you out. People are looking for helpful, entertaining, or newsworthy updates on social media.
Follow the 80/20 rule: 20 percent of your social media posts can be about selling yourself, and 80 percent should be devoted to sharing other content. What is that other content? Here are some ideas…
Share community news. Your customers love to be involved with the happenings of their town or city. Retweet or share your local news. Is there a food festival in town? Share the news and let people know you'll be there, too.
Share restaurant industry news. Many of your customers probably don't follow restaurant news, but you do, and you can share interesting updates with them. Perhaps they don't know there's a minimum wage debate going on, and you can offer insight.Share other restaurants' posts. Share the love by promoting other restaurants in your community or famous restaurants in other cities.
Share bloggers' and the media's reviews of restaurants in your area. This will not only establish you as an authority when it comes to dining in your area, but it will develop rapport with journalists and bloggers… who in the future may write about your restaurant.
Take photos of your staff or your dishes. This one is a no-brainer, but don't be afraid to post these without any kind of an ask. It could just be an image of your servers joking together after a long night's shift. Your followers will have an emotional tie-in, which is the most powerful part of making decisions.
What's the point in sharing other people's content and posts more than your own? People will be interested in what you're sharing, they'll engage with your posts more, and you'll drive more people to follow your restaurant on social media. All of this leads to more customers at your restaurant coming more frequently.
Step 3: Stop Confusing Your Followers
If you follow your favorite basketball team on Twitter, you get updates about its game schedule, its league, its players, and behind-the-scenes stories. But imagine you also saw the political views and midnight Internet wanderings of their social media specialist. It would throw you off. You'd be confused. What does that have to do with the basketball team? Nothing.
The same scenario applies to your restaurant's social media accounts. Community and industry news, photos of your staff and promotions for your specials are all expected and welcome from followers.
A Buzzfeed article about Oscar Best Picture nominees… not so much.
Yet that's exactly what I saw on a restaurant's Twitter feed, while another restaurant displayed blatant political views about the upcoming U.S. presidential race.
These off-topic updates left me confused. Was I really at the restaurant's Twitter? Why were they sharing content that had nothing to do with their restaurant or industry?
I'm not alone in thinking this… if you're doing this type of thing, your followers are probably thinking the same thing, too.
Your company social media posts should be reserved for company and industry news, updates, and content. Otherwise you run the risk of befuddling – and perhaps even alienating – followers and potential customers.
Quit Driving People Crazy
Social media can be a foot in the door with potential customers. It can keep loyal ones coming back for more. But only when the effort is put in to make it appealing to those customers.
Once you get in the habit of sizing images correctly, talking about other people, and posting the right kind of content, it will come naturally and quickly.
And so will the customers.