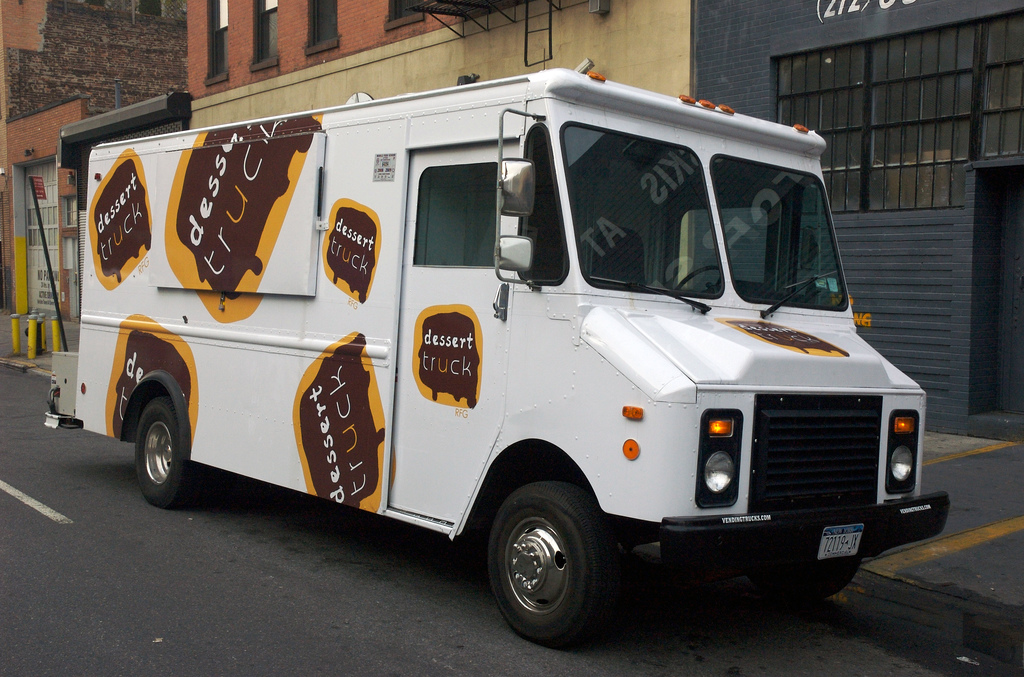 Instagram was way ahead of the food industry – especially regarding food trucks – two years ago when they featured food trucks they love around their San Francisco South Park neighborhood.
Obviously, if Instagram is using their network to show off the great things food trucks are doing on their service, it's a not-so-subtle clue that other trucks out there should be jumping on this bandwagon.
Editor's Note: Why are we talking food trucks? Food trucks aren't just for plucky restaurateurs. Big brands are getting in on the act, too — for good reason.
But there are opportunities and challenges you need to be aware of. Check out real-world food truck experience in LA here.
Instagram works for food trucks. Let's talk about why that is.
1. Instagram Just Plain Works for Food
Regardless of brand, style, place, method or meal, food photos can be super-appetizing and a no-brainer way to entice potential–and existing–customers. For food trucks, Instagram is even more ideal, as it gives food trucks a spotlight in off-season or off-street time. Because food trucks typically take a "Yeah.. see this? Come and get some right now!" type of marketing approach, after-hours advertising opportunities are not all that common.
I mean, have you ever seen a food truck TV commercial? Most can't afford the air time, and the vast majority of food trucks are locally owned (or at least aren't national food chains).
Instagram isn't just a good marketing move for food trucks, either – it's a good move no matter what restaurant segment you're in. Photos shared on the network are three times more engaging than posts shared on Facebook, meaning that you are more likely to make an impression on your audience… and maybe make them a little hungrier, too.
At least I know I get hungrier when I see food from local food trucks like SouvlakiBoys popping up on my Instagram feed: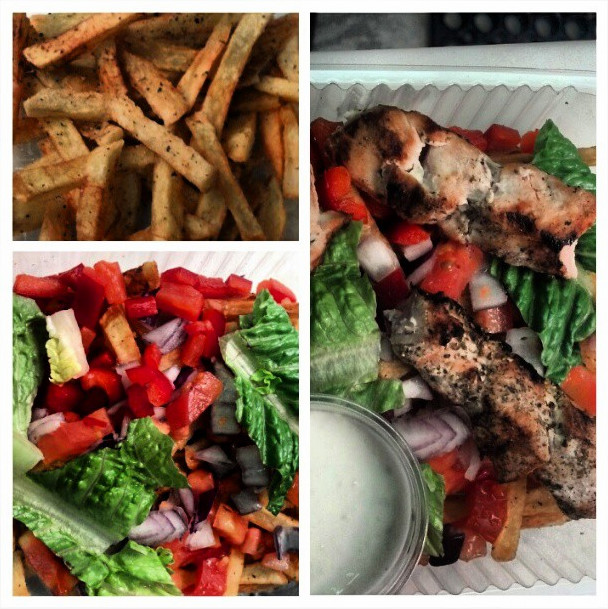 2. Set Up a Contest and Let Your Followers Do the Work for You
While it definitely helps to establish Instagram followers who reach beyond your brother and your college roommate before you run a contest, contests have a way of spreading and catching on, even to those far outside your followers.
That's the beauty of an Instagram contest. Whether they are related to your new location or your newest smoothie combo, Instagram contests are contagious.
Your prize could be a free item, a free meal or a hefty discount – or something unrelated to food, like a gift card. (Unless you have a really nice logo, though, you might want to stay away from t-shirts. Everyone loves food, but not everyone loves a $5 t-shirt with your taco stand logo on it.)
3. Foursquare + Geo-Tagging = Visibility (and Probably $$)
Just because you're mobile doesn't mean Foursquare (and their spinoff app Swarm) can't work for you.
You are just not being honest with yourself if you say you've never inwardly envied anyone who "checked in" on Foursquare at the Marriot in Manhattan, that trendy new tapas bar you've been wanting to try, or at the Cinema 13 to see the latest Marvel superhero movie.
Right? Which is good, because that envy is exactly how Foursquare/Swarm can benefit your food truck business. When you use geo-tagging to claim a specific location (which you can add as a Moving Target if your truck moves around a lot), not only are you setting up customers to check in and share, thereby enticing others to join, but another option to reward customers who use these apps. For instance, "the first two people who 'check in' today will receive a free Porkabob" – or whatever.
Even if you don't use geo-tagging, you can still use Instagram to pass along geographical clues to your followers, like Comfort Cravings sometimes does: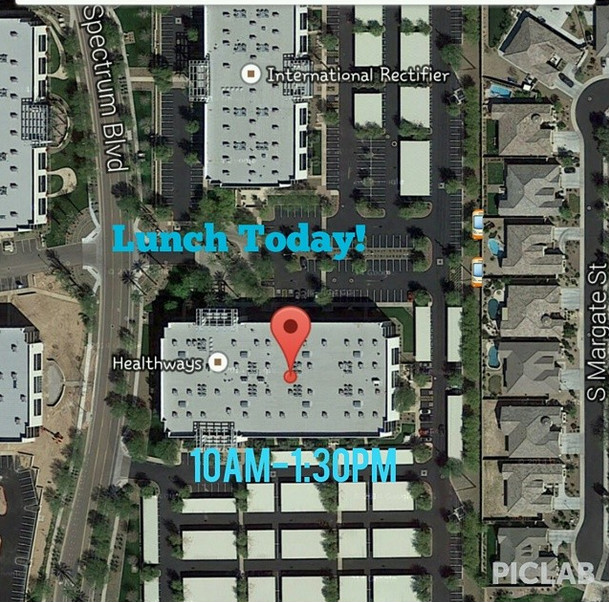 4. Food Menu Hashtagging
When it opened, the Comodo in NYC came up with a brilliant way to promote their menu on Instagram: they posted photos of all their menu items on Instagram with the hashtag #ComodoMenu, and asked their diners to use the hashtag when sharing their own foodie shots, too. Having a designated hashtag made it easy for their potential customers to see how amazing all the food looked before ever eating in.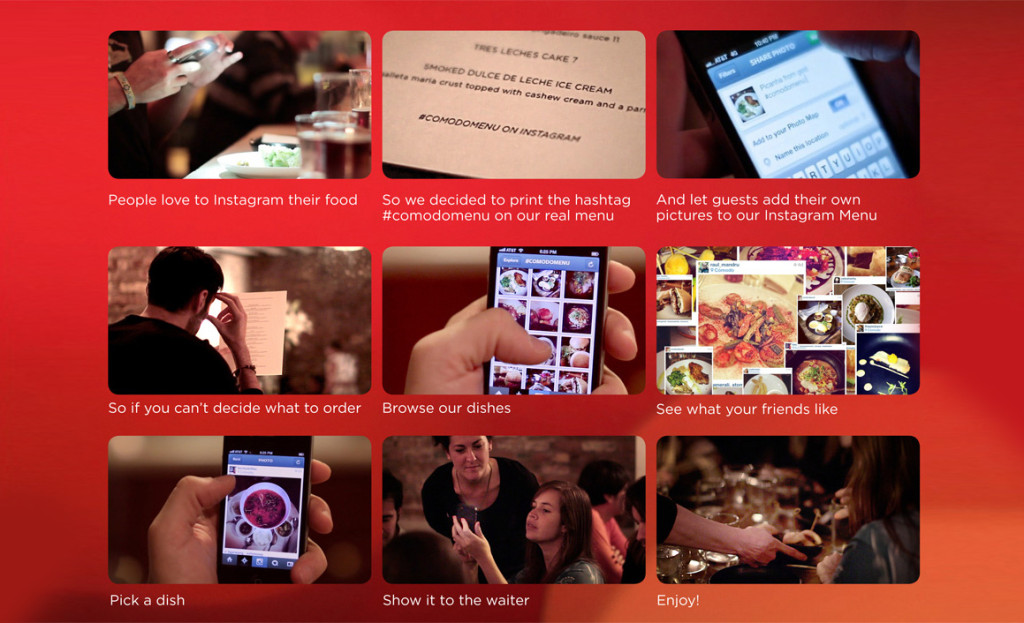 If you don't want to directly mimic what the Comodo did with their "hashtag menu," you can come up with another strategy that involves hashtagging and your food truck. For instance, if you're adding a new beverage or food item, create a hashtag for it, include a photo, and voilà! Create a conversation asking followers to compete to come up with the new menu item's name. It could be both contest and a hashtag menu.
Look at what Applebee's is doing with its Instagram for the foreseeable future as another clever move to engage consumers, below. You can also check out the Applebee's Instagram account to see the results its driving.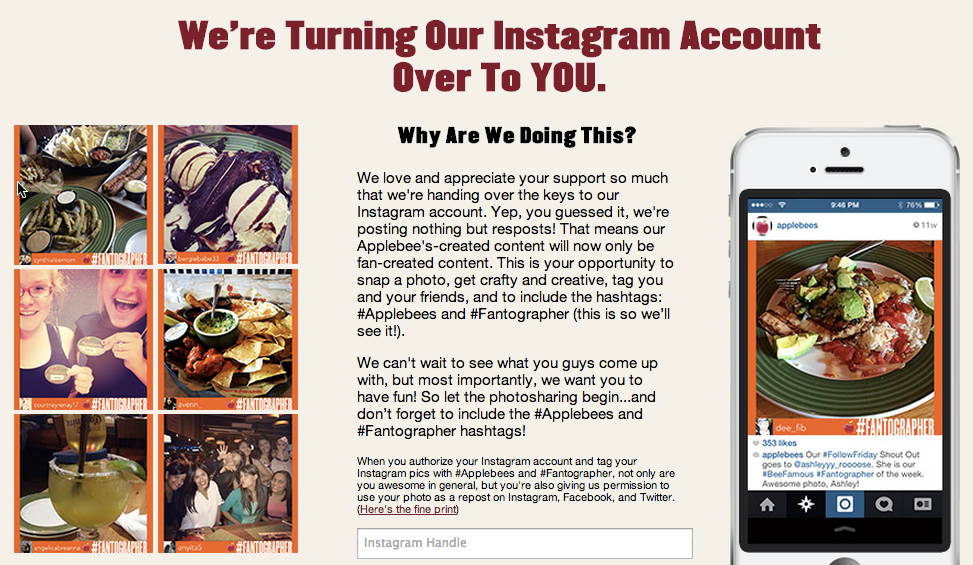 5. A Chance to Tell Your Brand's Story
Food trucks get the short end of the stick in many ways when it comes to branding, because they don't have as many of the avenues for telling their stories that brick-and-mortar businesses do. They have to spread their brand via their truck's design and feel (does it have wicked blue flames or bright hibiscus blossoms?!), the attitudes of the staff, and the appearance of their uniforms, and their location.
Instagram, however, provides food trucks the chance to spread their brand via more personal photos shot from a mobile device, which can show a side of your business that the customers don't normally see. One way to really sell your brand on Instagram is to start with your local community. The more chances you provide yourself with a great story via your food truck brand, the more your brand will stand out.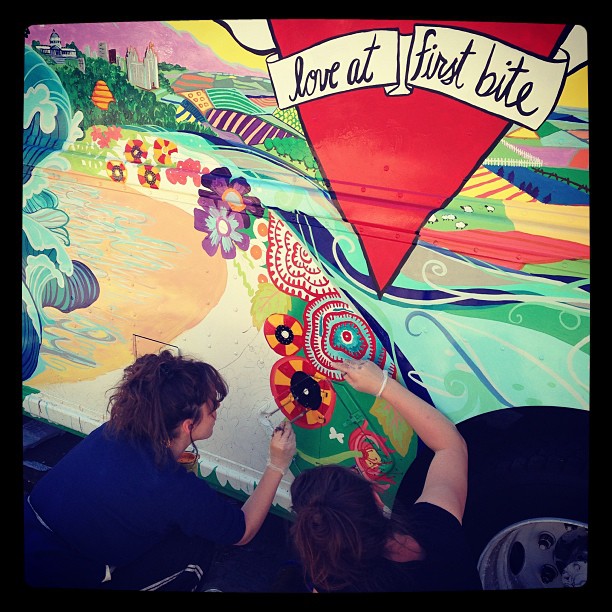 You could also consider beating your competition and making your brand stand out by taking advantage of your mobility in a way most food trucks haven't yet. Imagine a system where your customers can pre-order and pay online.
Have a smartphone credit card payment option and digital receipt for quicker service. Going to be late? Update your customers on Twitter.
These are all ways you can use the mobile world — not just Instagram — to your advantage, as well as better serve your customers.
With the exception of some lunch-time executives and a scattering of elderly people who just reeeally love your chocolate milkshakes, most food truck customers are fairly young and equally mobile. This means they are on their smartphones all day– which also means not only are they using Instagram, but social media and social apps in general.
So hurry up and get your food truck on that Instagram chuck wagon.
Another great resource: FoodTruckr.com's "How to Start a Food Truck #23: Social Media Accounts".
(Photo courtesy of Chris Chen.)