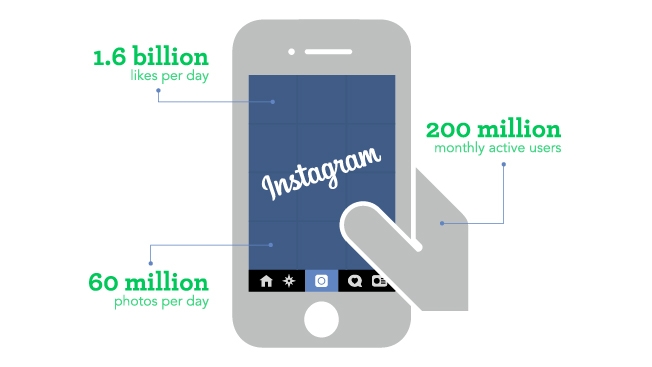 SimplyMeasured has published its  Q3 2014 Instagram Study and it's packed full of goodness.
Brands are jumping on Instagram, and really, restaurants of any size can start to make some headway.
We've previously detailed how you can get started and win fans on Instagram, and we've published one social media lover's take on what would make consumers love you on Instagram.
But here are five facts taken from the SimplyMeasured analysis that should bolster your desires to spend more time publishing content on Instagram:
Fact #1: Users are quickly getting used to brand content on Instagram
Likes and comments for the Interbrand 100 has more than doubled since last year. That means that, at least for now, consumers are willing to follow and engage with brands on the social network — not ignore or run away.
Fact #2: Single posts on Instagram get great engagement
It's not about just amassing fans and followers. On Instagram, top brands have grown per-post engagement by five times in the last year. That means they're not simply gathering followers in general. Those followers are willing to like and comment on individual photos and videos.
Here's a quick summary of the SimplyMeasured analysis before moving on to Facts 3 through 5.
Fact #3: You'll get 50% of your engagement within 6 hours on Instagram
That sure beats Twitter. Fifty percent of comments come within the first 6 hours after you've posted on Instagram. Seventy-five percent come within the first 48 hours total, so you still get some traction even a couple days later.
Fact #4: Instagram photo caption length doesn't matter
The average length of a photo caption by brands SimplyMeasured tracked was 138 characters, but there is no statistically significant correlation between caption length and consumer engagement.
Fact #5: Instagram photo caption content does matter
Posts that include at least one mention of another @ handle on Instagram receive 56% more engagement. Wow. Most brands don't do this, instead using Instagram as an extension of Twitter — with just a photo and a witty comment. But mentioning others is crucial.
Restaurants are a great fit for Instagram
Our opinion: Your restaurant needs to be on Instagram.
While the SimplyMeasured analysis was done for the Interbrand 100, the fact is Instagram is a perfect match for restaurants brands big and small. When you can combine visual storytelling and the social element Instagram, you've got exactly what restaurants love to combine: photos of food and people.
If you're looking for how your restaurant can increase engagement, download the study, then take a look at our tips for running a contest on Instagram.