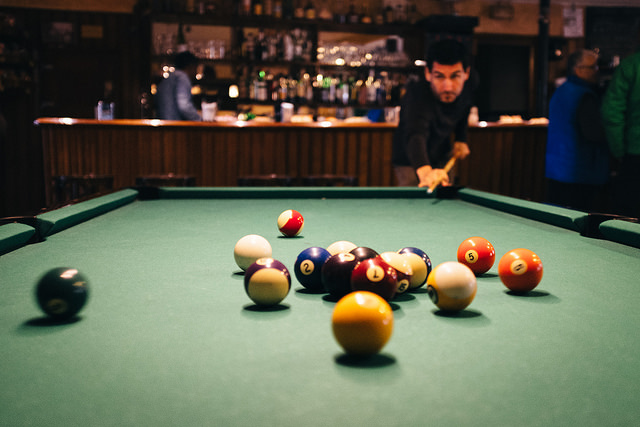 When I went to watch the Michigan vs. Ohio State game last year in the basement of a local sports bar, I was one of the only Michigan fans in the joint. My friend whispered in my ear, "These people are really drunk, so if you want to cheer for Michigan, I'd do it quietly on social media."
The advice was good. These people were really drunk, and my Facebook account — being filled with Michiganders — was abuzz over the game. In fact, it was just as active (and probably about as drunk) as the commentary flying around the bar.
Social is where people go to talk sports in real-time. It lets you watch the game not just with a few buddies, or a couple hundred people in a bar — but with hundreds of thousands of other fans cheering (or booing) your team. It only makes sense sports bars get in on that action with a strong social media presence.
There's a couple routes you can take to tap into that captive market — here are the ones I recommend, because I've actually seen 'em work.
Establish your sports bar as a team-specific meetup site
I've watched Ohio State games at Jerry Remy's, Giants games at The Greatest Bar, and FSU games at Clery's. Why? Because I live in Boston, and most sports bars are playing local teams' games. But if you're in a city with transplants from around the country, tap into that untapped demographic of sports fans, and make your bar their safe haven.
Establish your bar as the bar to meet at through meetup.com, a fantastic but under-used social site where people look to, well, meet up with like-minded people. You should also think about changing your social media background photos — particularly on Twitter and Facebook — to team-oriented colors leading up to game day, in addition to consistently pushing out social media updates to watch the game at your bar.
You've got to make it clear your bar is the meet-up spot, tell them when the party's getting started, and give them a reason to hang out with their friends at your establishment.
(Point of Clarity: I'm a Michigan fan and a Patriots fan. I was just being a good sport.)
Establish a hashtag for the game
Hashtags aren't just for Twitter, anymore. They're popping up on Facebook, Pinterest, and Foursquare, too. Now that you've got people coming to your bar for the big game, make sure they know how to tell the world where they are. A clear, established hashtag is the easiest way to do it. Encouraging a check-in via Facebook or Foursquare is a dandy idea, too.
These check-ins and hashtagged updates are so critical because you're getting your patrons to do your marketing for you. What's better — to have your establishment post an update about a free wings during the game, or to have 150 patrons post about it with a check-in at your bar, pictures of their beers, and the hashtag #freewingsforredwing?
If you chose the latter, congratulations, you totally get social media marketing. This phenomenon is called "social proof," by the way. The idea is that if a lot of people are doing something, it's gotta be good, so others will want to join along, too. No one wants to be left out, right?
And guess what — you don't even have to create your own hashtag for the event. You can make your life easier by jumping on an already-established hashtag, kind of like East Village sports bar Standings did recently with their March Madness event. Seeing the popularity of #UConn and #BleedBlue, they retweeted patrons' tweets with those hashtags, which had tons of volume and, by extension, gave them a ton of exposure.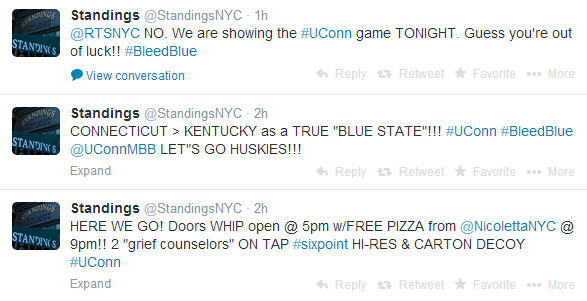 Keep going with social media marketing DURING the game
People will be checking social during the game, too — remember, people are watching in real-time, and commenting on social in real-time. So be part of that conversation with them. Not only does this add another dynamic to the event for patrons at your sports bar; it reminds people that are watching the game that aren't at your bar that next time, your establishment is the place to be.
One great way to do that is to newsjack what's going on. If you're not familiar with newsjacking, here's a quick explanation by way of example:
Remember when the lights went out at the 2013 Super Bowl, and Oreo put out this funny image on Facebook within a few minutes?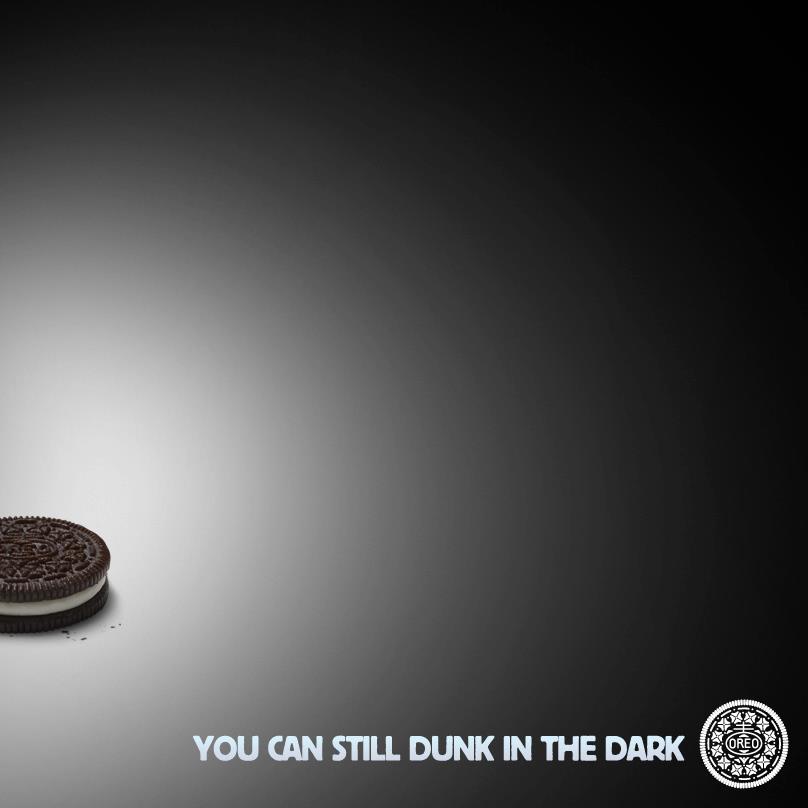 That's a newsjack. They took something going on in the news that a ton of people were watching, and found a creative spin to publish on social media.
I know when you're hosting a special event, all hands are on deck — and those hands are busy. But try to find opportunities to jump into the conversation on social, whether it's through a retweet of a patron's comment, or turning those clever comments you make under your breath into social media updates.
(But only the ones that are really clever, eh?)
Image credit: anthony_lui