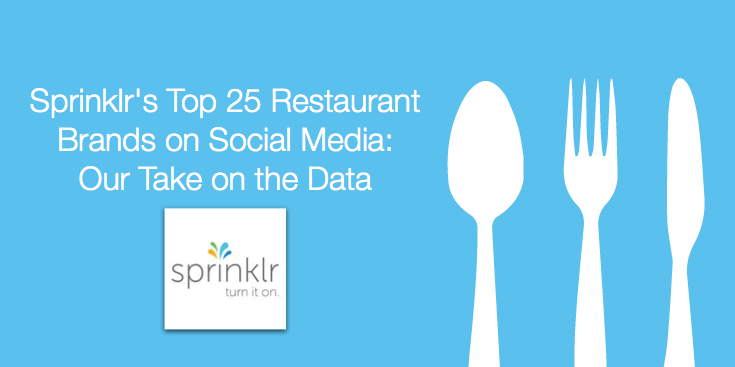 Sprinklr has an incredible platform for tracking your big brand on social media. And it gives them a chance to to gain insights on entire industries.
In December they released a report titled The Top 25 Restaurant Brands in Social, and provided the data that served as proof for those brands' pre-eminence on social media.
It provides great lessons on how big an impact social media can have for a restaurant. We launched our Beginner's Guide to Restaurant Social Media quite some time back with a similar goal, and it's still a great reference to go back to when these top restaurants' numbers blow you away.
What makes Sprinklr's insights even more powerful, however, is what you see when you add just a dash of additional restaurant industry data to their insights; data that Sprinklr couldn't be expected to keep current or on-hand.
Add 1 data point and this restaurant social media study gets even more interesting.
In their study, McDonald's comes out on top as the #1 restaurant in social. Rick Wion has expertise in wrangling such a polarizing brand, but their #1 ranking is largely a factor of their reach. In fact, when you peruse the entire list, you're clearly looking at a lineup of huge brands with massive numbers of locations and marketing dollars.
There are really great insights nonetheless. Sprinklr was able to determine that Dominos picked up 277 million earned impressions. That's stunning.
Want more pizza? OF COURSE YOU DO. Follow us on our shiny new Tumblr. http://t.co/wjcNMPUFtM pic.twitter.com/RNwh3ccG2F

— Domino's Pizza (@dominos) January 10, 2015
And Sprinklr highlights Wingstop's mind-boggling 30% engagement rate on social media. (Talk about having a very specific persona in mind that you communicate with via social. Here's a link to Wingstop's Twitter, Facebook, Instagram, and Pinterest pages if you want to see how they engage followers.)
I'm glad to see Sprinklr looked at ratio, not just raw numbers, because that leads to my thinking on this.
But if you add in just one additional data point, you get a whole new Top 10 that's also intriguing. (There are other factors and data points you could add as well, namely financial performance, but I'm fascinated by how this one data point changes things dramatically.) And that one additional data point is number of locations.
Why number of locations is intriguing.
A restaurant brand's physical locations opens up a marketing opportunity to gain social media fans and followers that can't be understated.
Of course you gain social media followers through traditional advertising and marketing — and big brands have an eternal leg-up in doing this. And then there's online behavior that earns you (or loses you) fans and followers.  No visit necessary.
But every visit to a restaurant gives a guest calls to action featuring Twitter handles and Facebook pages. Shouldn't all those physical locations and the traffic they pull in generate a significant number of followers and engagement along with ad buys?
McDonald's will always be at or near the top. Subway, too. Basically, the top 10 will always be the top 10 because of their location footprint and media exposure.
This is not a knock on Sprinklr, by any means. Their study is incredible because of the data compiled and insights gleaned even without restaurant expertise. Number of locations is not a data point they can or should track.
If you're a digital marketing manager with a small or medium-sized restaurant brand, let alone a restaurateur wanting to see who's really doing well with social, I know what you're thinking when you see these types of lists.
So, with that long setup, who excels at spurring on a great social media fanbase as a factor of their physical reach and location presence? Those whose number of followers per location are among the best.
Top 10: Based on Followers Per Location
I've got a new top 10 for you, if you evaluate this list based on their Number of Followers Per Location. Now, there are new restaurant openings every day. For some of these individual brands, there are new openings every week or two, so it's clearly a moving target.
I used Sprinklr's number when it comes to a brand's number of followers (recognizing fully that it's a fluid number). And I pulled each brand's number of locations from Chain Store Guide and then rounded it up to the nearest 5. It's fluid, too.
Please allow me room for error, as changing a brand's number of locations by even 10% won't really change these rankings, nor what might be learned from adding this single data point.
| | | | | |
| --- | --- | --- | --- | --- |
| # | Brand | Locations | Followers | Followers Per |
| 1 | Hard Rock | 140 | 6,085,125 | 43,465 |
| 2 | Morton's Steakhouse | 80 | 2,471,508 | 30,894 |
| 3 | Buffalo Wild Wings | 1,020 | 13,506,868 | 13,242 |
| 4 | Hooters | 420 | 4,342,447 | 10,339 |
| 5 | Olive Garden | 840 | 8,175,113 | 9,732 |
| 6 | Red Lobster | 710 | 5,000,094 | 7,042 |
| 7 | Krispy Kreme | 830 | 6,361,811 | 7,665 |
| 8 | Outback Steakhouse | 990 | 6,556,321 | 6,623 |
| 9 | Chick-fil-A | 1,810 | 9,905,421 | 5,473 |
| 10 | Applebee's | 2,015 | 8,476,755 | 4,207 |
Things change just a bit huh? Makes you wonder what Hard Rock and Morton's are doing with their social media to rocket to the top of this list. We'll save that for a follow-up post.
Two lessons from this new Top 10
Big brands have a lot of resources at their disposal to amass social media followings, no doubt. The fact that Hard Rock has just 140 destinations but has accumulated over 6 millions fans and followers is still intriguing, until you realize you can find them on Facebook, Twitter, Google+, Pinterest, Instagram, YouTube, and Tumblr. There's lesson one for you right there — go to where the people are.
Some of Hard Rock's YouTube posts get as few as 93 views. Some as many as 88,000. Some of their Facebook posts get as few as 150 comments/likes/shares. Some as many as 15,000. Some of their tweets get as few as 12 favorites and retweets. Some as many as 1,800.
Morton's has just 80 locations but nearly 2.5 million fans and followers and that seems huge, too. You can catch them on Facebook, Twitter, Google+, Instagram, and YouTube. The Morton's brand has over 450,000 Google+ followers. I'll let that sink in for a minute. Are you even on Google+?
Notice that with both brands they're on YouTube, too. For example, this simple, two-minute Wine Tips for Steak & Seafood video by Morton's has garnered over 19,000 views. Are you doing anything with YouTube?
Great insights from re-sorting the Sprinklr Top 25
When you re-sort the Sprinklr Top 25 based on just one additional data point like number of locations, you see that other brands are doing really interesting things with social media to attract and engage fans and followers.
Enough articles are published about McDonald's in a given week. Domino's, too. It's hard to NOT hear or read about what they're doing with social media and digital marketing.
But if you really want to learn some lessons, you've got to look at the data the right way. Or add new data.
One last thought on tracking restaurants on social media
AJ Bombers is a burger joint. There's no 40-year history to speak of. There's no 7, 8, or 9-digit advertising budget. There are only four locations. Know what their numbers look like?
| | | | | |
| --- | --- | --- | --- | --- |
| # | Brand | Locations | Followers | Followers Per |
| 1 | AJ Bombers | 4 | 65,142 | 16,285 |
Interesting? AJ Bombers would be safely planted in third place amongst this list of heavyweights. They have figured out how to generate a following and engage guests with none of the assets the big brands have.
There are so many more restaurant brands, too, who have cracked the code with social media but will never make a restaurant social media study because they're not big brands. There are simply too many to track and Nation's Restaurant News wants Sprinklr to focus specifically on the top 200 brands.
Great marketing doesn't begin or end with the biggest marketing budgets. You can learn great lessons for your restaurant's marketing by watching the Domino's, and the Wendy's, and the Starbucks of the world, for sure.
But keep an eye on the upstarts. The challengers. The up-and-comers.