Let's face it. One of the last things you like doing is updating your menu.
Meanwhile, the pressure is on to evolve your menu from both a selection standpoint and a design standpoint. Millennials, if you haven't heard, are a hard-to-please audience. They've got specific expectations. They like variety.
Anne Mills has said, "Millennials are much more adventurous in their food choices. Dining out is entertainment for them—and part of the entertainment is trying something new."But don't we all? We've come to expect that from restaurants — a dynamic menu." 
Thinking about a new menu is fun. Designing it is another story.
Maybe you enjoy thinking about a new menu, or discovering potential menu items at other restaurants that you could offer. But going through the steps of actually planning, designing, printing, and implementing your new menu on your website — these things are often stressful.
For most restaurateurs it can be either a tedious process (struggling with word processing software) or expensive (outsourcing to a graphic design service). In both cases, it's slow and time consuming, especially if you don't sit around on a computer all day or have the technical or design skills.
Some of the best-looking results come from outsourcing to professional graphic designers, but news flash: you can't add costs willy-nilly in the restaurant business. You've got to be wise about your expenses, and there are plenty of people out there happy to charge you deep into the thousands of dollars to do this.
And in our new, web-powered freelancer economy, good luck finding one your can trust and that will be there when you need them.
Most importantly, food costs are constantly changing, basically necessitating you at the very minimum to make price changes to stay profitable.
There are many things you could do to alleviate this stress. Let's run through three ways you can make it easier on yourself and your staff, while saving you money.
1. Design your menu yourself. Don't outsource it.
DIY solves the expense and delay of design services. Even when someone claims one-day turnaround, that's still often not good enough. Sometimes you need to make changes literally at the last minute (or at least a few hours before you open that night, especially with an active daily specials menu).
If you had a way to design your menu that was like creating and editing a simple Microsoft Word document, would that help? Word is an easy to use program, as long as you're not trying to do much complicated formatting. But there are tools specifically built to create and update your menus that are even easier than using Word and results will look much, much better.
For example, maybe you've read Aaron Allen's great advice on nested pricing as an essential part of your menu design. What if you — yes, you, not just your artistic nephew — could use that technique in designing your menu?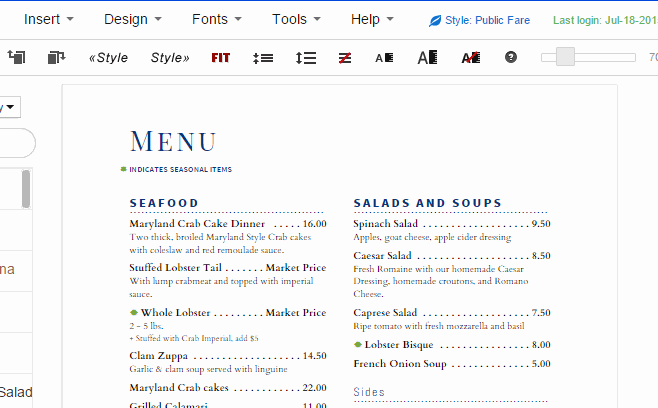 Did you miss it? Tap the image above to see how easy it is again.
2. Connect your online menu with other online services.
Some restaurants have hooked up with services like OpenMenu to handle their online menu management. These types of products are great ways to update your menu once online, but have it visible at a variety social media sites.
OpenMenu in particular is strong, given how you can connect your social accounts so that anytime a change is made to that online menu, everywhere that menu is referenced or displayed online changes as well.
It's a good product but limited in producing a professional offline menu — you know, the one that's in your customers' hands.
3. Connect your offline menu with your online menu.

Which brings us to the most obvious and efficient answer for managing your menu online: managing it offline at the same time. Through the use of an online tool, no less.
Confused? I created iMenuPro with this mind. You can design and edit the menu completely online, then begin the printing process from the very menu they created. You can also embed that menu in an engaging (non-PDF) way on their website.So you get the best of both worlds.
But beyond that, our tool lets you unlock your creativity by letting you change design elements on any menu with just a few clicks so you can create something truly original rather than being stuck with unoriginal template. The results look so good that even professional designers use it.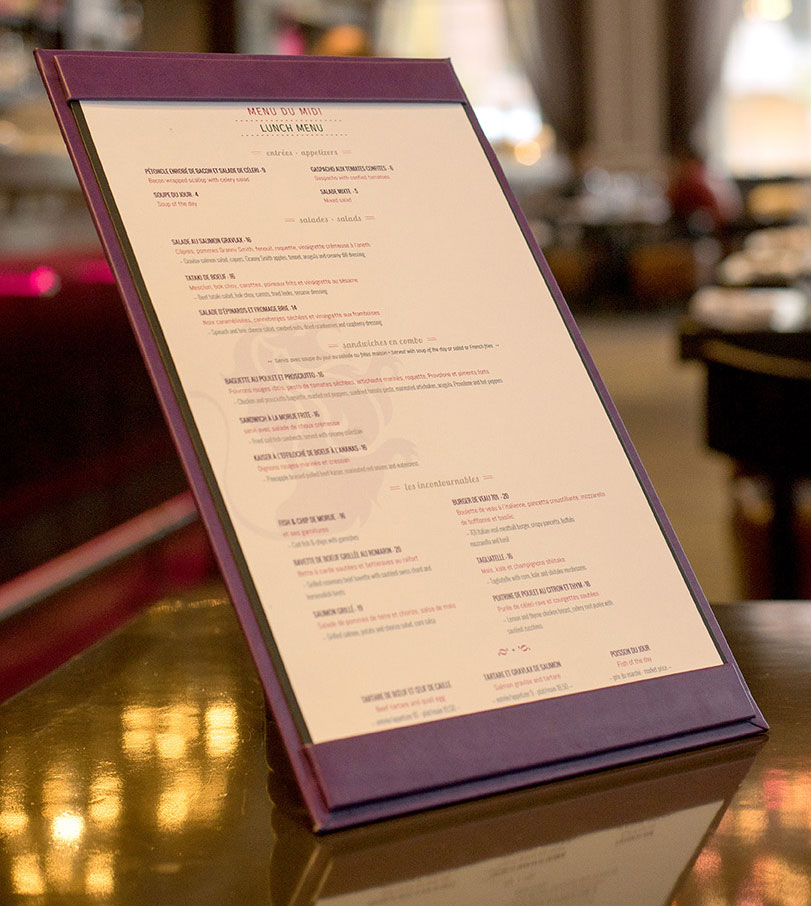 There are many DIY products that can be used to produce a professionally printed typeset menu — Publisher, InDesign, Word etc. — but none like iMenuPro. It's the only one that's been designed, from the ground up, to create professionally, typeset menus.
Don't be afraid of change
Managing your menu and, more importantly, letting it evolve so you can keep up with the tastes of today's demanding customer, is easier than you think. Focus your time on the menu items themselves. Use smart software tools to take care of the rest.