It's another episode of This Week in Restaurant Technologies, as Nate Riggs and I give our opinions on a couple of interesting news stories and the website of Midwest pizza chain Donatos.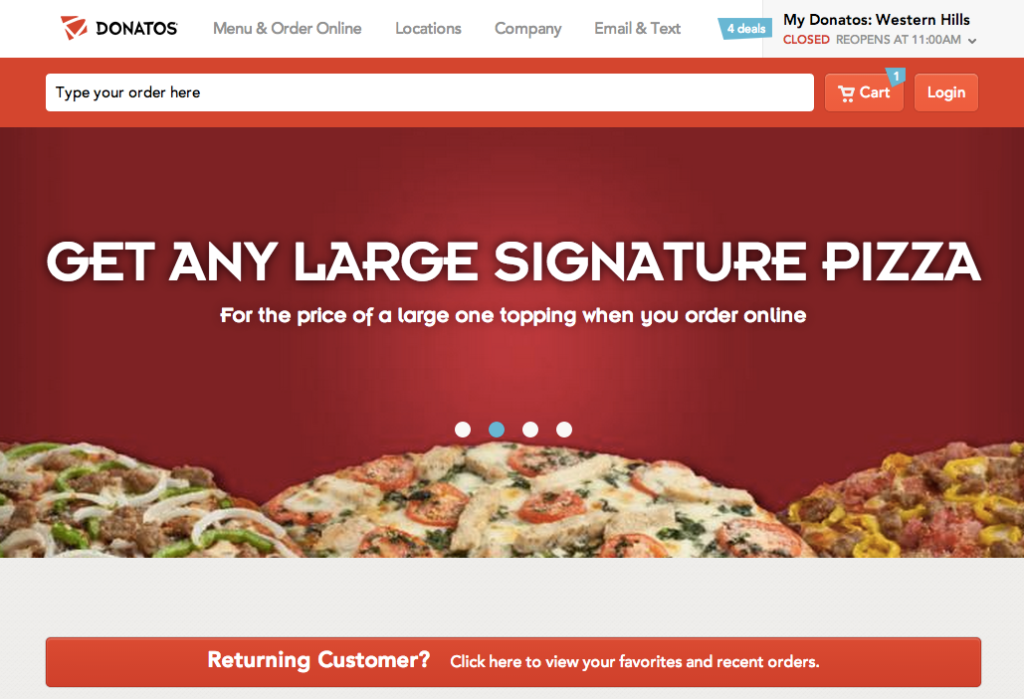 Speaking of that Donatos website, it's incredible. The first restaurant website I've encountered that greatly emphasizes the SEARCH function. You can perform a natural language search, find your item through auto-suggest, select the menu item, and have it automatically added to your online order. One more click and you're placing the order. And it's just as clean, efficient, and attractive on mobile. No account necessary — but if you create one it's even faster.
And what about Sonic, what's the news there? Back in January they announced a new layer to their POS which they're calling a "point of personalized service" (POPS). As you dig into what Sonic is doing, it's clear they didn't just drop a technology bomb on their restaurant concept. They carefully thought through how their unique model could be enhanced, but kept authentic, with technology. They expect to see low-single-digit sales gains as this rolls out concept-wide. They'll have this deployed in all company-owned locations by the end of August, and then begin with franchisees. Check out what they're doing, I'm a fan.
Finally, we talk for a bit about Hospitalty Technology's article on The Well-Connected Restaurant. In it, they share a variety of opinions on where they think the industry is going with technology — mobile payments and apps, I'll spoil the ending a bit, though there's more than that. I was surprised to find them rank Domino's and Pizza Hut as the top two "most popular restaurant chain mobile apps based on the number of customer ratings in the iTunes and Google Play stores." Starbucks was number three. REALLY?
Nate and I enjoy catching up each week, selecting news and stories on restaurant technology we think you need to know and will find interesting. Feel free to subscribe to our
YouTube Channel
or watch LIVE via the
TWiRT Google+ page
. And if you've got an opinion on anything we discuss, Twitter's the best place, using the hashtag
#TWIRT
.