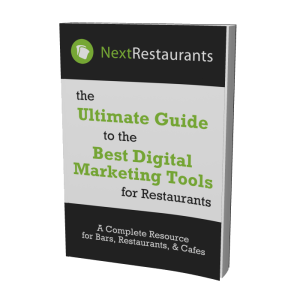 These days, there are hundreds of intriguing marketing service providers for the restaurant industry — many that didn't exist just five years ago, but are now well-funded and well-staffed.
Meanwhile, your staff didn't get doubled, did it? Nor your budget?
So how can you possibly stay on top of all the fast-emerging marketing trends and tools for restaurants?
Whether you're an independent restaurant owner or you run marketing for a major restaurant group or chain, you will be blown away by our Ultimate Guide to the Best Digital Marketing Tools for Restaurants.
It's right here, free, and ready to help you rock your marketing and attract a swarm of new customers as you dig into the tools and companies we highlight for you.
If you are serious at all about marketing your restaurant and the vendors you partner with in any of these categories, it's a must-read resource that we update quarterly.
Promotions & Offers
Email Marketing
SMS Marketing
Mobile Marketing
Guest Entertainment
Mobile Payments
Mobile Websites
Mobile Apps (Custom)
Online Ordering
Restaurant CRM
It is truly the Ultimate Guide and your best companion. And it's yours as a free download.
Not only that, but we update the guide just about every couple months — offering new tips, strategies, insights, and details on the companies we feature and ways you can put two vendors together to build the ultimate marketing strategy for your restaurant.
We take your privacy seriously. We will never sell, trade, barter or otherwise share your email address with others. And you can unsubscribe at any time.