If you've spent any time on Facebook in the last six months, you've likely encountered a Tasty video from Buzzfeed.
https://www.facebook.com/buzzfeedtasty/videos/1682971725288803/
They're genius, 30-to-35-second videos demonstrating how to make an easy or clever dish at home.
And if you follow Buzzfeed Food on Instagram, some are available as shorter, 15-second videos:
This is the 21st century cookbook. And you could be doing this to attract more attention to your local restaurant brand.
You watch a video like this one below, and you wonder why more restaurants don't spend 30 minutes a week shooting, editing, then publishing such videos. You may not get to 10 MILLION VIEWS, but you'll definitely get attention.
Video marketing is scorching hot right now
And not just because YouTube is the second-largest search engine on the planet — that's been the case for awhile. It's because consumers love to devour content to feed their passions, learn new skills or to research, and to decide what they want to buy and where they want to shop.
Take a look at this chart from Google: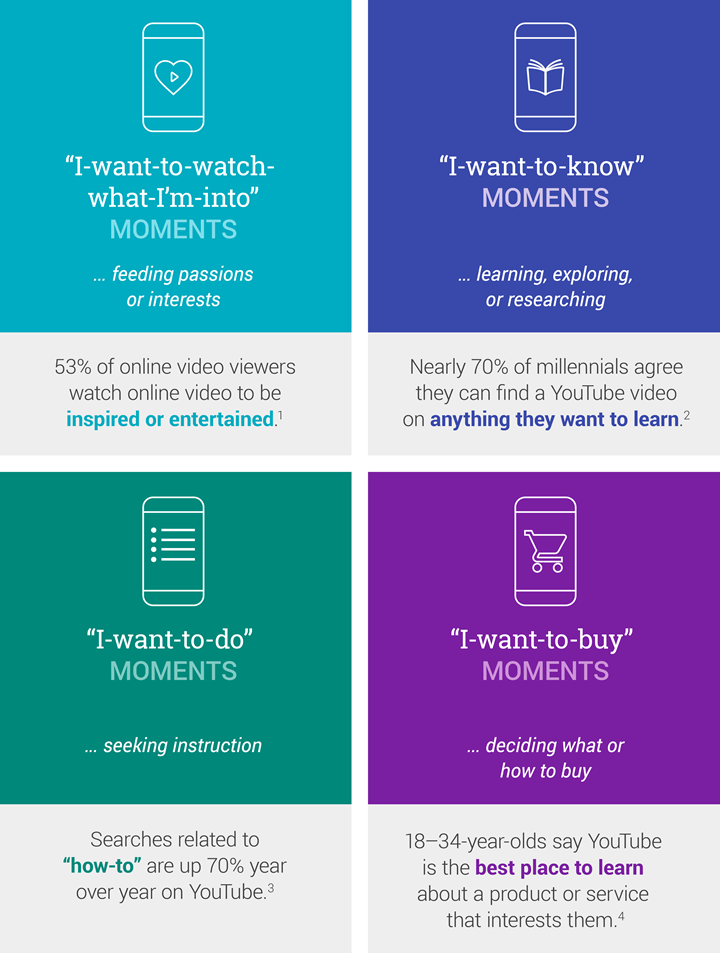 DIY videos are the epitome of content marketing
We love your food, restaurants. We're increasingly fascinated with how you make it — it's why more and more fast casual restaurants, for example, are putting their kitchen RIGHT THERE for us to see.
And while I'm not a Millennial, that demographic is absolutely loyal to restaurants who source ingredients in a hyper-ethical fashion. See that chart above again.
Representing these processes — getting us behind the scenes — this is a compelling form of content marketing. Modern customers almost demand getting this type of insight, which plays right into your hands.
When I see that videos like the one below can be made with an iPhone 6, a few peripherals, and a dose of creative direction and vision, it gets me excited about what we're going to see from restaurants in the future. It doesn't hurt that this video in particular is a how-to on mobile filmmaking, huh?
Now, before you tell me your customers aren't interested in this at all. Take a look at this video:
Three minutes and 45 seconds with Chef Matthew Jennings — 22,761 views at the time of this article. Nice publicity for his restaurant, Townsman Boston.
In the case of Chef Jennings, his restaurant was featured as part of a really cool, ongoing series of videos produced and promoted by Chefs Feed. Maybe you can't land that kind of exposure, nor will you persuade Guy Fieri to swing by for an episode of Diners, Drive-ins, and Dives.
So, take matters into your own hands.
There are three types of videos you could make for your video marketing
Wishpond gives us these three video types that work well in your content marketing plan:
Entertaining or serial videos
How-to videos
Product education videos
Let's take a quick look at a few restaurants going all-in on video marketing for their content marketing efforts:
The Burger's Priest out of Toronto hits the mark with an entertaining video that gives you a fun feel for their brand. Short, funny, and definitely well produced.
If you're a sports bar, there are all kinds of videos you could shoot — videos that show how energized your location is on game day; videos that stun people with the size and number of flat-screen televisions; videos that drop viewers' jaws with the number of taps you've got available.
Arby's shows us how to rock it with #2 on this list, demonstrating "meatcraft" (with over 150,000 views). Now, you could make the argument that this is really a TV spot that's been pushed to YouTube. Fair point.
But simplicity of this video is what makes it appealing to me for indie restaurants to pull off.
If you're a local restaurant with a unique menu not found anywhere, you could show us how someone would make a homemade version of your featured menu item…though, of course, you'll say, it won't quite compare to the real thing.
Finally, Vic's Boathouse (whom we've mentioned before, in one of our most popular posts ever) goes right at the heart of video type #3: product education.
The close-up video shots are tremendous (great work, Rewatchable), and it's the nice touches like that separate the videos most of us think to create — with really bad, wide shots and poor lighting — versus the ones that are truly engaging.
If you're OCD-careful about sourcing your ingredients, you are custom-built for video marketing. I can already picture videos from your restaurant that are gritty, iPhone-made, real-world insights from the farms you do business with.
If you can't pull that off, why not show us how you interact with your vendors, shop for and inspect your food ingredients, and begin preparing it?
We're going to see more of this sort of thing with the rising generation of restaurateurs. They watch trends. They pay attention to how THEY consume content and engage with big brands and local ones. They don't separate between how they run their own marketing and their lifestyle preferences.
I'm big on creative, low-cost marketing like this. It used to be that you could pick up a camcorder and film your own guerrilla TV spot featuring your restaurant. Today, you can craft a higher-quality DIY video and put it someplace where it can garner real attention. Why not?
Additional resources on this: