Email marketing for many restaurants is the most poorly used marketing weapon of all.
It doesn't have to be that way. If you're in charge of your restaurant's marketing and you're a good communicator to begin with, you can have the foundation of a great restaurant email marketing program.
I received a few emails following a recent post I wrote on three new ideas for better email marketing. Creative ideas are great, but how do you get started with your restaurant's email marketing?
Each month, I receive over 500 emails every month from restaurants, so I've put together these 10 tips to kick off your Beginner's Guide to Restaurant Email Marketing with real-world examples good and bad.
Let's dig in…
1. Know who you are.
Your voice is a crucial part of marketing yourself. I have to tell you, so many restaurants brands lose sight of this, and not just with their email marketing.
You'll attract the right guests by speaking and acting like a human (not a restaurant brand) who is friends with, and hangs out, with those kinds of guests — and addressing those guests in your communications as though they were one, specific person (not a "demographic", or a "target market").
For instance, if you want to attract Millennials, talk their talk. But be careful — a phony voice is as obvious as a spider in a salad (I'll tell you that story in a later post, seriously it's a good one). If you don't feel your restaurant's personality will come across in your own writing, find someone who gets your restaurant's personality and can be your voice via email.
Staff members are actually a great place to start here, by the way. You may have a college-aged, responsible employee who could help you out a few hours a week to write your content. The key is to make sure that tone is consistent across all of your marketing, not just in emails. Your website, social media and even in-venue messaging should complement one another.
Consistency develops your brand's personality, helping to attract and retain the guests you want.
2. Identify your overarching goals.
What do you want to get out of your email marketing? Besides guest visits of course (duh?).
Meaning, when do you want people to come (what days, what dayparts), what menu items do you want them to try, and how do you want them to feel when they're in your location?
You can create an expectation, a want, if you identify your goals first — put your goals in terms of the guest's "what's in it for me." You should have overall goals for doing email marketing, in general. And you'll ultimately want individual goals for each email.
Be specific about what you want to accomplish overall, and think through how each email can drive traffic at specific times, for specific reasons.
3. Put yourself in your guest's shoes.
When you're able to combine tips #1 and #2, then this tip starts to become pretty clear. What do your customers want to know? Why do they come to you?
Maybe you're a eclectic, fine dining establishment that's packed on Fridays and Saturdays, but dead the rest of the week. That's thinking about you.
So let's think about guests. If the average person receives over 120 emails per day, how are you going to cut through that clutter? By speaking the language of your ideal, target customers and acknowledging their situations.
Hot topic in the news that you can piggyback? Can you throw in a little sarcasm, ride an Internet meme carefully, or acknowledge the fact that your email may be priority #118 in that stack of 120 emails?
Humor, if it's a part of your brand, comes in handy here. Everyone loves a little levity, especially at certain times of the year.
The key is to put yourselves in the shoes of someone reviewing a list of 5-10 unread emails and your need to stand out amongst them.
4. Freshen up your subject lines.
Sorry, but "Tis the Season" and "While You're In Today, Don't Forget Gift Cards" are not going to cut it.
You tell me. Do any of these email subject lines scream "OPEN ME"?? Some do and are to-the-point with their offer.
Others are just too bland or cute and will get lost in a sea of other emails to read. In fact, there's no personality to any of them — you could interchange the brands and no one would know.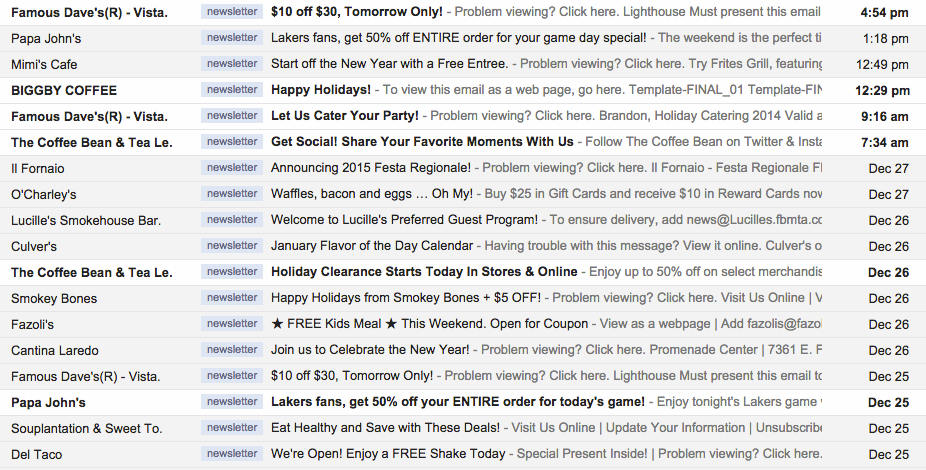 5. Focus on one primary call to action.
A link doesn't necessarily represent a call to action, though it can distract people if you over-emphasize it. I've seen as many as eight calls to action in some big brand's emails. Famous Dave's does an outstanding job with their emails in this regard: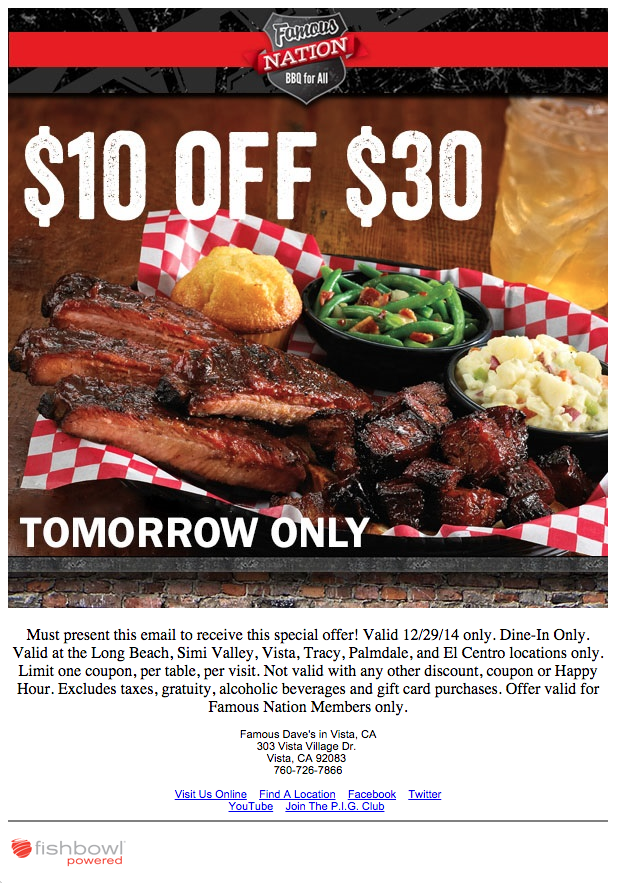 You've got one and only one offer and it's valid for one day. Boom. There's just this one thing they want you to do. Avoid the temptation to be all things to all people with every single email. Save the other offer you're dying to add to the email you're working on right now for NEXT WEEK'S email.
And I have much respect for the thought and work Smokey Bones puts into their emails. We've mentioned them before. Check out their approach with this email: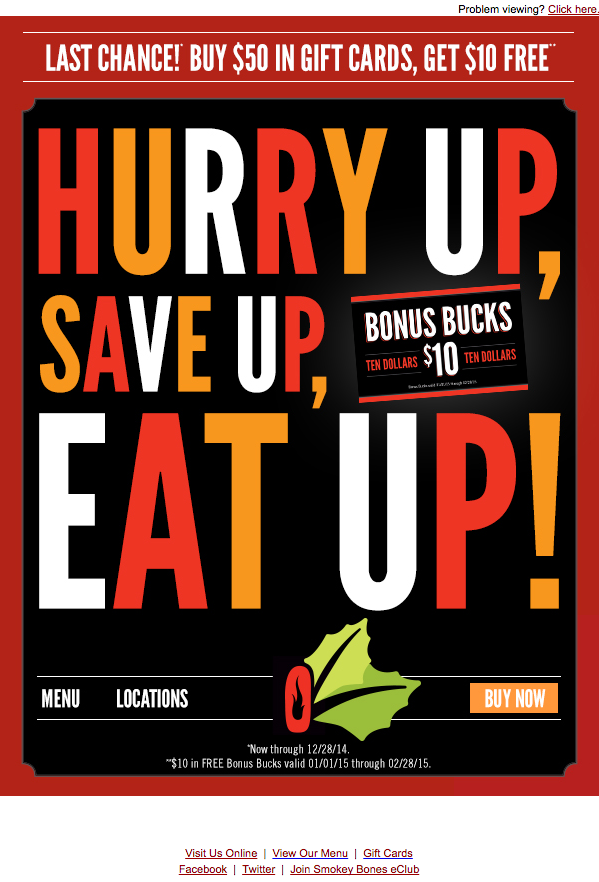 6. Don't feed the urge to "offer" us to death.
Not every email has to include a call to action at all, in fact. If you're truly trying to build a brand and engage people to love that brand, you're actually doing yourself a disservice by pounding them with offers.
How about this approach by Sonny's BBQ: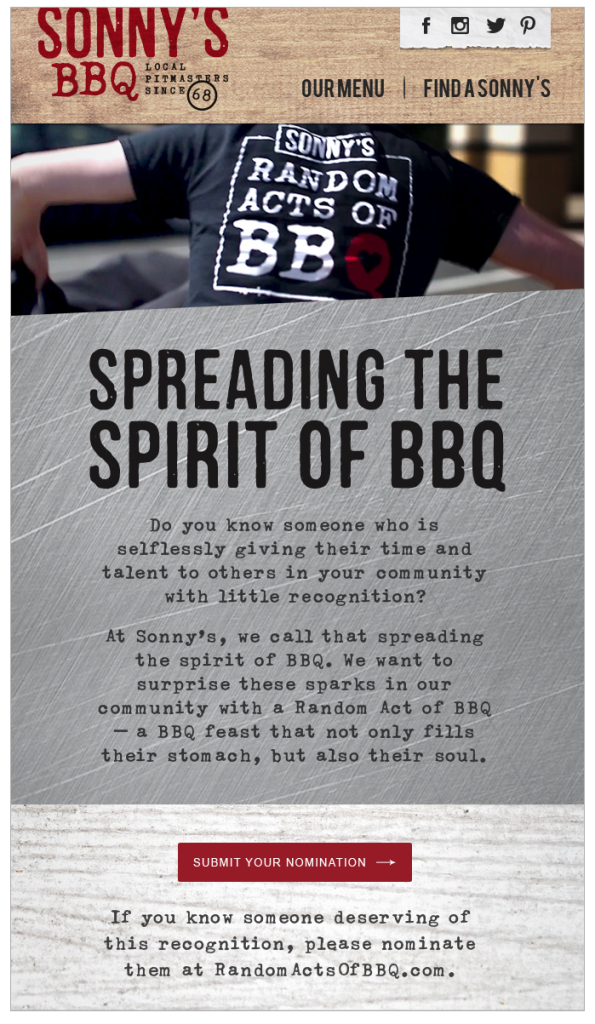 An email like this does nothing but build a brand. This is a great thing. Maybe Sonny's got 23 total submissions on this, and that's all. Maybe they got 23,000. I don't know what their goal was. But I do know this: they've drawn me in and engaged me, and it's not about a coupon.
You can't do this every email either, obviously. But out of 52 emails per year, you can surely dedicate a few to brand-building.
7. If it's not really a VIP club, don't call it a VIP club.
Let's face it, VIP status should be based on behavior, not submitting one's name to an email list.
If your email provider's default footer text makes reference to a VIP Rewards program, CHANGE THAT TEXT. We all see right through this — it's not really a VIP program at all. I'm happy to be called a VIP if I've earned it through my purchase history. You encourage me to ignore other aspects of your marketing as insincere when you use these types of phrases.

8. Send monthly or weekly, but not more often.
If I weren't one who analyzes how restaurants do their marketing, I would have long ago unsubscribed from Rosa Cafe's emails. And that's a shame, because there's one just 1.25 miles away that I could frequent.
Check out how often Rosa's Cafe emailed me in December, via the screenshot below. Seven emails between December 2nd and 20th. And three of those emails are the exact same plea for me to buy a gift card. Only the subject line was different. Two of them were duplicate Taco Tuesday offers.

9. Make your emails mobile-friendly.
Culver's has work to do in this area. See the screenshot. Maybe you can read it just fine…but not likely.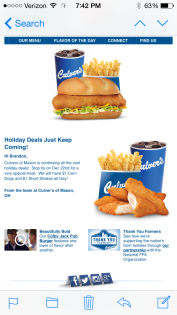 On the other hand, check out these two examples that are much more mobile-ready: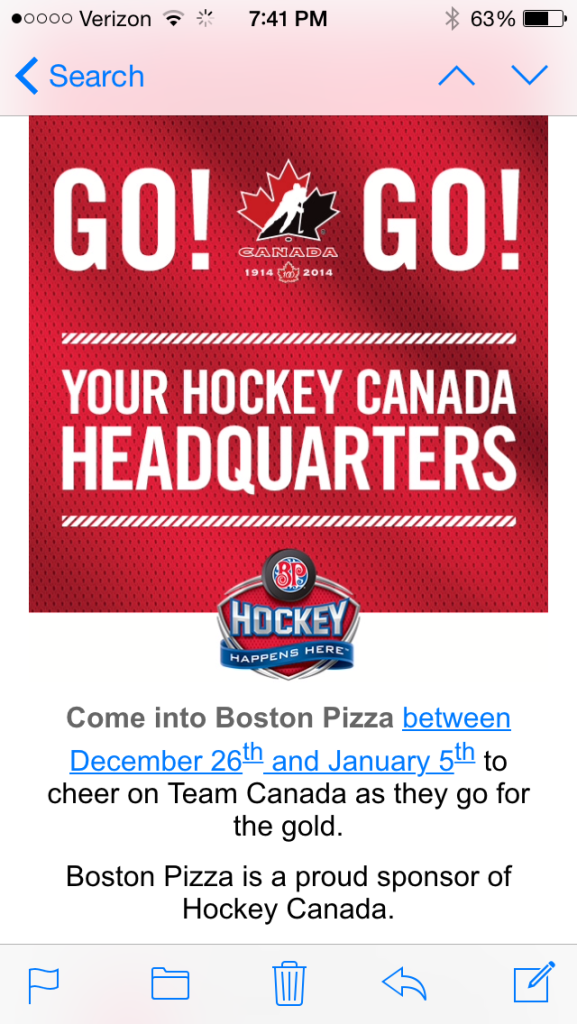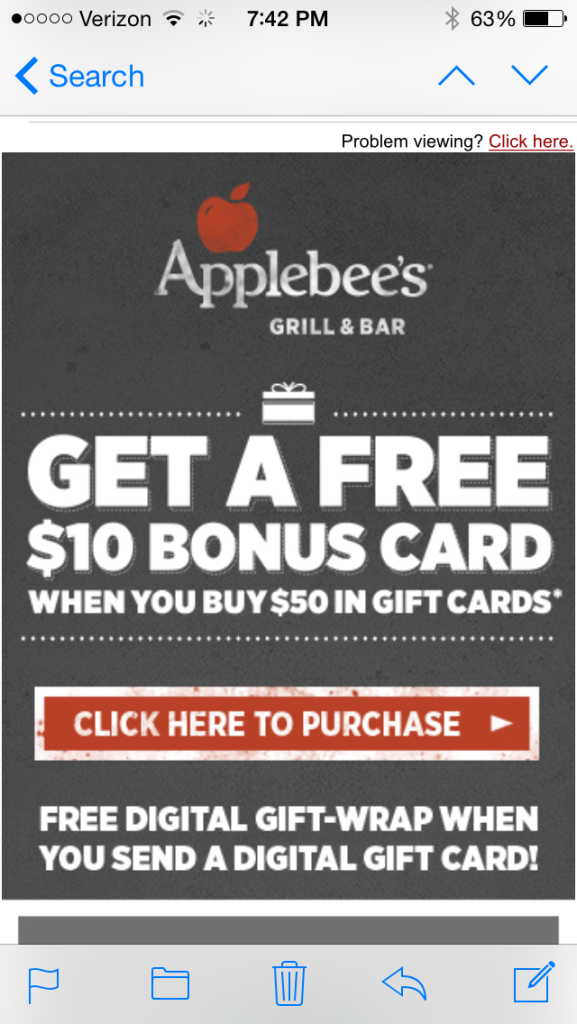 When you consider that we're surging past 50% of all emails getting opened on a mobile device, you've got to make your emails mobile-friendly.
Either use your email provider's mobile templates, pressure them to create mobile templates, or create your own. This is way too easy.
10. Don't include QR codes in your emails. Ever.
I'm not one of those who believes QR codes serve no purpose. In fact, just the opposite. But I'm struggling with why one would include them in an email. Either I'm reading the email WITH my mobile device and therefore have no reason or ability to scan it. Or, I'm reading it on my laptop or PC and can even more easily click on a link that scan that QR code. It makes no sense.
And yet here you go: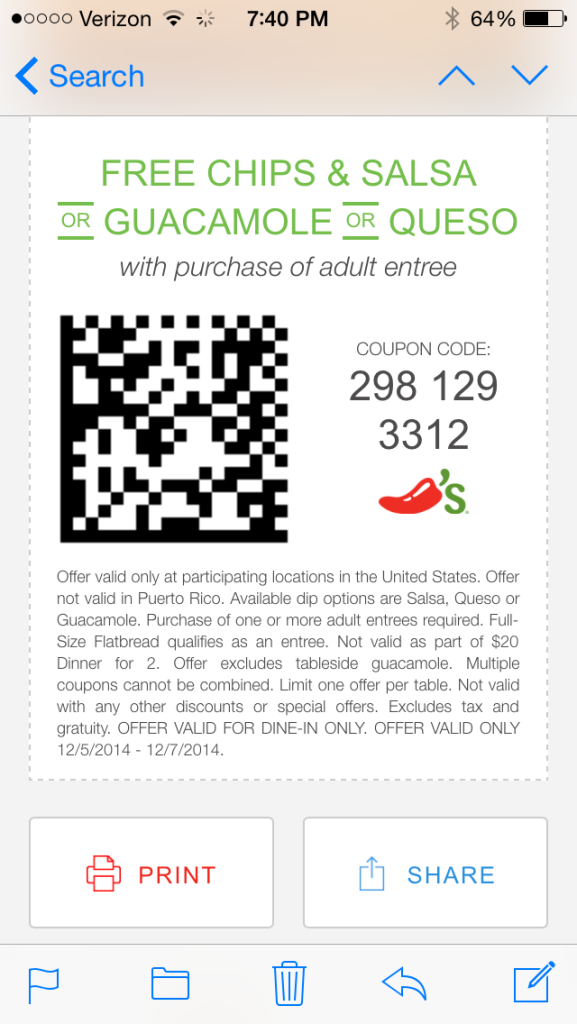 And one more thing…
You can keep doing what you're doing, sure. But if you really want to standout, you've got to mix things up a bit. You're dealing with national-epidemic-level A.D.D. with American consumers right now. You've got get your message through a lot of "stuff" to drive engagement with your brand.
Your restaurant's online "content", then, needs to recognize what your customers are interested in, not just what you want from them. Pictures of food in your emails are great, but they're only the beginning of making your email marketing more successful.
The Beginner's Guide to Restaurant Email Marketing: